US President Donald Trump and his election opponent, Joe Biden, sparred over a number of policy issues during the final presidential debate Thursday, with Trump portraying his opponent as an ineffective career politician, and Biden calling Trump "the most racist president in modern history."
Thursday's debate in the southern state of Tennessee came off as more civil compared to Trump and Biden's first face-off, which has been referred a "train wreck." Each candidate was given time to explain policy points with limited interruption; the opposing microphone was muted for each man's lengthier opening statements on topics.
The debate opened with each candidate fielding questions on coronavirus, before the discussion moved on to national security, election interference, North Korea, health care, economic stimulus, immigration, race relations, climate and the environment, and ending with a closing statement on leadership.
Read more : US presidential election: The top 5 issues
Trump says US is 'rounding the curve' on COVID-19
In Trump's opening statement on the coronavirus, the president argued that the US was "rounding the curve" and that a vaccine would be "delivered in weeks." Trump also mentioned his own recovery from COVID-19, suggesting that he was now "immune."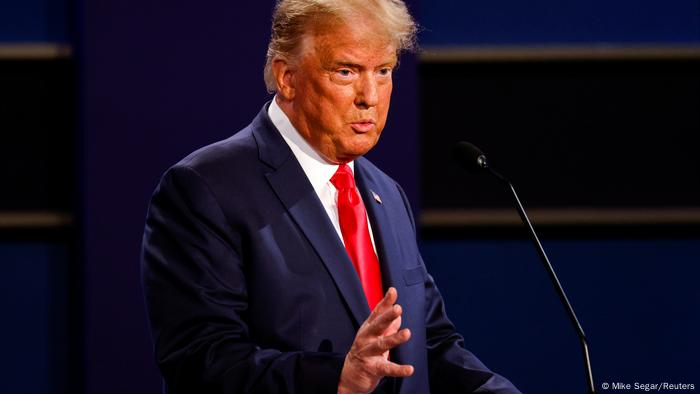 Trump said coronavirus lockdowns would kill the US economy
Biden accused Trump of doing nothing to fight the pandemic, and of falsely claiming that it would be over soon. "You say people are learning to live with it, people are learning to die with it," Biden said of Trump's assessment of the pandemic in the US.
Read more : Barack Obama slams Trump in Biden campaign speech
Trump's 'beautiful health care'
Trump accused Biden of planning to terminate private health care policies. "We have done an incredible job on health care and we're going to do even better," he said.
Trump added, without providing specifics, that his health care plan would be an improvement on Obamacare, and it would be "beautiful health care."
Biden deflected Trump's accusation that the Democrat candidate advocates socialized medicine.
"Everyone should have the right to affordable health care," Biden said of his potential health care plan. "This is something that's going to save people's lives … We have to provide health insurance for people at an affordable rate and that's what I'd do."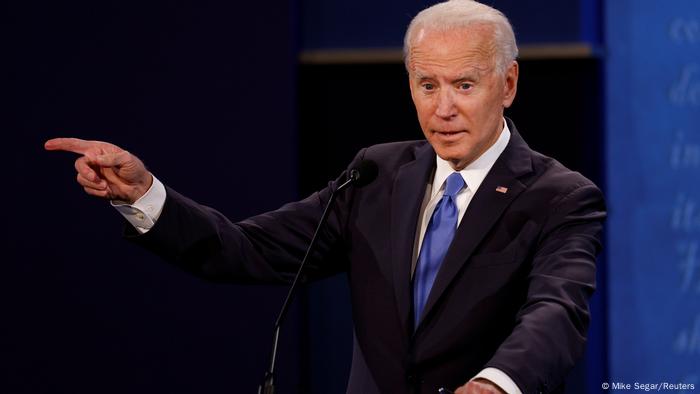 Biden said Trump takes advantage of race problems in the US
Trump most 'racist president in modern history'
Biden said he understood why Black parents feared for their children, and that there was "institutional racism in America." Trump said that he had done more for the Black community in the US than any president, "with the exception of Abraham Lincoln."
Trump accused Biden of harming the black community in 1990s by supporting a crime bill when Biden was a senator.
Read more : US election: Trump bets on law-and-order campaign, again
When asked about the Black Lives Matter movement, Trump said he was the "least racist person in the room."
Biden responded with a degree of incredulity, saying of his opponent: "Abraham Lincoln here is the most racist president we have ever had in modern history," who uses a "dog whistle as big as a foghorn" in his politics.
Biden wants to 'transition from oil'
Trump claimed that the US had the "lowest level of carbon emissions."
"Look at China, how filthy it is. Look at India. It's filthy. The air is filthy," he said. Trump said he would not sacrifice US jobs for the sake of the Paris climate accord. He also said windmills "kill all the birds" and that producing them causes pollution.
Read more : Opinion: Trump's Paris climate accord exit isn't really a problem
Biden said he wanted to transition away from the oil industry to promote renewable energy. Trump accused him of trying to "destroy the oil industry."
Biden said the US needed to move toward net-zero emissions and would rejoin the Paris climate accord.
What would they tell those who didn't vote for them?
In his closing remarks, Trump said that "we have to make our country totally successful, as it was prior to the plague coming in from China," adding that "success is going to bring us together; we are on the road to success."
Biden said "I am the American president and I represent all of you, and I will give you enormous opportunities to make things better." He pledged to bring "decency, honor and respect — and that's something you haven't had for the past four years."
Thursday night's debate was the last of the campaign. Americans go to the polls on Tuesday, November 3.
US election, seen through the eyes of cartoonists

Presidential mudslinging

What in the world has happened to political debate culture in the US, asks Czech caricaturist Marian Kamensky — along with the rest of the world. The first confrontation on TV between the presidential hopefuls degenerated into a mud fight. Instead of trading arguments, they hurled insults at each other. The second debate on October 22 has stricter rules, including muted mics to stop interruptions.

US election, seen through the eyes of cartoonists

'Dirty tactics' and difficult terrain

Biden's running mate, Kamala Harris, has mentioned "dirty tactics" employed by the current president. The Democrats feel like they're navigating difficult terrain, points out German caricaturist Jens Kricke. Donald Trump, the incumbent, doesn't seem to care. He seems aloof, like a wicked witch in a fairy tale.

US election, seen through the eyes of cartoonists

Trumped-up propaganda

This president adores superlatives, claiming "I am the least racist person you've ever seen," "No one has more respect for women than I do," or "I understand more about money than anybody else." And, of course, he believes the US has never had a better president. In this sketch by Martin Erl, Trump praises a photographer as "one of the best in the world."

US election, seen through the eyes of cartoonists

'Sleepy Joe' and the 'Clown'

Biden is a "sleepy old man" and a "puppet of the radical left," says Trump, who constantly cut off his opponent in the first debate. The latter responded by calling Trump a racist, liar, clown and the "worst president America has ever had." Commentators called it one of the worst debates America has ever seen. Italian artist Christi couldn't agree more.

US election, seen through the eyes of cartoonists

Infantile behavior

Many Africans are also astonished at Trump's not very statesmanlike behavior. Cartoonist Damien Glez from Burkina Faso sees the president as a little brat who wants to get his way, no matter the cost. What doesn't fit is made to fit — and with force. One hopes that the president isn't pounding the nuclear button.

US election, seen through the eyes of cartoonists

Trumpzilla

The first Japanese Godzilla movie hit the screen in 1954. Wherever the giant lizard goes, it leaves a path of destruction. For cartoon artist Takeshi Kishino to blow the truculent US president up into a gigantic Godzilla monster is revealing. Can Joe Biden stand a chance against this Trumpzilla?

US election, seen through the eyes of cartoonists

Alpha males stick together

Donald Trump enjoys the company of rulers who aren't terribly concerned about democratic norms: Putin, Erdogan and North Korean dictator Kim Jong Un. Dutch cartoonist Tjeerd Royaards feels that what these politicians have in common is an archetypical rivaling behavior of self-designated alpha-males. Trump calls Joe Biden, on the other hand, a feeble old man – i.e., for him, not a serious opponent.

US election, seen through the eyes of cartoonists

Mail-in voting? No way!

Trump has said the election will see rampant voter fraud and ballots in wastebaskets with his name on them. For months on end, the US president has attacked mail-in voting and even cut short funds for the postal service. Marian Kamensky encapsulates the situation here. Due to the risks posed by the coronavirus pandemic, many Democrats — and not only them — want to cast their ballots by mail.

US election, seen through the eyes of cartoonists

A helping hand?

In his tirades against the postal service, the president has neglected to mention that he himself has voted by mail on multiple occasions. And even though the FBI certifies that there is no voter fraud in the US, Trump insists that America is threatened by "the most rigged election in history." If needed, he can get help from abroad, says Greek caricaturist Kostas Koufogiorgos.

US election, seen through the eyes of cartoonists

Trump for president

Trump supporters aren't just found in the US, but also in other countries. In the name of caricaturists around the globe, Mark Lynch of Australia definitely wants the US president to have a second term. "We need our buddy" and "We love the Twitter chief," demonstrators chant — because no other politician offers cartoonists as much raw material as the current occupant of the White House.

US election, seen through the eyes of cartoonists

Not calling the movers

Trump has repeatedly made it clear that he wants to remain in the White House. Should he lose the election, he has not expressly agreed to a peaceful transition, saying only: "Well, we'll see what happens." He's already called on his base to protest should he not be reelected.

US election, seen through the eyes of cartoonists

Stable dynasty

Trump has also questioned the American constitution and its rules prohibiting a third term. Is he thinking of a lifelong presidency? The whole Trump family often turns up at campaign rallies, including the president's youngest son, Barron — which might have triggered German cartoonist Christiane Pfohlmann's vision of the birth of a monarchy in the United States.

Author: Suzanne Cords
Trump, Biden clash on coronavirus, race and health care have 1693 words, post on www.dw.com at January 23, 2020. This is cached page on Talk Vietnam. If you want remove this page, please contact us.