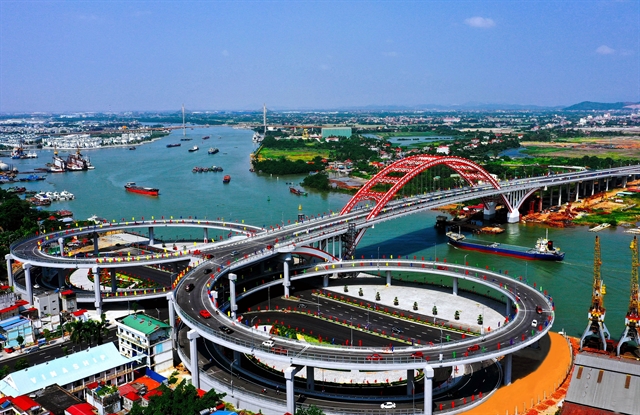 HẢI PHÒNG — Prime Minister Nguyễn Xuân Phúc on Wednesday applauded Hải Phòng City for its achievements in the last five years which affirmed the city's position as an international port city, a leading industrial hub of Việt Nam and the main gate to the sea for other northern provinces.
Addressing the city's 16th Party Congress, Phúc said he was honoured to be a National Assembly deputy voted in by Hải Phòng residents.
"Hải Phòng has created better images, roles and prestige in the domestic and international stage," Phúc said, adding that the city used to be silent but now it was shining with breakthroughs due to its dynamic and inclusive development.
Hải Phòng led the country in terms of economic growth in the last five years with the gross regional domestic product (GRDP) making up 5.1 per cent of Việt Nam's gross domestic product while in 2015, the rate was more than 3 per cent.
The city has also developed relatively systematic and modern transport infrastructure. Before 2015, there were 38 bridges in the city but in the last five years, 46 new bridges were built. The city is home to 13 industrial parks with a total area of 6,000 ha, all ready for new investment.
The PM appreciated Hải Phòng's efforts in land clearance which is a common bottleneck for many projects nationwide. Within five years, the city withdrew nearly 10,000ha of land from more than 600 organisations and 54,000 households, of which 11,000 were relocated.
"No complicated incidents were reported despite the huge land clearance work, something few localities across the country can do," Phúc said, adding that the smoothness of the work reflected harmonious cohesion among authorities, the Party and the people.
PM Phúc also highly praised the city's Party Committee for prioritising investment in social welfare before economic growth, which resulted in impressive poverty reduction. Only 0.22 per cent of the city's households are under the poverty line now.
At the congress, PM Phúc agreed with the city's Party Committee on the three main development pillars that it identified for the next term in 2021-25, namely high-tech industry, seaports-logistics and tourism-commerce.
The city was asked to find creative ways to obtain resources for development.
"Direct foreign investment should be selected carefully, priority should be given to those with high technologies, ensuring harmony among industrial development, services and environmental protection," he said.
Great achievements
Hải Phòng has great advantages and opportunities to make breakthroughs in its development in the next five years, the city's top leader Lê Văn Thành said at the 16th Party Congress.
With unity, innovations and enterprisingness, Hải Phòng's Party Committee had led and contributed to the city's breakthrough development in all fields, said Thành who is a member of Party Central Committee, Secretary of the city's Party Committee and Chairman of the city People's Council.
He said almost all goals set up by the city's 15th Party Congress five years ago were achieved with some fulfilled 2-3 years earlier than planned.
For example, the city's GRDP increased 14.02 per cent in the last five years, double the growth rate of the previous period and 2.1 times higher than national average growth.
The city's GRDP per capita is about US$5,863 per year, twice the number of 2015.
The city collected about VNĐ408.5 trillion for State-budget in the last five years, up 2.65 times compared to 2010-2015.
The city successfully mobilised social resources for development with total social investment in the last five years hitting VNĐ564.3 trillion and just 10 per cent of the funding coming from the State budget.
Its index of industrial production (IIP) increased on average 20.64 per cent yearly or 2.12 times than that of 2010-2015. The city's industrial production developed toward high-tech and friendly to the environment, particularly with the Vinfast automobile factory and LG's electronic component producing factory.
Parts of Hải Phòng International Port went into operation, having the capacity to deal with ships with loads of 200,000 tonnes.
Major tourism firms like Vingroup, Sun Group and Geleximco invested billions of dollar to develop international standard tourism facilities in the country.
The poverty rate of the city dropped from 3.86 per cent in 2015 to 0.22 per cent in 2020.
"Social order and security are ensured, people's living conditions have been improved significantly, which make local people proud of the city as well as trust in Party, State and Government's leadership," Thành said.
Thành said leaders with strong political bravery, good morality, enterprisingness, high responsibility, pioneering spirit and ability to unify people were decisive factors to the city's achievements.
Additionally, public resources were used effectively and economically, Thành said, adding that public investment must not be scattered and State-funded projects could not be delayed.
Bigger goals
Under a Politburo resolution dated last year on the city's development, Hải Phòng is planned to complete industrialisation and modernisation by 2025.
It is also hoped to be the key point of the country's marine economic development and an international tourism hub.
The city set major development goals including GRDP growth of 14.5 per cent per year, GRDP per capita of $11,800 in 2025 and its index of industrial production (IIP) increasing 21.5 per cent yearly.
The city expects to collect VNĐ145 trillion for the State budget by 2025, of which, domestic revenue is VNĐ65 trillion.
Between 2021 and 2025, the city' social investment is hoped to reach VNĐ1.2 trillion, its export revenue $35 billion and the city's ports are expected to deal with 300 million tonnes of goods.
In the next five years, the port coastal city expects to welcome 20 million tourists.
Thành said that the city had identified key measures to realise the goals.
More resources would be used to develop and modernise urban areas with typical features of a port city, particularly river-side urban areas like those along rivers of Tam Bạc, Cấm, Hạ Lý, Lạch Chay. Thuỷ Nguyên District is planned to become a city by 2025.
The city will concentrate on improving transport infrastructure, industrial zones' facilities, simplifying investment procedures and creating favourable conditions to attract investors to industries that the city has advantages like food processing, manufacturing, high-tech industry and environmentally-friendly industry.
The city also hopes to speed up ongoing major tourism projects, call for investment in other tourism projects, shopping malls, five-star hotels or resorts and develop its key tourism products so the city can become an international tourism hub.
He said that the city would continue to innovate the growth model and restructure its economy with the three key pillars.
The city would also concentrate on increasing efficiency and effectiveness in managing land, natural resources, protecting the environment, conserving biodiversity and actively responding to impacts of climate change and seawater level rise.
Thành said that Hải Phòng would strive to become a hub of education and training and health care in the coastal northern region.
Ensuring social order and security, national defence and upholding national sovereignty over sea islands together with effective foreign affairs activities and international/regional integration remained main tasks for the city, Thành said.
The city would also improve its political system, building transparent and strong Party organisations, renovating and perfecting the organisational apparatus of the political system and improving the effectiveness and efficiency of local governments, he said. — VNS
Hải Phòng strives to develop further have 1295 words, post on vietnamnews.vn at October 15, 2020. This is cached page on Talk Vietnam. If you want remove this page, please contact us.