Công Thành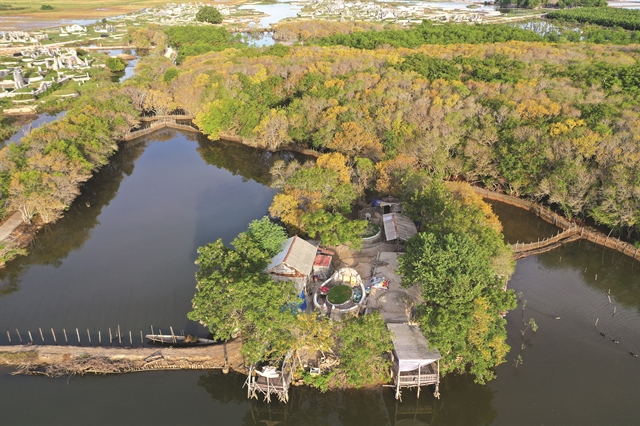 Just 10km outside Huế, Rú Chá, a primary wetland forest of mangroves has become a popular for day trippers exploring Hương Trà Town.
On the Thuận An Estuary, only five hectares of chá (a mangrove family) have been saved as a natural bank to protect Hương Trà from storms and floods, as well as salt intrusion.
The forest – the only primary wetland forest preserved in the newly recognised Tam Giang – Cầu Hai Lagoon Wetlands Nature Reserve – can be easy reached by motorbike or bicycle along National Road 49.
Trippers are advised to leave Huế at dawn to start exploring, as local people begin their days by flocking to rural markets and fishing boats bring in fresh catches.
Five years ago, Rú Chá was only accessible by foot through the wetlands, but concrete paths and a watch tower have been built to pave the way.
The forest, which links Thuận An Estuary and Tam Giang – Cầu Hai Lagoon with rich wetlands, provides incomes for thousands of local people who make a living from fishing and aquaculture.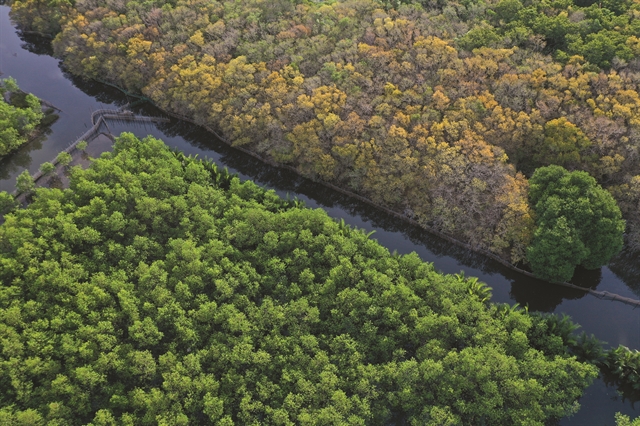 Võ Ngọc Thạnh, a local guide, said September was the best time to visit the forest when the mangroves blossomed.
Thạnh said the site was also a popular destination for photographers and couples.
Nguyễn Ngọc Đáp, 76, and his wife are the only villagers in Thuận Hòa who live in the forest as voluntary guards. The elderly couple have been living and working in the forest for 30 years, and live a 10-minute bicycle ride away.
Đáp said the rich aquatic species in the forest had provided a stable income for his family of 10 children over the past three decades.
"It's long story. I earn a living from fishing in the wetlands, and I've devoted myself to protecting the forest," Đáp said.
"We have adapted to living in the area; even my children already have their own families. I never used to fish, but I row my boat each day to patrol the forest to stop illegal logging and hunting."
Đáp said he offered visitors boat trips while his wife cooked lunch for them when they returned.
"It does not cost much. Fish, shrimp, crabs and oysters can be found in the aquatic areas in the middle of mangrove forest. We help visitors understand stories of the forest and the important role the mangroves play in preventing disasters," he said.
Đáp and his wife built a cottage at the entrance to the forest as a patrol base and reception area for day trippers.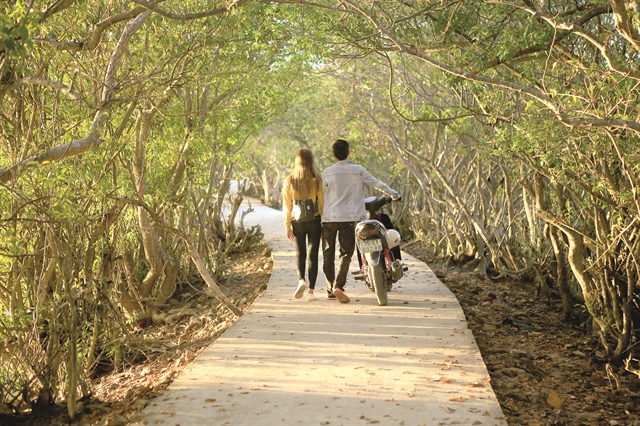 He said Rú Chá was the name given to the forest by local people. Rú means forest, while chá is the species of mangrove that grows there.
An old temple remains in the forest dedicated to the Mother Goddesses, and local people often brings offerings to the temple on the third day of lunar March.
It is said the temple was built centuries ago after a big flood, when an incense burner was found on a bank in the forest. Local people believed the incense burner had flown from the Hòn Chén Temple in the imperial royal capital of Huế.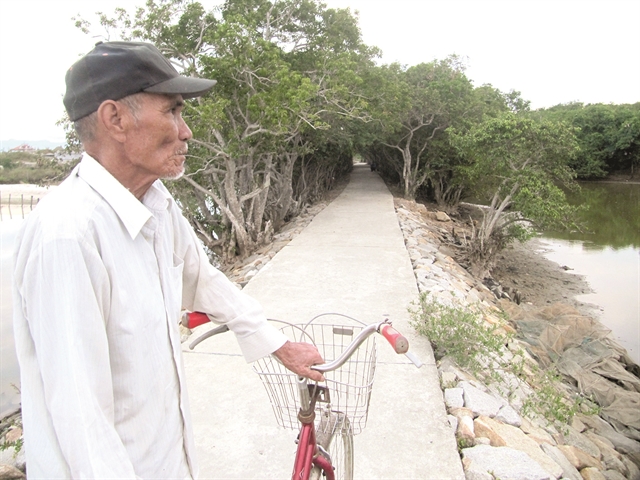 Tourists can find tranquil scenery isolated from busy city life. Only the wind and whispers of the mangroves can be heard.
Boat trips help tourists explore daily life, while the dense mangroves can be penetrated along concrete paths.
A watch tower in the middle of forest helps local rangers spot forest fires, but it's also a great perch from which to take photos of the forest.
Currently, entry to the forest is free, and an eco-tourism site is planned for the area.
Thuận An Beach, Chuồn Lagoon and the sandbanks at Tè all offer seafood banquets for hungry guests.
Thừa Thiên-Huế Province has also been expanding the forest as an eco-tour site and protected wetland conservation area for scientific research for both domestic and international universities. — VNS
Rú Chá offers wetland wonderland for visitors have 849 words, post on vietnamnews.vn at September 11, 2020. This is cached page on Talk Vietnam. If you want remove this page, please contact us.