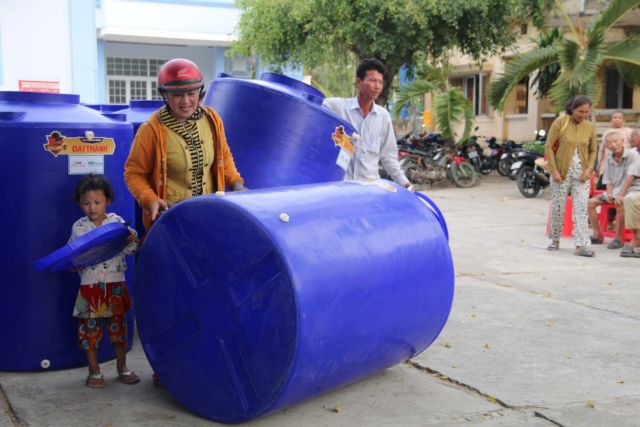 MEKONG DELTA — Fresh water supplies are being transported from HCM City to Mekong Delta provinces that have been affected by severe saltwater intrusion during the dry season.
Barges have transported fresh water in containers from HCM City to Phú Khánh Commune in Bến Tre Province's Thạnh Phú District where residents face shortages due to saline intrusion and drought.
The Sài Gòn Water Corporation (Sawaco) said that it had provided 3,000 cubic metres of fresh water for residents there, and also planned to transport fresh water from the city to Cà Mau Province.
The Military Command in Sóc Trăng Province, working with Sóc Trăng Water Supply Joint Stock Company, is providing free bottles of water to 1,000 households in the communes of Thạnh Thới An, Tài Văn, and Liêu Tú in Trần Đề District.
Saline intrusion and drought this year came earlier in the delta than in the 2015-2016 dry season.
Authorities in Trà Vinh Province, together with officials with the local climate change adaptation programme, have provided 2,000 water basins to the poor or near-poor, and to Khmer ethnic minority households in 30 communes in seven districts.
Kiên Giang Province's Centre for Fresh Water and Rural Environment Hygiene said it was working with local authorities to set up new water supply sites in areas without water stations in island districts.
The centre has built reservoirs to provide water to supply stations in the districts of Tân Hiệp, Gò Quao, Hòn Đất and others where residents cannot use underground water. It also has built a steel container to store rain water, with a capacity of 2,000 cubic metres.
The centre has submitted a project on household-based water filtering to the provincial People's Committee. If approved, it would start next year and last until 2025. Costs would be fully covered for poor households and those living in remote areas. 
Record levels
This year, saline intrusion levels in the dry season have broken the previous record set in 2016. 
As of March 4, the provinces of Kiên Giang, Bến Tre, Tiền Giang, Cà Mau and Long An had declared an emergency due to saltwater intrusion.
Phạm Văn Cảnh, vice chairman of People's Committee in Long An Province,  said that saline intrusion had reached the "second (of five) warning level for natural disasters".
According to the Southern Institute of Water Resource Research, saltwater intrusion is expected to be the highest from February to April and then fall in May.
In the Vàm Cỏ Đông River, saltwater intrusion is expected to enter 100 kilometres deep, 40 kilometres more than the average levels of previous years.
Saline intrusion in Vàm Cỏ Tây River could enter 110 kilometres deep, 5 kilometres higher than the record set in 2016.
Cà Mau Province has also declared a second natural disaster warning level in areas facing fresh water shortage in the districts of U Minh and Trần Văn Thời. The province has more than 20,000 households in these areas.
Drought has affected more than 18,000 hectares of paddy rice and vegetables. 
Cà Mau Province said it would either build a canal that would take water from the Hậu River or a large-scale reservoir in U Minh District.
In Bến Tre Province, nearly 20,000 hectares of fruit have been damaged due to water shortages. Many durian gardens have also been affected by lack of water.
The province's Ba Tri Reservoir has nearly one million of cubic metres of water, but saltwater began intruding in the beginning of the dry season. The province has closed a sluice system to turn the Ba Lai River into a reservoir with a capacity of 1 billion of cubic metres. — VNS
Fresh water sent to areas hit by saltwater intrusion have 833 words, post on vietnamnews.vn at March 9, 2020. This is cached page on Talk Vietnam. If you want remove this page, please contact us.