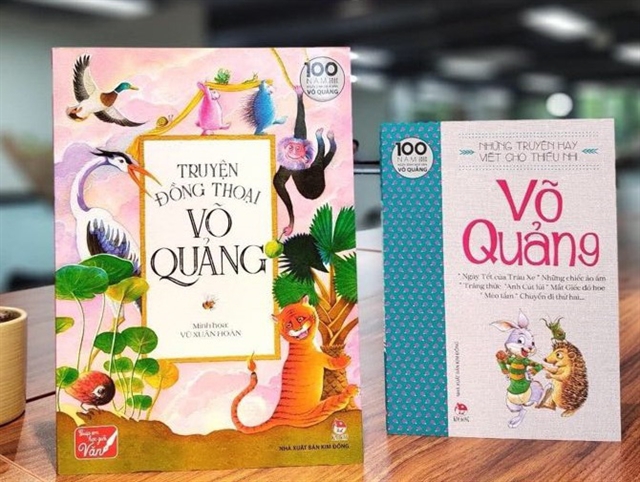 HCM CITY — Three books for children by late author Võ Quảng of Quảng Nam Province, a leading writer of contemporary literature between the 1940s and 1960s, have been reprinted by the Kim Đồng Publishing House. 
The publication celebrates the author's 100th birthday anniversary.
The books include Những Truyện Hay Viết Cho Thiếu Nhi Của Võ Quảng (The Best Stories for Children by Võ Quảng), Quê Nội (Fatherland) and Truyện Đồng Thoại Võ Quảng (Stories of Animals by Võ Quảng), which were selected from many of the writer's books. 
All of the books feature the themes of friendship, love and dreams, with highlights about Vietnamese culture and lifestyle. The natural world, animals and plants are also featured. 
The novel Quê Nội was first published by Kim Đồng Publishing House in 1974. It tells the story of Cục, a boy from Quảng Nam's Hòa Phước Village, the writer's homeland, who lives during the nation's August Revolutionary period in 1945. 
The work is in praise of patriotism, bravery and honesty. Urban life, love and family are also highlighted. The book was translated into French and Russian by Alice Kahn and Inna Zimonina, respectively.
"Võ Quảng's children books are still fresh today. They provide young readers with knowledge about Việt Nam's history and culture. Through his writing, readers can improve their mind and character," said literary critic Lê Nhật Ký.
Author and translator Quảng was born in 1920. He took part in the resistance war against the French from 1935 and 1941, and was a member of the Communist Party of Việt Nam, and moved to work in the north after 1954. 
Quảng was a founder and former director of Kim Đồng Publishing House, and also a member of the Việt Nam Writers' Association. 
He began his writing career in 1954 after his first short stories and poems for children were released in Quảng Nam.
He wrote more than 30 fiction books, and many short stories, poems and screenplays for theatre and films. His famous books, including Cái Mai (The World of Mai) released in 1967 and Vượn Hú (Screaming Apes) released in 1993, are about children and their points of view. 
Readers call Quảng the "Mark Twain of Việt Nam" because his children books feature magical adventure stories. Many of his works have been reprinted several times, attracting millions of young readers from different generations. 
Quảng passed away in Hà Nội in 2007. He received the Government Prize in Literature and Arts, the highest-ranking award of its kind in the country. — VNS
Children's books by famed late author Võ Quảng reprinted have 550 words, post on vietnamnews.vn at September 11, 2020. This is cached page on Talk Vietnam. If you want remove this page, please contact us.