On September 14, Government Inspector General Le Minh Khai represented the Government in reporting to the National Assembly Standing Committee on anti-corruption tasks in 2020.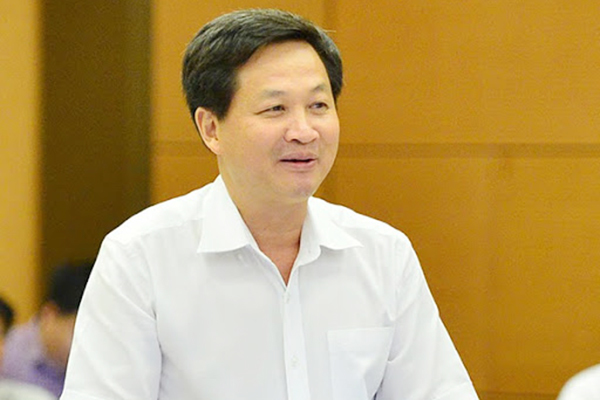 Government Inspector General Le Minh Khai
According to the Government Inspectorate's report, some high-ranking officials were suspended from work after investigating their involvement in legal cases, including former Hanoi Mayor Nguyen Duc Chung and former Vice Chairman of HCM City Tran Vinh Tuyen.
12 high-ranking officials faced criminal sanctions for being irresponsible, causing corruption cases.
The authorities also disciplined 56 officials, handled 64 officials for criminal violation of norms and standards and recovered nearly VND23 billion related to the violations.
In addition, government agencies at all levels have rotated working positions of tens of thousands of officials, civil servants and public employees to prevent corruption (an increase of 34% compared to 2019). So far this year, three officials handed in gifts worth VND31.8 million.
Regarding asset declaration by officials, this task has been completed for key Party officials.
Regarding inspection results and settlement of complaints and denunciations, thousands of organizations, groups, individuals have been administratively fined. As many as 124 cases with 118 people have been transferred to criminal investigation agencies for investigation. Particularly, the Government Inspectorate transferred 14 cases to the police.
Through the settlement of complaints and denunciations, the state administrative agencies at all levels have proposed to punish 541 people (386 people have been punished), to transfer 12 cases with 13 people to the investigation agency.
The State Audit of Vietnam transferred four cases with criminal signs to the police; reported two cases to the Prime Minister for instructing the Ministry of Public Security to investigate; and provided 101 audit reports and related documents as required by the authorities to serve investigation, inspection, supervision and prosecution procedures.
So far this year, 81 leaders of stage agencies have been found to be irresponsible, facilitating corruption in their organizations. As many as 62 of them have been sanctioned (up 66.1% compared to 2019), including 12 officials handled for crimes.
The new feature in the report is anti-corruption work within non-state enterprises and organizations. The authorities imposed VND25.56 billion of administrative fines from organizations and individuals of the non-state sector.
The police have investigated 508 corruption cases, with 1,186 defendants, including 286 new cases with 606 defendants (up by 15 cases and 58 defendants over the same period in 2019).
The Ministry of Defense has investigated and handled four corruption cases with the total violations amounting to VND27.7 billion. According to the Government Inspectorate, military-related corruption cases have been promptly detected and strictly handled.
"Anti-corruption work has been maintained and strengthened, strongly affirming the determination to fight corruption with the spirit of 'without forbidden zones, without exceptions'," stressed the Government Inspector General.
Thu Hang
12 high-ranking officials face criminal sanctions for corruption have 677 words, post on vietnamnet.vn at September 15, 2020. This is cached page on Talk Vietnam. If you want remove this page, please contact us.