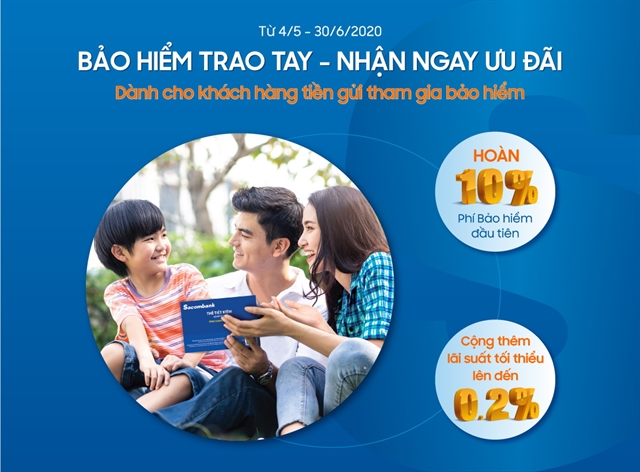 HCM CITY — Sacombank is offering incentives to individual depositors buying its bancassurance partner Dai-ichi Life Vietnam's insurance products until June 30.
Customers with a deposit of VNĐ500 million (US$21,403) for six months or more (traditional or online savings) will receive up to VNĐ3 million ($128.6) when they buy Dai-ichi Life products from the bank.
The amount will be transferred to customers' Sacombank Pay account.
Customers with deposits for six to 11 month and 15 to 36 months will get additional interest of 0.2 percentage points, while those depositing for 12 months will get an additional 0.15 percentage points.
Sacombank has been an exclusive insurance agent of Dai-ichi Life Vietnam since September 2017.
In April their bancassurance partnership reached a milestone of VNĐ2 trillion ($85.8 million) worth of premiums.
Dai-ichi Life Vietnam has many products with outstanding features to comprehensively protect customers against risks during various stages of life such as An Tâm Đầu Tư, Nâng Bước Tương Lai, Đại Gia An Phúc, and An Tâm Hạnh Phúc.
An Tâm Hạnh Phúc perfectly integrates three solutions: effective accumulation, comprehensive protection and flexible protection options, enabling customers to proactively plan their future at their fingertips.
The duration of the policy is also flexible, ranging from 11 years to 25 years. In addition to the death benefit, customers will receive an additional benefit of 20 per cent of the sum assured worth up to VNĐ1 billion ($42,852) in case of death due to accident or cancer.
In case of special accidental death, customers will receive an additional 50 per cent of the sum assured worth up to VNĐ2.5 billion ($107,130).
In addition, customers can increase the sum assured by up to 50 per cent, and a maximum of VNĐ500 million, without requiring a health check, when they reach important milestones in their life such as marriage, having kids and children reaching various education levels. — VNS
Sacombank offers incentives to depositors buying Dai-ichi Life bancassurance products have 374 words, post on vietnamnews.vn at May 8, 2020. This is cached page on Talk Vietnam. If you want remove this page, please contact us.