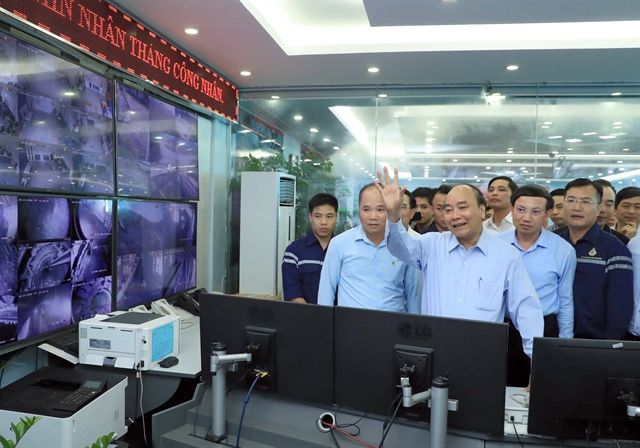 QUẢNG NINH  — Prime Minister Nguyễn Xuân Phúc has suggested the north-eastern province of Quảng Ninh devise a strategy to develop tourism as its spearhead economic sector, especially in the remaining months of this year and during the new tenure of the provincial Party Organisation.
During a working session with provincial leaders in Quảng Ninh on Sunday the PM lauded the province for drastically and effectively following the Party and State's guidelines on COVID-19 prevention and control though the province has a long borderline and hosts a large number of foreigners.
The province was also hailed for making breakthroughs in urban development, reaching over 65 per cent, and becoming the first locality nationwide to set up a public administrative service centre.
PM Phúc expressed his impression on its tourism reboot following COVID-19 as well as infrastructure development with a number of major works, especially expressways under the public-private partnership (PPP) model.
On the occasion, he asked Quảng Ninh to continue taking the initiative in becoming a development hub not only in the northeastern region but also in the whole northern region, contributing to the country's socio-economic development.
About specific moves, the PM proposed that the province should pay attention to developing businesses, continuing with modern urban development and new-style rural building, as well as human resources training from school to university levels to meet demand for socio-economic development.
He noted that the province should thoroughly prepare for the Congress of the provincial Party Organisation, towards the 13th National Party Congress, in combination with the Party building work.
According to the Provincial Competitiveness Index rankings announced by the Việt Nam Chamber of Commerce and Industry (VCCI) and the US Agency for International Development (USAID) on May 5, Quảng Ninh still maintained its top position for the third consecutive year.
On May 19, the Government Steering Committee for Administrative Reform announced that Quảng Ninh ranked first in the Public Administration Reform Index 2019 (PAR INDEX) and the Satisfaction Index of Public Administration Services (SIPAS) 2019.
As one of the top five contributors to the State budget, Quảng Ninh achieved a gross regional development product (GRDP) growth rate of nearly 11 percent from 2016-2019. The average income per capita topped US$6,100 in 2019, doubling the country's average.
With tourism gradually becoming a spearhead economic sector, local hotels and resorts of three stars and above now offer 7,500 rooms, up 68 per cent from 2015. The province served 14 million visitors last year, 5.75 million of them were foreigners.
It was also among the best performers nationwide in terms of budget collection with nearly VNĐ163 trillion (US$7 billion) during 2016-2019, and PPP investment attraction with 44 projects worth VND47 trillion.
Recently, Quảng Ninh launched a tourism stimulus package worth VNĐ200 billion to revive domestic tourism after the COVID-19 pandemic is controlled.
On this occasion, PM Phúc also cut the ribbons to inaugurate several works in Quảng Ninh Province. — VNS
PM asks Quảng Ninh to develop tourism as spearhead economic sector have 544 words, post on vietnamnews.vn at May 24, 2020. This is cached page on Talk Vietnam. If you want remove this page, please contact us.