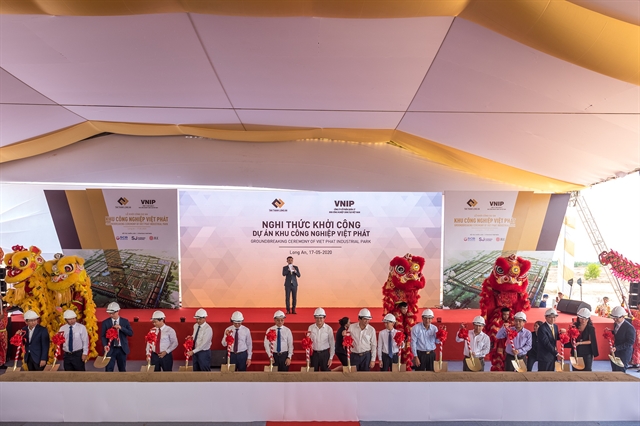 LONG AN — Tân Thành Long An Investment JSC and Việt Nam Innovation Parks Management Corporation broke ground on Sunday (May 17) for the 1,800ha Việt Phát Industrial Park in Long An Province, one of the largest IPs in the country.
Situated in Thủ Thừa District's Tân Long Commune, the IP will have an advantageous position in the Southern Key Economic Region, with convenient road and waterway transportation links with HCM City and other localities in the south.
Lê Thành, chairman and general director of Tân Thành Long An Investment JSC, said there would be a 1,200ha industrial park and a 600ha urban area. All the land has been acquired and cleared, he said.
He said with the goal of developing a new-generation industrial park to facilitate green and sustainable development, the partners have chosen Singapore's Surbana International Consultants Pte. Ltd and Jones Lang Lasalle Co, Ltd for planning, design and exploitation of the project.
"Việt Phát Industrial Park will prioritise green areas, adopt the latest technologies in management, operation, waste treatment, and protection of water and other natural resources to create a green, clean and modern living environment for the community and make it an ideal destination for investors.
"We believe … Việt Phát Industrial Park will not only help attract large investments to Long An Province, especially after the COVID-19 pandemic, and catalyse its sustainable socio-economic growth, but also offer locals stable jobs and increase incomes."
Nguyễn Văn Út, vice chairman of the Long An People's Committee, said the project is a significant development for the province to proactively attract high-quality FDI amid a wave of investors shifting away from China and increasingly setting their sights on Southeast Asia. — VNS
Construction of giant industrial park begins in Long An Province have 497 words, post on vietnamnews.vn at May 18, 2020. This is cached page on Talk Vietnam. If you want remove this page, please contact us.