'Between the quiet hallways and the empty streets, there is a misleadingly peaceful atmosphere outside, that does not reflect the stress and tragedy happening every day between hospital walls.'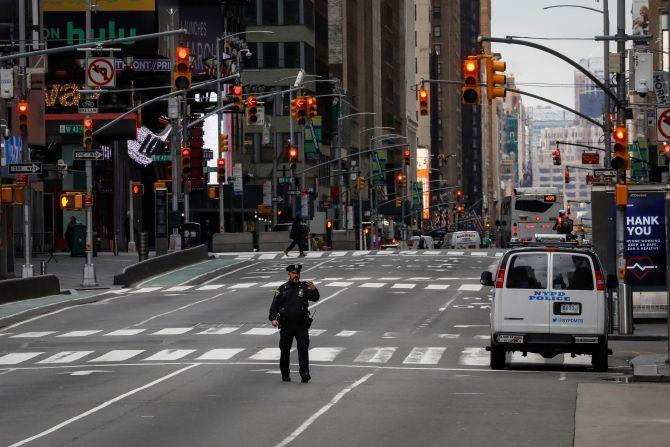 IMAGE: A police officer takes a selfie in an almost empty Times Square in New York City, March 31, 2020.
NRIs and People of Indian Origin describe the impact coronavirus is having on their lives.
---
IK, New York
I have not been in hospitals in my role as a medical student for two weeks, so I can't comment on the situation on the frontlines right now.
I do know that the week before we were pulled out of the hospital, the ICU attending, at the hospital I was at, was upset about his ICU being full before the pandemic had even hit us.
At that time, there were already two COVID-19 patients in the ICU.
I expect there are many more now.
The city definitely feels different.
It is strange to drive down Lexington Avenue and see so many shuttered stores, especially ones like the Chinese takeout restaurants, that you never see closed.
There is very little traffic. A lot of wealthy New Yorkers have fled the city for their vacation homes or rentals.
A friend's family has had to leave their year-round home in East Hampton, because the area has become so crowded they felt it was unsafe to remain there.
On beautiful days, everyone is out at the parks. I haven't seen a lot of large groups, but there definitely are a lot of people.
Everyone is feeling a cramped in their apartments and trying to enjoy the blooming magnolia trees.
I expect we will not be able to enjoy the parks anymore soon enough.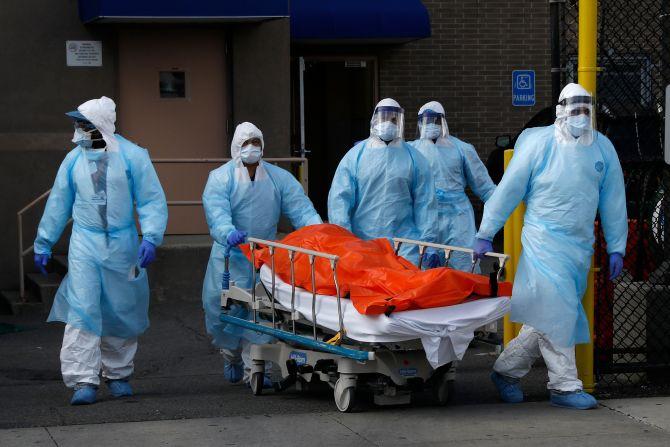 IMAGE: Healthcare workers wheel a body from the Wyckoff Heights Medical Center in the Brooklyn borough of New York City, April 2, 2020.
Uber drivers are stressed out.
They are making less money than usual and assuming risk allowing riders in their car.
One I talked to said he wipes down the entire car in between passengers.
There are very frightening photos of packed subway platforms, because MTA service has been disrupted and there are still many people who must go into work.
Rikers island in the East river, home to the infamous jail, has the highest concentration of COVID-19 cases in the world, and our mayor and governor are dragging their feet on releasing minor offenders.
The poorest people in New York are even more vulnerable and exposed than usual.
The patients I see at our student-run free clinic are undocumented, uninsured, and ineligible for any of the financial relief contained in the $2 trillion bill that was just passed by the federal government.
Many of them required emergency food deliveries from our clinic last weekend because the food pantries ran out of food.
My roommate has been coordinating PPE ( personal protective equipment ) donations from individuals around the city.
I think a lot of people panic-bought N95 masks and are feeling guilty after reading about the dire shortages in hospitals, and want to return them to healthcare providers.
It is hopeful that people are donating, but the city is in dire need of much, much more PPE than we are receiving.
Residents are very stressed and organising fundraisers to buy themselves masks.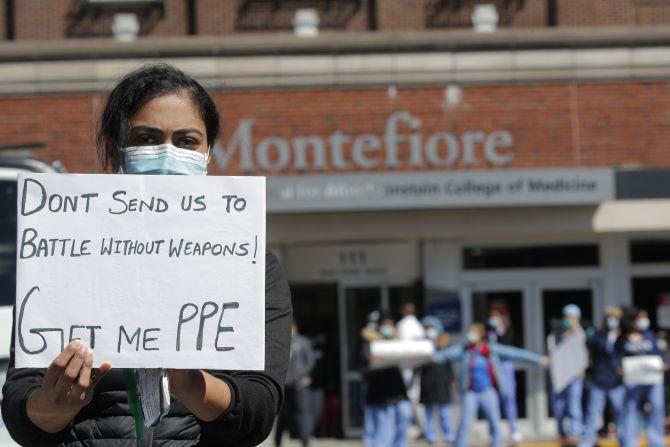 IMAGE: Nurses at the Montefiore Medical Center Moses hospital hold a protest demanding N95 masks and other critical personal protective equipment to handle patients during the outbreak of coronavirus in the Bronx borough of New York City, April 2, 2020.
There is conflict between the hospital as an institution and the frontline providers over proper use of N95 masks.
Hospital policy dictates that they should only be used for intubations and other aerosolising procedures, but residents feel more comfortable wearing them while doing other activities like coronavirus tests, which involve swabbing the back of the throat, where patients often cough in their face.
I spent the day in a hospital yesterday to fit employees with new donated masks, and I will say that in practice, literally everyone is wearing N95s, all of the time, if they can get their hands on one.
From security guards to nurses to housekeeping services to doctors, everyone is wearing one N95 for days at a time until it wears out, sometimes stapling them when the straps break.
People at the hospital are very scared and morale is low.
There are disputes between staff about correct use of gowns and gloves and face shields.
I think lack of PPE is probably the biggest stressor for health care professionals, although this is just me speculating.
Most frontline providers are assuming they will be exposed and infected.
Oddly, the hospital hallways and EDs are quiet.
There are much fewer patients coming in, because the risk of entering a hospital is so great.
Between the quiet hallways and the empty streets, there is a misleadingly peaceful atmosphere outside, that does not reflect the stress and tragedy happening every day between hospital walls.
To me, and probably to many people, it does not truly feel like we are in the epicenter of a global pandemic.
I suppose we are now the eye of the storm.
---
Dear Reader:
Are you someone of Indian origin living through these challenging times somewhere abroad?
We would like to hear how you are coping and what's happening outside your window.
How it has been for you emotionally and practically?
We would like to have your observations and perspectives.
Please share your responses with us and we will publish your account right here on Rediff.com .
Do write in to us at [email protected] rediff.co.in (Subject: Living abroad through COVID-19) along with your NAME, AGE and LOCATION.
Please don't forget to share a photograph of yourself and any significant pictures you have taken of your environment.
'We are now the eye of the storm' have 1173 words, post on www.rediff.com at April 3, 2020. This is cached page on Talk Vietnam. If you want remove this page, please contact us.