Vinaconex to gain $35.8 million from VCP shares
As the shares, with sticker VCP, closed at VND52,000 each on February 18 on the official unlisted market UpCOM, Vinaconex-owned shares, or 28 per cent of the stake, was worth VND832 billion (US$35.8 million).
According to Vinaconex's financial statements for Q4 2019, it paid more than VND137 billion for the shares.
Vinaconex said the transactions could be made via order matching or put-through between February 19 and March 18.
The divestment announcement was made last Friday when VCP shareholders agreed to allow its second largest shareholder PVI Opportunity Investment Fund to increase ownership to more than 25 per cent without a public tender procedure.
The firm also decided to list its shares on either the Ha Noi Stock Exchange (HNX) or the HCM City Stock Exchange (HoSE) in Q2 or Q3 this year.
VCP's shareholder structure has changed since November 2019 when PVI Opportunity Fund bought shares of VCP with a volume of 13.9 million units, increasing its ownership to 24.4 per cent.
Thong Nhat Asia Investment, on the other hand, sold 3.9 million shares and is no longer a major shareholder since February 10. Recently, VSD Investment also registered to withdraw 6.2 million shares, equivalent to 10.9 per cent of capital, from February 17 to March 17.
Last year, VCP reported VND492 billion and VND232 billion in revenue and profit after tax, down 4 per cent and 2 per cent over 2018, respectively.
The firm said its business activities faced difficulties due to continued difficulties in hydrological conditions due to low water flow.
Established in 2004 as Cua Dat Hydropower Joint Stock Company in Thanh Hoa Province, the firm then also operated some hydropower projects in Bai Thuong and Xuan Minh in the same province.
Last November, VCP shares increased by 70 per cent to reach VND65,000 each. Today, the shares lost 6.3 per cent to close at VND 52,000 on UpCOM.
Vinamilk CEO takes chairmanship at GTNFoods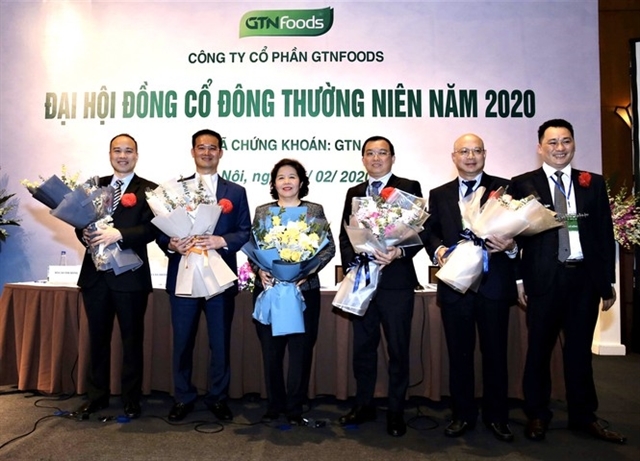 New chairwoman Mai Kiều Liên (third, left) and other new members in GTNFoods Board of Directors for the 2020-24 term. — Photo tienphong.vn
The decision was made at GTNFoods' first annual shareholder meeting after the company was acquired by Vinamilk in December 2019.
GTNFoods' former board of directors was also disbanded and the new board was made with five new members for the 2020-24 term.
All five board members came from Vinamilk. Lien was named the new board chairwoman.
Other board members included Le Thanh Liem, the new chief finance officer cum chief accountant, and Trinh Quoc Dung, director of raw material development.
Dung became the new CEO at GTNFoods in December 2019 after Vinamilk acquired GTNFoods.
GTNFoods in 2020 targets a total net revenue of VND2.9 trillion (US$124.7 million), a pre-tax profit of VND159 billion and a post-tax profit of VND99 billion.
Last year, the company earned VND2.97 trillion in total net revenue, down 1.46 per cent year on year. Its post-tax profit was only VND6.7 billion, accounting for only 3 per cent of the full-year target.
Lower full-year earnings in 2019 were attributed to the decline in market consumption and the restructuring of the company following Vinamilk's acquisition.
According to business strategy director Cao Thi Hong, GTNFoods has focused on improving the quality of products. The deal with Vinamilk is expected to bring GTNFoods a better future with its excessive resources, a huge distribution network and high quality of corporate governance.
Chairwoman Lien said the deal aims to foster both companies. GTNFoods will develop high-quality organic dairy farms and Vinamilk will expand its plants to consume all farm outputs.
Little impact from coronavirus
The noval coronavirus (COVID-19) has had little impact on Vinamilk's business in China, Lien told reporters on the sidelines of the annual shareholders meeting.
Business insiders and analysts have raised concerns that Vinamilk may suffer from the spread of coronavirus in China and its sales in the most-populated market may go down as demand declines.
Such concerns have dragged Vinamilk shares (HoSE: VNM) down in the last two weeks since the market re-opened after the week-long Tet (Lunar New Year) holiday.
Since the market re-opening on January 30, Vinamilk shares have dropped a total of more than 12 per cent to end last week at VND106,600 per share.
Vinamilk in 2018 made the first step into China – the world's most populated market – and the company's products have appeared in the two provinces of Hubei and Hainan as of August 2019.
COVID-19 will drag China's total domestic consumption down and demand for all products, including necessities such as milk and dairy outputs, will drop, according to business insiders.
Lien said the virus will force people to look for nutritious products to improve health, so there should be no worries about Vinamilk's business in China.
Vinamilk in 2019 earned a total of VMD56.3 trillion in net revenue, up 7.1 per cent year on year. Its pre-tax profit gained 6.2 per cent on-year to VND12.8 trillion and net profit rose 3.5 per cent on-year to VND10.58 trillion.
COVID-19: First batch of exports cleared at Thanh Thuy int'l border gate
Twenty-one container trucks of dragon fruits weighing 315 tonnes and a lorry carrying wood totally valued at nearly 5 billion VND underwent customs clearance at Thanh Thuy international border gate in the northern province of Ha Giang on February 18-19.
Head of the customs office at the border gate Luong Trung Kien said it is the first batch of exports that went through clearance in 2020.
After the Tianbao international border gate in China's Yunnan province resumed operation, officials at Thanh Thuy international border gate have offered all possible support for exports-imports, he said.
In the context of the outbreak of the acute respiratory disease caused by a novel coronavirus (COVID-19), shipments of Vietnamese farm produce to China at major border gates were suspended. Several border gates neighboring China have recently come back to work./.
Can Tho City to solve difficulties for enterprises
The municipal People's Committee vice chairman Duong Tan Hien delivered this statement during a conference held late last week here to review the performance of local enterprises and draw up solutions to facilitate their business.
These groups will also review the city's administrative procedures and then propose local authorities to cut off cumbersome and inappropriate ones, Hien said. He requested relevant departments and sectors to assist businesses in accessing credit and technical transfer funds, as well as in training their personnel and expanding their distribution channels.
Many local businesses have encountered difficulties in accessing credit due to high interest rates offered by banks of between 19 per cent and 20 per cent, deputy chairman of Can Tho City Business Association Nguyen My Thuan said at the event.
The banks' other conditions for loans such as healthy finances, collateral and feasible projects have also caused the firms a headache, she said.
Thuan proposed that the city's authorities create favourable conditions for businesses, especially those specialising in processing farm produce, to access bank loans and for investors in receiving preferential financial sources to implement their projects.
Statistics from the association showed that as of last year, the city was home to nearly 8,000 operational businesses with total registered capital of more than VND43 trillion (US$1.84 billion). In 2029 alone, the city saw 1,500 new enterprises established, up 11 per cent year-on-year.
HCM City aids manufacturing to remain on growth track
It will amend the development plans for industrial parks (IPs), build a new IP measuring over 360ha for hi-tech industries, change start-up programmes, and create new support policies.
According to its Statistics Bureau, HCM City has more than 50,000 businesses in the manufacturing sector or 13 per cent of all businesses in operation.
They include over 860 foreign businesses or 20.7 per cent of the total.
The city-designated four major industrial sectors (mechanical engineering; chemicals – rubber – plastics; food processing, and electronics – IT industry) account for 9.86 per cent of the city's economy, and are growing at an average rate of 9.22 per cent a year compared to the city's economic growth of 8.32 per cent
In 2016 – 20 the Index of Industrial Production (IIP) the four major industrial sectors has grown at an estimated 8.56 per cent annually compared with the average annual city industrial production growth of 7.86 per cent, Sai Gon Giai Phong newspaper reported.
Preparations geared up for exporting fresh lychees to Japan
In late 2019, Japan officially announced that it would open the door for Vietnamese lychees following more than five years of negotiations between the Vietnamese Plant Protection Department and the Ministry of Agriculture, Forestry and Fisheries of Japan (MAFF).
After receiving the department's document on requirements for lychees exported to Japan, Hai Duong province's Department of Agriculture and Rural Development asked the People's Committees of Thanh Ha District and Chi Linh City, which grow lychees, to register new regions that grow lychees for export in 2020.
The localities were asked to check plantations that supply lychees to the US, Australia and the European Union, and finish area codes for regions that meet criteria to export the fruit to Japan in February.
The provincial Plant Protection Sub-department will provide support for exporters and help connect them with lychee growers, and supervise plant quarantine. The department said it had contacted several potential exporters inside and outside the province to start promotions and seek Japanese partners. It was also preparing to provide technical guidance for farmers.
Vietnamese lychees exported to Japan must be grown in gardens supervised and granted area codes by the Plant Protection Department, and comply with Japan's regulations on plant quarantine and food safety.
Exported batches must be packed and treated with Methyl Bromide at facilities recognised by the Plant Protection Department and the MAFF with the minimum dosage of 32g/m3 for two hours under the supervision of Vietnamese and Japanese plant quarantine officers.
They must be enclosed with a phytosanitary certificate issued by the Plant Protection Department.
Hai Duong Province has about 10,000 hectares of lychee mostly in Thanh Ha District and Chi Linh City. In particular, over 300ha of VietGAP certified lychees and over 80 percent of the production area are run under the VietGAP process. Currently, 13 areas covering over 130ha have been granted export codes to the US, Australia, the EU and the Republic of Korea.
VPBank completes three pillars of Basel II
According to Dmytro Kolechko, head of VPBank's Risk Management Division, VPBank was one among pioneering banks in Viet Nam to apply regional advanced management standards.
The early completion of Basel II's three pillars would be the foundation for VPBank to move towards safer and more efficient operation as well as approaching higher standards, such as Basel II IRB, IFRS 9 and Basel III, he said.
It also affirmed the capacity of VPBank in risk management and approaching international standards.
Basel II is the second edition of the Basel Accords, which are recommendations on banking law and regulations issued by the Basel Committee on banking supervision, aiming to enhance competition and transparency in the banking system and make banks more resistant to market changes.
Three pillars of Basel II were minimum capital, supervisory review process, and market discipline disclosure.
VPBank reported a record 2019 consolidated pre-tax profit of VND10.3 trillion (US$445 million), exceeding 9 per cent of the yearly plan and up 12.3 per cent compared to 2018.
Firms on edge of delisting after losses
An Giang Fisheries Import Export JSC will start trading on the Unlisted Public Company Market (UPCoM) after being delisted from the stock market.
An Giang Fisheries will debut on UPCoM on February 17. The firm was kicked off the Ho Chi Minh Stock Exchange (HoSE) on Friday.
In mid-January, HoSE decided to delist the firm after the company reported losses for three straight financial years and failed to submit financial reports to HoSE during that three-year period.
In 2018-19, An Giang Fisheries reported a loss of VND111.7 billion (US$4.8 million). The company also suffered a loss of VND178 billion in 2017-18 and VND187 billion in 2016-17.
Other listed companies on the edge of delisting include PetroVietnam Construction Corporation (HNX: PVX) and Construction No 6 JSC (HNX: CT6).
PetroVietnam Construction's parent unit in 2019 reported a loss of VND198 billion, while earnings at member firms have not been revealed.
The company recorded a loss of VND416 billion in 2017 and VND414 billion in 2018.
Reporting a loss in 2019 meant the corporation and its member companies had suffered losses for a third year in a row, allowing the Ha Noi Stock Exchange (HNX) to delist the company.
PetroVietnam Construction Corp suffered losses in 2012 and 2013 but managed to earn a profit the following year to avoid a listing cancellation.
Construction No 6 JSC reported a loss of VND111 million in 2019, which was a big improvement from 2017-18. The firm reported VND10-13 billion worth of losses in 2017-18.
Vinaconex Investment and Tourism Development JSC (HNX: VCR) has also reported a three-year loss of VND35.3 billion from 2017-19.
The poor performance of these companies also reflects in their substandard share prices.
An Giang Fisheries shares fell 6.4 per cent to end Friday at VND2,910 per share. Its shares had traded below the standard price level of VND10,000 per share since July 2017.
PetroVietnam Construction Corp shares finished Friday at VND1,000 per share, having traded below VND3,000 for three and a half years.
Construction No 6 JSC shares closed Friday at VND3,400 per share while Vinaconex Investment and Tourism Development JSC shares ended the week at VND11,000 per share.
A total of 118 stocks on both HCM City and Ha Noi stock exchanges are being watched by the market regulators after the companies reported big losses in 2019.
Those companies include some well-known firms such as farm businesses Hoang Anh Gia Lai (HoSE: HAG) and HAGL Agrico (HNG), seafood processor Hung Vuong (HoSE: HVG), and Truong Thanh Furniture Corporation (HoSE: TTF).
SSI Securities issues 15 million covered warrants
The five stocks are steel producer Hòa Phát (HPG), retailer Mobile World Investment (MWG), VPBank (VPB), HDBank (HDB) and Techcombank (TCB).
SSI will issue 5 million covered warrants for HPG, 1 million for MWG and 3 million each for HDB, HDB and TCB.
The covered warrant items will mature in between three and four months and conversion ratio is 1:1, meaning one covered warrant can be converted into one common share.
Investors can purchase the warrants until 12am on February 18.
SSI selected the three bank stocks as a reference for the covered warrants because of the prospects of the banking sector.
In 2020, SSI's research unit forecast commercial banks may increase total pre-tax profits by 22.5 per cent year-on-year thanks to improved core business earnings.
HPG shares ended Friday unchanged, MWG and HDB fell 0.8 per cent and 2.1 per cent, and VPB and TCB rose 2.1 per cent and 3.1 per cent.
Better data security needed for person-to-person payments: Visa
"As consumers increasingly use person-to-person payment methods for speed and convenience, it cannot come at the expense of security. Financial institutions will need to think differently and collaborate with trusted partners in payment security to address the challenge," the company said.
This is one of many issues that Visa mentioned in its 2020 vision about payment solutions. Visa said data breaches would force adoption of smarter and more dynamic security to protect data and manage fraud.
"Headline grabbing data breaches seem to be never ending. To combat this threat, there will be growth in financial institutions adopting tokens and updated EMV 3-D Secure (3DS) specifications globally," the company said.
Visa explained that tokens replace consumer card information, such as the cardholder's account number, with a unique set of values, which protects transactions when a card or shopper is not present."
Meanwhile, 3DS is a messaging protocol encouraging simple consumer verification by allowing consumers to identify themselves with their card issuer when making online purchases without a physical card.
The other issue is that users will continue to be the weakest link.
"Fraudsters will continue to steal personal information such as bank account data. Organisations need to empower users with education and tools since they are often the first line of defence," Visa advised.
In addition, stores and banks will use digital identities to deliver a better customer experience
As fraud threats increase, digital identity biometrics such as facial recognition, fingerprint scanners and voice recognition may mean the end of passwords.
Visa revealed that it is exploring the use of biometrics for payment verification to new mobile applications like digitally issued cards at the Tokyo 2020 Olympic and Paralympics Games.
Last but not least, Artificial Intelligence (AI) will be used in the battle between good and evil.
"AI will continue to introduce tremendous challenges due to its potential use by hackers. The challenge of AI will require a collective effort across industries to ensure it is used to deliver opportunities and improvements to society."
"By drawing on lessons from the last decade, we can address future challenges and capitalise on opportunities stemming from our increasingly digitalised society," the company said.
Ford Vietnam launches new versions of Ranger, Everest
The US company has also launched the Ranger Limited at VND799 million (US$35,000).
"The Ranger still maintains its leading position in Viet Nam," Pham Van Dung, general director of Ford Vietnam, said.
"Nearly 80,000 Ford Rangers are serving Vietnamese customers and the new generation Ford Everest is increasingly popular for its capabilities and design. I believe that the 2020 updated version of these products will bring more value to Vietnamese customers."
The Ranger Limited is equipped with a 2.0L single-turbo engine that delivers 180 horsepower and an impressive 420Nm of torque. Combined with four-wheel-drive and 10-speed automatic transmission, they enable the vehicle to deliver excellent performance without compromising on fuel economy.
It shares many interior features with the high-end Wildtrak such as smart key, start/stop button and instrument cluster with dual 4-inch TFT screen. Leather interiors, dual climate A/C and parking camera are standard equipment.
The SYNC 3 infotainment and connectivity system has been updated to version 3.4.
Meanwhile, with a shared global chassis platform, the Everest and Ranger are equipped with a 2.0L turbo or single turbo engine and the Duratorq 2.2L engine, with 10-speed and six-speed automatic gearbox options.
With segment-leading power and torque, the company's vehicles have excelled in performance as well as fuel efficiency.
Both the Ranger and Everest have received noticeable exterior upgrades, with a switch from HID to full LED headlamp technology contributing to a more elegant and strong styling while helping improve visibility and reduce glare for oncoming traffic.
They are available at Ford's authorised dealers across Viet Nam.
Industrial sector's growth likely to hit almost 3% in Q1
Of which, the manufacturing and processing industry, that accounts for the lion's share of the industrial sector, will be the hardest hit. This industry is likely to expand just 2.38 per cent instead of 10.47 per cent if the virus is handled.
Industries using materials imported from China are also badly affected as the country is a major supplier of materials and accessories for Viet Nam.
Other industries that will be affected include textile, garment, leather and footwear. In the first three months of this year, the textile industry is expected to grow 1.9 per cent, while the garment sector is forecast to contract 1.5 per cent and the leather and shoe production industry is likely to expand 0.5 per cent. Without the COVID-19 epidemic, the growth of these industries would have reached 10.5 per cent, 7.9 per cent and 8.5 per cent, respectively.
The production of motor vehicles and metals may also slow in the first quarter, rising only 6.9 per cent and 5.2 per cent, respectively. Meanwhile, electronics, computers and optical devices production will possibly see a decline of 2.3 per cent in this period.
Without the epidemic, production would have grown 9.3 per cent for motor vehicles, 9.6 per cent for metal products and 2.4 per cent for the group of electronics, computers and optical devices.
If this epidemic lasts until the end of the second quarter, the industrial sector's growth is forecast to reach nearly 7 per cent in the first half of this year. In this scenario, the manufacturing and processing industry is estimated to gain growth of 8.51 per cent.
The GSO has proposed the Government take supportive measures for enterprises that suffer significant impacts from the coronavirus epidemic, such as seeking alternative suppliers, reducing export-import tariffs and boosting domestic consumption, said its General Director Nguyen Bich Lam.
Those are the enterprises operating in the industries of manufacturing, exporting and importing industrial products, especially textiles, leather, electronics, cars, steel, and food and foodstuff processing enterprises.
To stabilise domestic production, Lam said the GSO has proposed the Government to continue managing macro-economic policies to control inflation and maintain stability in the macro-economy as well as the monetary market.
At the same time, the Government should follow issues relating to import and export, including key export products, major export markets and material imports for production, to solve problems of import and export enterprises.
The Government is advised to address bottlenecks, including administrative procedures, to accelerate the implementation of major public investment projects nationwide, thus boosting socio-economic development.
Ca Mau looks for measures to achieve export turnover target
The provincial People's Committee will take drastic measures to improve the investment and business environment, and push ahead with a project on enhancing the efficiency and sustainable development of the shrimp industry to 2025.
Incentives will be made to encourage the application of advanced techniques in farming and aquaculture, and clean technologies in processing, in order to improve the output and quality of products.
During a recent meeting, Chairman of the People's Committee Nguyen Tien Hai asked relevant departments and sectors of the locality to keep a close watch on the situation in order to keep local enterprises updated, thus helping them proactively prepare production and processing plans.
Local enterprises would also benefit from preferential policies on capital and interest rates, he said.
According to the provincial Department of Industry and Trade, the newly-ratified European Union-Viet Nam Free Trade Agreement (EVFTA) would help Viet Nam expand shrimp shipments to European markets.
Export enterprises in Ca Mau should strive to fully tap opportunities brought about by the agreement to increase the export turnover of shrimp and other key products, it said.
Local firms generated an estimated $60 million from exports in January, 2020, up 7 per cent year-on-year. Their main export markets were the US, Japan, South Korea, Canada, Australia, China, and European nations.
In 2019, overseas shipments earned the firms nearly $1.2 billion, 4 per cent than previous year.
Can Tho City to solve difficulties for enterprises
The municipal People's Committee vice chairman Duong Tan Hien delivered this statement during a conference held late last week here to review the performance of local enterprises and draw up solutions to facilitate their business.
These groups will also review the city's administrative procedures and then propose local authorities to cut off cumbersome and inappropriate ones, Hien said. He requested relevant departments and sectors to assist businesses in accessing credit and technical transfer funds, as well as in training their personnel and expanding their distribution channels.
Many local businesses have encountered difficulties in accessing credit due to high interest rates offered by banks of between 19 per cent and 20 per cent, deputy chairman of Can Tho City Business Association Nguyen My Thuan said at the event.
The banks' other conditions for loans such as healthy finances, collateral and feasible projects have also caused the firms a headache, she said.
Thuan proposed that the city's authorities create favourable conditions for businesses, especially those specialising in processing farm produce, to access bank loans and for investors in receiving preferential financial sources to implement their projects.
Statistics from the association showed that as of last year, the city was home to nearly 8,000 operational businesses with total registered capital of more than VND43 trillion (US$1.84 billion). In 2029 alone, the city saw 1,500 new enterprises established, up 11 per cent year-on-year.
Quang Ninh seeks ways to promote tourism
As a result of the impact of the novel coronavirus (COVID-19) epidemic, the number of tourists visiting Quang Ninh are forecast to suffer a significant drop during the first quarter of 2020.
In comparison to the same period last year, tourists arriving from China and Northeast Asia are poised to see a decline of approximately 80 per cent, while travelers from markets such as Western Europe, North America, and Australia are likely to experience a fall of roughly 30 per cent. In addition, domestic visitors are forecast to suffer a drop of some 70 per cent.
In the face of these difficulties, the Quang Ninh tourism sector is devising plans to seek new markets that can compensate for the decline in tourists, whilst simultaneously stimulating tourism demand and upgrading accommodation establishments as a means of promoting tourism.
Tourism companies have been active in changing their approach to target new markets such as Russia, Western Europe, and India. With regard to the domestic market, Quang Ninh province is set to work alongside a number of provinces and cities in order to put in place effective measures to promote the area as an attractive destination.
Alongside these moves, tourism firms will also be providing training courses to staff in order to improve their qualifications and their comprehensive skills, whilst also upgrading facilities to ensure the highest level of safety for visitors.
The Quang Ninh Provincial Party Committee Secretary Nguyen Xuan Ky stated that along with drastic preventive measures aimed at combating the COVID-19, the local tourism industry must be resolute in presenting an image of Quang Ninh as a safe, friendly, and attractive destination that is suitable for both domestic and foreign tourists.
As of February 17, there have been no cases of the COVID-19 infection in the province. With the area remaining a safe destination for tourists, the locality is performing well and is striving to protect the health and safety of the travelers, whilst also ensuring that goals of promoting sustainable development are met.
Moreover, it is also expected that Quang Ninh will see the Quang Hanh high-class hot mineral resort project in Cam Pha city put into operation during the course of the coming year.
Vietnam's economic growth in 2020 driven by traditional sectors
Vietnam's GDP increased 7.02% last year, marking the second consecutive year the economic growth rate has surpassed 7%. Economists say this will create momentum for this year's growth, which will be primarily driven by traditional sectors.
Last year's GDP growth rate of 7.02% was high compared to other Asian countries. Vietnam's inflation rate, budget deficit, and foreign currency reserves all improved.
Nguyen Dinh Cung, former Director of the Central Institute for Economic Management (CIEM), said Vietnam's economy will be strengthened with the improvement of indexes of the budget deficit, foreign debt, money supply, foreign currency reserves, and exchange rates.
"Although 2020 is the final year of the 12th National Party Congress, the renewal of state-owned enterprises, and the reform of the business environment to boost the private sector will continue," said Cung.
"In 2020, the private economic sector remains the driver of Vietnam's economic growth and the disbursement of public investment will be improved. I believe Vietnam will continue to see a growth rate between 6.8 and 7%", Cung added.
Vu Tien Loc, Chairman of the Vietnam Chamber of Commerce and Industry, talked about potential fields for investment through 2030. He said opportunities will be given to sectors with traditional advantages.
According to Loc, "This year traditional sectors will continue to offer huge investment opportunities. These include the garment and textile, footwear, timber products, electronics, farm produce, seafood, retail, tourism, entertainment, education, healthcare, logistics, and support sectors. New opportunities will be found in the green economy, the creative economy, and the digital economy, together with smart urban development."
Five additional sectors are predicted to see an economic boom this year: consumer goods, tourism and tourism-based industries, logistics, construction and construction materials, and agriculture and agricultural services.
In addition, what will drive Vietnam's economic growth this year will be the domestic market, which has the purchasing power of 100 million people.
Nguyen Duc Hung Linh, Chief Economist and Research and Development Manager of the SSI Securities Corporation, said "Vietnam's long-term growth still depends on making full use of its 100-million-people market, which still has great potential and gives us room to grow before expanding to foreign markets. The 100-million-people market is good not only for retail consumer goods, but also for arts, entertainment, and education. The market demand of these sectors is huge, but the service and quality of domestic businesses is still modest."
Although Vietnam has built up a good foundation on which the economy can grow, more attention should be paid to addressing risks and uncertainties due to external factors and internal weaknesses. Institutional reform and removing obstacles in the business and investment environment should be high priorities.
EVFTA set to allow Vietnamese goods to access market with GDP of US$18 trillion
The European Union – Vietnam Free Trade Agreement (EVFTA) will create opportunities for Vietnamese goods to penetrate a market that has a gross domestic product (GDP) of US$18 trillion, has said Minister of Industry and Trade Tran Tuan Anh.
Miniser of Industry and Trade Tran Tuan Anh made the statement at a recent press conference in Hanoi right after the European Parliament (EP) ratified the EVFTA and the EU-Vietnam Investment Protection Agreement (EVIPA).
The minister described the signing of the two agreements as important milestones in the ongoing relationship between the two sides, noting that the trade deals will be a highlight within the framework of co-operation between both parties within a world of increasing globalisation and countries becoming ever more protectionist.
He pointed out that within the context of the complicated developments in the world, the signing and ratification of the EVFTA has served to demonstrate the strong determination that exists from both sides as they look to promote bilateral relations. In addition, the trade deal will contribute to developing the Vietnam-EU relations in a comprehensive and sustainable manner.
At present, Vietnamese goods such as agricultural products, footwear, and textiles have faced a number of barriers to enter export markets due to the impact of the ongoing novel coronavirus epidemic. The EP's approval of the EVFTA and EVIPA will give a boost to the country's export activities in the near future.
According to Minister Tuan Anh, the trade pact is expected to open up a wealth of opportunities for local goods to penetrate a market that has a GDP of US$18 trillion.
Many of Vietnam's key commodities will be allowed to make inroads into the EU market more easily as the EU is poised to reduce 85 per cent of tariff lines for Vietnamese goods from the first year, with 99 per cent of tariff lines to be abolished seven years after the deal takes effect.
With regard to the roadmap set out by the EVFTA, the MoIT representative said that according to the provisions, the EVFTA will come into effect on the first day of the second month, following both parties notifying each other on the completion of the relevant legal procedures for the entry into force of the agreement.
For the Vietnamese side, the trade deal is expected to be ratified during upcoming National Assembly session in May before coming into force from July this year.
Minister Tuan Anh affirmed that the EVFTA represents a new-generation and high quality FTA that will cover a wide range of fields, including government procurement, state-owned enterprises, public investment, and intellectual property.
With the highest levels of commitment within the signed FTAs, the EVFTA is expected to bolster the nation's exports and GDP growth over in the coming years.
He noted that along with greater opportunities, the implementation of these FTAs, especially the new-generation FTAs, could pose numerous challenges for local businesses and the Vietnamese economy. This could come from factors such as increased competition, trade protectionism, and regulations on trade remedies.
In order to take full advantage of the opportunities brought about by the integration process, the MoIT has been working with the government and other relevant ministries, localities, and business associations to focus on deploying groups of solutions.
Accordingly, amendments to the legal system will be made in order to implement the commitments set out by the FTAs, especially for the recently signed FTAs, such as the Comprehensive and Progressive Agreement for Trans-Pacific Partnership (CPTPP) and EVFTA.
Minister Tuan Anh also underlined the need to improve businesses' competitiveness by changing their mindset to adapt to the new context, and being proactive in grasping the market information whilst developing high quality human resources.
Only when firms meet the conditions and standards set out by the import markets such as the rules of origin, preferential tariffs will be effective for promoting exports, thereby accelerating the overall national economic growth, he noted.
Farmers in Mekong Delta province switch to more lucrative Thái jackfruit
Famers in the Cửu Long (Mekong) Delta province of Đồng Tháp have switched to growing Thái (Thai) jackfruit on around 1,000ha from other fruits and low-yield rice since it fetches a higher income.
It includes 200ha in Châu Thành District and 100ha in Tháp Mười District.
Nguyễn Văn Công, a farmer in Tháp Mười District's Mỹ Quý Commune, said he switched to growing Thái jackfruit on his 2,000sq.m of low-yield paddies three years ago.
Jackfruit trees could be planted closer to each other than other fruit trees, and so around 1,000 trees could be planted on one hectare, he said.
"Growing jackfruits … helps my family earn a better income."
The income from three jackfruit trees is equivalent to that of 1,000sq.m of rice, he explained.
On average a tree produces two to three fruits of four to nine kilogrammes per crop, and so he harvests 40-50 tonnes per hectare per year, he said.
Farmers earn an average of VNĐ500 million (US$21,500) a year if the price of jackfruit is VNĐ10,000 ($0.43) per kilogramme. Sometimes the price goes up to VNĐ50,000-60,000 ($2.2-2.6).
Nguyễn Văn Hải, a farmer in Tháp Mười District's Phú Điền Commune, said he had a hectare of paddy land and switched to Thái jackfruits.
"The fruits can be harvested three or four times a month."
Each time he harvests 500-700kg.
His orchard thus fetches him VNĐ600 million ($25,800) a year since the price is VNĐ17,000-20,000 ($0.75-0.85) per kilo now.
In recent years farmers in the delta region growing Thái jackfruit have found exports lucrative because of the high demand for the fruit overseas.
Thái jackfruit is available both fresh and dried.
According to the Đồng Tháp Province Department of Industry and Trade, most of the province's output is exported to China via non-quota exports.
The province has recommended that farmers should fully understand the market's requirements and find steady markets before expanding the area under the fruit to avoid oversupply.
Six million masks to be made in February
Textile manufacturers are ramping up production of masks to combat the spread of novel coronavirus (COVID-19), according to the Vietnam National Textile and Garment Group (VINATEX).
The group set a target to make 5.5-6 million masks by the end of February, while maintaining a steady supply of 10 tonnes of anti-bacterial cotton for medical mask makers across the country, enough to produce up to three million masks daily.
The group said its members have shifted to mask production after the virus outbreak in China. It has made promises that masks will be produced following strict quality-control standards and sold at no more than what it costs to make them.
Medical facilities, schools, airlines and the army will be prioritised in receiving mask supplies. Only ten per cent of the group's production will be sold directly at selected venues at a maximum of five masks per person per day.
The group said some of its companies are setting up dedicated operations for mask making and output could still be improved to 12 million masks a month by March.
Mekong Delta sees fall in tourist arrivals
The Cửu Long (Mekong) Region is seeing a fall in the number of tourist arrival due to the Covid-19 outbreak.
According to Cần Thơ City's Department of Culture, Sports and Tourism, the city attracted 813,000 visitors during Tết (Lunar New Year) holiday, a year-on-year increase of 4.5 per cent, but the number of visitors has been down in January and February.
Local tourism agencies announced that many tours to and from Cần Thơ have been cancelled.
The Đồng Tháp Province's Department of Culture, Sports and Tourism forecasts that the number of arrivals would decrease by 50 per cent.
Cần Thơ and Đồng Tháp asked tourism areas to focus on upgrading facilities, building new attractions and tours, and training staff to be ready to welcome visitors when the Covid-19 epidemic ends.
They also asked tourism agencies, hotels and restaurants to create tourism promotion plans, discount programmes, and new tourism products.
An Giang Province is preparing for an annual Bà Chúa Xứ Temple Festival on Sam Mountain in Châu Đốc Town. It will be held from the 23rd to the 27th day of the fourth lunar month, or May 15-19.
Nguyễn Khánh Hiệp, director of the provincial Department of Culture, Sports and Tourism, said: "The province expects to welcome a huge number of visitors during the festival."
According to the Kiên Giang Province's Tourism Department, many resorts on Phú Quốc Island are facing challenges because the number of visitors, particularly foreigners, is expected to drop dramatically this month.
In 2019, Phú Quốc welcomed 8.78 million visitors, an increase of 13.9 per cent compared to 2018.
Cement demand foercast to climb 4-5% this year
Demand is estimated to reach 101-103 million tonnes, an increase of 4-5 per cent from last year, of which 69-70 million tonnes will be used at home and 32-34 million tonnes will be shipped overseas.
According to the Department of Construction Materials, two cement production lines are expected to be put into operation this year, bringing the total number of cement production lines in Viet Nam to 86 with a total output of 105.84 million tonnes. However, Nguyen Quang Cung, chairman of the Viet Nam Cement Industry, said the construction material market this year would remain unchanged from last year, and could even slow.
Enterprises should reduce output and renew technology to increase quality, according to Cung. Now, they should not only focus on profits but also on product quality.
The current difficulties facing cement companies include rising fuel prices and wages, environmental issues and technology. A proposal has also been put forward to impose an environmental tax on cement manufacturers.
In addition, the construction ministry said cement exports from China and Thailand could increase so Viet Nam would face more competition in the global market.
Domestic enterprises needed to follow the global market to adjust production and maintain stable prices with a long-term production and business strategy.
To stabilise the domestic cement market this year, the construction ministry has asked the Ministry of Industry and Trade to increase prices of key commodities such as electricity, coal, petrol and oil.
The ministry has asked the Viet Nam Coal and Mineral Industry Group to stock enough quality coal for cement plants while Viet Nam Electricity needed to ensure enough power for cement production.
Cement experts said Vietnamese enterprises need to identify existing difficulties to renew their technology and produce better quality products and improve their competitiveness.
A number of large cement enterprises said they were focused on green development in production and business, use of new technology, saving natural resources and protecting the environment.
According to the ministry, the cement industry's growth exceeded 2 per cent in 2019.
Despite facing increasing fuel prices and fierce competition, the industry still witnessed growth in domestic consumption and exports.
The total consumption volume of cement and clinker in 2019 reached about 98 million tonnes, an increase of 2 per cent year-on-year. Domestic consumption reached 67 million tonnes, up by 1 per cent, while the export volume stood at about 32 million tonnes, earning US$1.27 billion.
According to Cung, the growth in domestic consumption did not reach the goal of 5-7 per cent. Meanwhile, exports exceeded the target of 25-27 million tonnes set for 2019.
Pork price dives under VND75,000 per kilo
During the visit, Vu Anh Tuan, Deputy General Director of the CP Viet Nam Company, said his company reduced the price of pigs by VND3,000 per kilo from Saturday to VND73,000-75,000 depending on the kind of meat.
Meanwhile, according to Nguyen Nhu So, chairman of the Dabaco Viet Nam Group's board of directors, the price of live hogs is between VND73,000-76,000 per kilo depending on the region and the average price is about VND75,000.
Cuong appreciated the reduction in prices by the large enterprises and said it would ensure the livestock industry as well as the domestic market experiences sustainable development.
African swine fever caused Dabaco Viet Nam to lose 20 per cent of its pig herd, especially at its farm in Ha Nam Province. After disinfection, the company has re-produced the pig herd in Ha Nam with 3,200 sows.
According to So, the company's total herd has increased by 5 per cent compared to before the epidemic, reaching 6,000 heads.
From now until the end of this year, the company's total pigs are expected to increase to 250,000.
In January 2020, pork prices increased by 8.29 per cent to VND90,000 per kilo compared to December 2019, greatly affecting January's consumer price index (CPI).
Viet Nam's CPI in January hit a record high, up 1.23 per cent over the previous month and 6.43 per cent year on year, according to the General Statistics Office (GSO).
BUSINESS NEWS HEADLINES FEB. 20 have 7174 words, post on vietnamnet.vn at February 20, 2020. This is cached page on Talk Vietnam. If you want remove this page, please contact us.