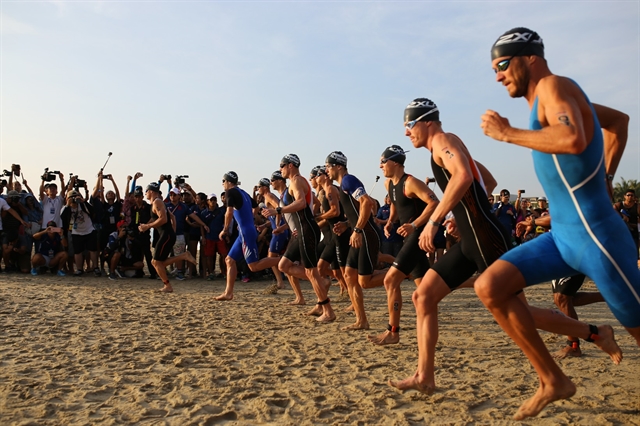 ĐÀ NẴNG — Two triathlon events in Việt Nam have won awards as the Best Overall Triathlon Race in Asia in 2019 following an announcement for the Best Races awards by AsiaTRI.
Challenge Việt Nam in Nha Trang City and Ironman 70.3 Việt Nam in Đà Nẵng were honoured by the  leading website for triathlon news in Asia.
"When Challenge Việt Nam race debuted in 2016, it was awarded the best Inaugural Race, and it was unfortunate that the race was discontinued for two years. When it came back in 2019, not only it has doubled its participants, it has validated its previous award and for putting up a race that features a fantastic course – swim course in one of the best and longest beach coastline in Việt Nam, well-paved road and scenic coastal view for the bike course that has a mix of everything–short hills, false flats–pure flat sections, and an out and back run course that hugs the city's coastline," AsiaTRI wrote.
"If there is a part of the course that you have to rave the best is the bike course – the 18km loop is 100 per cent closed to traffic and you all have four spacious lanes all for participants. Coastal and skyline view awaits you as well as natural rock formations on the mountain side of the course."
The website also lauded Challenge Việt Nam's post-race party and varied accommodation options in Nha Trang when bestowing it with the Best Race in Asia-Long Course title.
For the Đà Nẵng race, the website heaped praise upon the city's accessibility in terms of flights from across Asia and hotel options.
"The team at Sunrise Events-Việt Nam has learned leaps and bounds from their inaugural race from 2015 to hosting the Ironman 70.3 Asia-Pacific Championships last May 2019."
 "It is just fitting, to highly recommend Ironman 70.3 Vietnam to our followers as the best destination race-cation in the long course category," AsiaTRI said.
The 2020 TECHCOMBANK IRONMAN 70.3 Việt Nam competition opened for registration from late 2019, offering early registration for 600 people in a two-month period. VNS