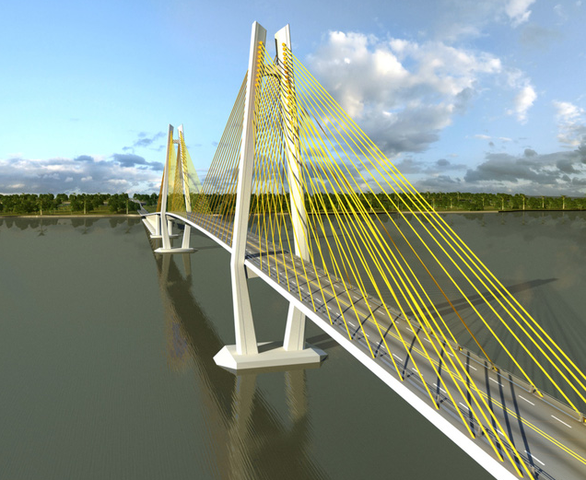 HCM CITY — The Ministry of Transport has submitted a proposal to the Prime Minister for approval of a pre-feasibility study for Rạch Miễu Bridge No2 that would connect Tiền Giang and Bến Tre provinces.
After the Cổ Chiên Bridge linking Trà Vinh and Bến Tre provinces opened in 2015, the number of vehicles increased sharply during holidays on Rạch Miễu Bridge No 1 to HCM City from Trà Vinh Province and neighbouring Vĩnh Long Province.
According to the ministry, the current Rạch Miễu Bridge often has traffic congestion, especially during rush hour and does not meet the needs of socio-economic development of the provinces in the region.
Therefore, the construction of Rạch Miễu Bridge No2 is necessary.
Lê Văn Hoàng, director of the Transport Department of Bến Tre Province, said there were currently about 18,000 vehicles crossing the bridge every weekday and more than 20,000 vehicles on weekends.
The cable-stayed bridge will have a total length of 17.5 kilometres and be 17.5 metres wide, designed with four lanes for traffic.
Rạch Miễu Bridge No 2 will be three kilometres upstream of Rạch Miễu Bridge No 1.
The total investment of the project is VNĐ5.1 trillion (US$221 million), including VNĐ3.2 trillion ($138 million) for construction and VNĐ705 billion ($30.4 million) for compensation and site clearance.
The project is expected to start construction in 2021 and be completed in 202. — VNS
Ministry of Transport proposes to build Rạch Miễu Bridge No.2 have 394 words, post on vietnamnews.vn at January 11, 2020. This is cached page on Talk Vietnam. If you want remove this page, please contact us.