The harvesting machine takes just one second to fell the towering spruce, and another to strip the branches and scan its trunk for defects.
"This one is very straight," operator Antonio Petersson Kvennefelt says of the trunk gripped by the arm of his machine, as a screen in front of him flashes with data.
"The computer decides what it wants the logs to be. This one is for Långasjö, a sawmill in Sweden."
Read more: Forest SOS: Earth's green lungs disappear
Kvennefelt has been working in the forests around the city of Växjö in southern Sweden for more than 20 years. When he started out, decisions were mostly left to the forest workers' judgement, but the industry is now more high-tech.
"The computer makes sure each sawmill gets exactly what that sawmill wants," he explains.
And across the world, what saw and pulp mills want is more and more wood.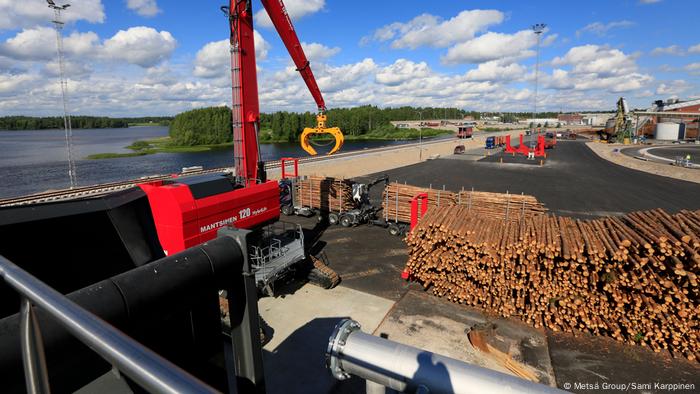 Pulp mills across the wold want more wood. This one is Finland uses birch, pine and spruce logs from sustainabily managed forests
Demand for wood
According to the latest figures from the UN's Food and Agriculture Organization (FAO) , global forest production hit record levels in 2018. Up 11% on the year before.
"We see an increasing demand for almost all of our products," says Göran Örlander, strategist at Södra, Sweden's largest association of forest owners. "The most obvious demand is for biofuels at the moment. Everybody wants to have biofuels to replace fossil fuels."
The idea is that burning wood becomes close to carbon neutral if the forests from where it is taken are replenished at the same rate as they are felled for fuel.
But critics question whether this is the case in every country which claims to provide sustainable wood, and say some of what is supplying the current boom in biomass fuels comes from existing forests rather than sustainably managed plantations.
Read more: Biofuels: Good or bad for the environment?
They also point to the carbon emitted from the soil of cleared forests, and to the emissions created in the felling and processing of wood products.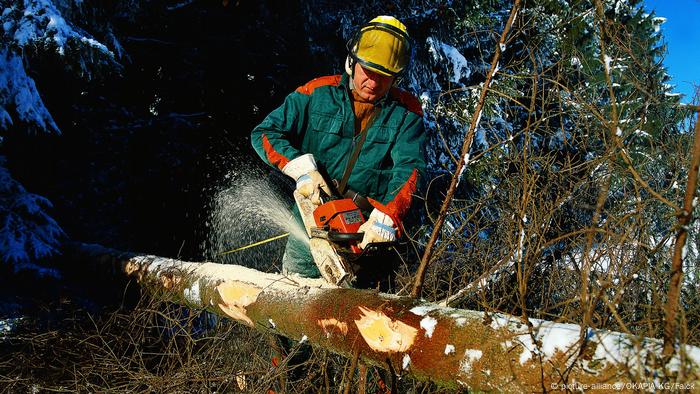 Critics of biomass question whether all of the wood comes from sustainably managed forest
In 2017, 200 scientists wrote to the EU questioning its assumption that wood biomass for energy should be treated as a renewable fuel.
Nonetheless, according to the trade body Swedish Forest Industries, the country's trees are now capturing and storing a net 48 million tons of CO2 a year as they grow, while another seven million are stored in long-lasting products made from Swedish wood. Taken together, that is enough to make Sweden effectively carbon neutral.
But Professor Johan Bergh, who heads the forestry department at Växjö's Linnaeus University, just a short walk away from Södra's offices, says there are very few other countries in the same position.
"Globally I don't think the forest resource is enough," he told DW. Particularly not, he added, to supply the transport industry with wood-derived bioethanol or biodiesel.
"A lot of forest would be needed to replace fossil fuels in vehicles," he says. "It would require at least half of the new forest growth in Sweden at a national level, and of course at a global level, it would be much, much more."
Read more: Wood: renewable construction material of the future?
Other industries are also increasingly showing an interest in wood as a resource.
Not just for heating
Södra has teamed up with Dutch airline KLM to explore the feasibility of producing jet fuel from forest biomass, and is also working with the Scandinavian airline SAS on plans for a pilot biofuel plant in the north of Sweden.
Bioplastic packaging — some of which relies on wood fibers — currently makes up just one percent of total plastics production. But that is expected to grow over the coming years.
Architecture firms are also racing to use cross-laminated timber to replace carbon-intensive concrete and steel, and wood-based fibers now represent about six percent of all textiles.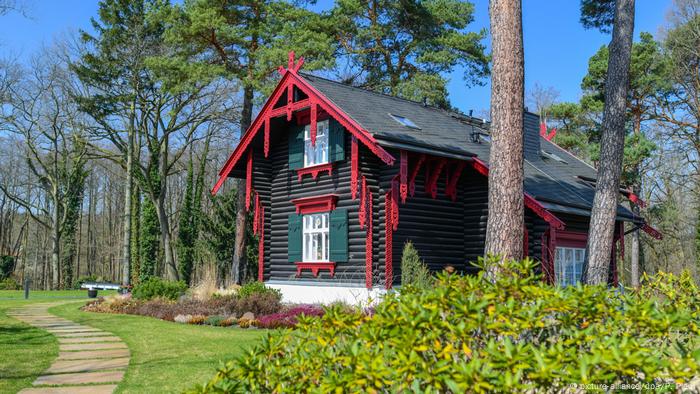 Wood is a traditional building material, but more architects are returning to it
The attraction is clear. When wood is used in buildings, for example, carbon is taken out of the carbon cycle and stored for as long as the building stands.
But according to preliminary findings from a joint United Nations Economic Commission for Europe (UNECE) and UN Food and Agriculture Organization study into future supply and demand scenarios, even if every effort were made to maximize global forest cover, doubling the use of wood in buildings, furniture and other products would reduce rather than increase the amount of carbon sequestered globally.
"The projected increase in wood products carbon in this scenario was not enough to offset the loss in biomass carbon due to increased removals depleting forest stocks," the authors wrote.
The limits of wood
There are also limits to the use of wood for heat and power.
Back in 2010, EUwood, a study led by the University of Hamburg warned that "even if all measures for increased wood mobilization" were implemented, by 2020 the European Union's domestic sources would struggle to satisfy wood demands and meet renewable energy targets.
By 2018 the EU was already supplementing its wood pellet consumption with imports to the tune of eight million tons. And some conservationists argue member states' use of biomass is driving deforestation and boosting carbon dioxide levels.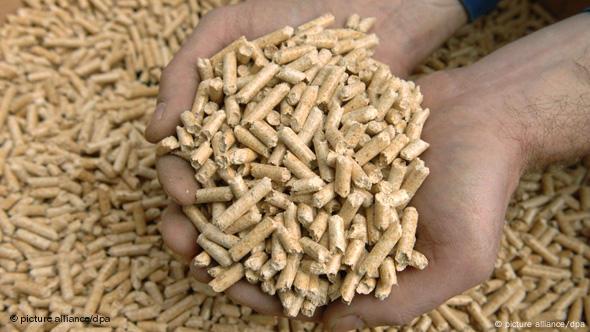 Wooden pellets can be burned for heating in homes
Read more: Burning wood under fire: Are forests going up our chimneys?
But at Växjö Energy, a Swedish heat and power plant, which became a 100 percent biomass facility in December, chief executive Erik Tellgren is not worried about supply. He says forest owners currently leave most of the branches and tops of trees they cut down to rot.
"There is still a potential of at least twice the amount of residue streams in the forest today that is simply left there," he says.
There are also other potential changes that would create space for the expansion of global forest cover. Rod Taylor, Global Director of the Forests Program at the World Resources Institute (WRI), believes a shift in global diet away from meat would allow the replanting of huge areas of marginal pastureland.
"The really big win comes through plantations in countries where wood grows fast, like in Brazil," he argues. "If you have very eroded, low productivity pastureland, and you start planting that up with trees, it could pull a lot of carbon out of the sky."
Read more: What economic value do forests have?
Bergh believes it would be possible to at least double forest stocks in key exporting countries such as Sweden, Canada and Russia, while increasing production at the same time.
But with so many industries now looking to the forests for their future carbon-neutral feedstock, even that would be unlikely to cover growing demand.
The good news about reforestation efforts

China

Beijing has intensified decadeslong efforts to plant billions of trees across the country, especially in northern areas threatened by growing deserts. Every year, it plants seedlings over an area equal to Ireland. The state has pledged to boost forest coverage to 30% by 2050. Today, World Bank data say it's about 22%. But critics say non-native species and monocultures threaten water resources.

The good news about reforestation efforts

Iraq

China has also taken its expertise abroad. In Iraq, limited rain, dropping water levels, increasingly high temperatures and the volatile security situation have exacerbated desertification. Inspired by Chinese techniques, like one that uses a grid of straw squares to hold the ground together and provide a base for grasses and eventually, larger plants, experts hope to hold back the dunes.

The good news about reforestation efforts

Niger

In Africa's Sahel region, south of the Sahara, they've taken a different approach. With a variety of local vegetation and a technique that grows trees from existing root systems, local farmers have helped regreen 50,000 square kilometers (19,300 square miles) in Niger alone. This technique, developed by Australian agronomist Tony Rinaudo, was recognized with the Right Livelihood Award in 2018.

The good news about reforestation efforts

Burkina Faso

In neighboring Burkina Faso, the UN program REDD+ helps farmers launch a large-scale tree planting effort of over 300,000 hectares (740,000 acres) to help mitigate desertification. Forests here are threatened due to expanding farms and a growing population, one of Africa's fastest. REDD+, launched in 2008, works with indigenous peoples in 65 countries in Africa, Asia-Pacific and Latin America.

The good news about reforestation efforts

India

In a country where nearly 30% of the land is degraded — by farming, urbanization and deforestation —tree planting efforts are major events. In recent years millions of Indians have joined record-breaking campaigns, planting hundreds of millions of seedling. About 40% succumb to disease or lack of water. The Modi government has pledged to restore 26 million hectares of degraded land by 2030.

The good news about reforestation efforts

Peru

The Amazon rainforest is under threat from cattle ranching and resource extraction, not to mention the devastating fires in 2019. Deforestation in Brazil rose to its highest level in over a decade last year. In neighboring Peru, reforestation efforts have targeted fields damaged by illegal gold mining, as well as the Machu Picchu archaeological site, which is at risk of mudslides and forest fires.

The good news about reforestation efforts

Australia

Australia has been ravaged by bushfires, which wiped out more than a fifth of its forests and killed some 1 billion animals. In December, the World Wide Fund for Nature launched a plan to "save and grow" 2 billion trees by 2030. "This natural climate solution can be achieved by protecting existing trees, allowing cleared forests to regenerate and planting new trees," said WWF — a boon for koalas.

The good news about reforestation efforts

Canada

A tree planting veteran, Canada has been reforesting for decades — on private and public land,where laws require the forestry industry to replant following clearcutting. In his 2019 election campaign, Prime Minister Justin Trudeau committed to adding 2 billion trees over the next decade. A wide range of biomes, from Arctic tundra to temperate rainforest, makes tree selection important.

The good news about reforestation efforts

England

In northern England, trees cover just 7.6% of the countryside. But a new Northern Forest is set to take shape from western Liverpool to eastern Hull over the next 25 years. It follows the success of the National Forest further south, which saw its first saplings in 1995. It's hoped more trees will help ease climate change, reduce flooding and create jobs. But critics say it's mere greenwashing.

The good news about reforestation efforts

Germany

The forests that inspired legends and fairy tales aren't doing so well. At a national forest summit last September, Berlin devoted €800 million ($878 million) to help care for and replenish the country's trees, which have suffered from several years of hot, dry weather and bark beetle attacks. Forestry experts are searching for hardy, native species which can adapt to Europe's changing climate.

The good news about reforestation efforts

Romania

Widespread illegal logging — some sourced to timber firms and furniture makers in Western Europe — is devastating some of Europe's last remaining virgin forests. Romania loses about 3-9 hectares (7-22 acres) of forest per hour to dishonest timber firms, according to Greenpeace. In early 2020, the Environment Ministry announced plans to replant more than 1,000 hectares of these affected forests.

Author: Martin Kuebler
Is there enough wood in the world to feed sustainability? have 2041 words, post on www.dw.com at January 1, 2020. This is cached page on Talk Vietnam. If you want remove this page, please contact us.