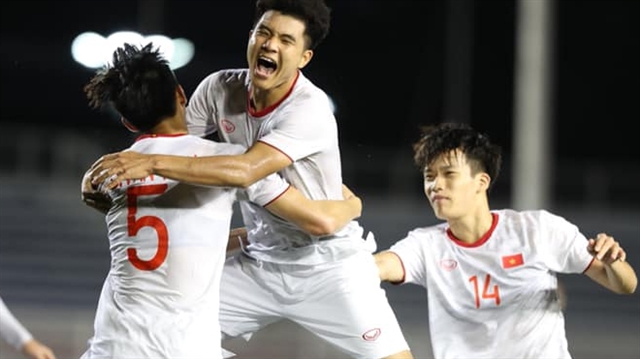 SEA Games
HÀ NỘI Việt Nam defeated Singapore 1-0 thanks to a late header from striker Hà Đức Chinh in their fourth match in Group B at the Southeast Asian (SEA) Games in the Philippines yesterday.
Việt Nam went into the game with a 100 per cent record having beaten Brunei 6-0, Laos 6-1 and Indonesia 2-1, while Singapore had lost two and drawn the other.
In the first half, Việt Nam were wary and struggled to find a way through, seemingly devoid of ideas.
In the 16th minute, Vietnamese goalkeeper Nguyễn Văn Toản did well to block a 25m free kick from Irfan Fandi.
Two minutes later, star midfielder Nguyễn Quang Hải fell to the ground in a heap after a strong tackle near the box, forcing coach Park to replace him with Đỗ Hùng Dũng.
Goalie Toản was called into action not long after to cut out a dangerous cross by Syahrul Sazali from the left wing.
Dũng then stole the ball in midfield, but overran it and missed the chance to counter.
Việt Nam received two yellow cards for Lê Ngọc Bảo and Đức Chiến in the opening 28 minutes as their frustrations mounted.
Singapore were content to sit back and wait for mistakes to prevent any real threat on goal.
After the break, both sides pushed for the opener.
Việt Nam's first chance came in the 54th minute, but they failed once again to register a shot on target.
Their efforts finally paid off in the 84th minute when striker Hà Đức Chinh broke the deadlock. From a corner swung in by Triệu Việt Hưng, Hậu created space for Chinh to nod the ball home. 
It was Chinh's fourth header and fifth goal at this year's SEA Games.
With this win, Việt Nam remain on top of Group B with 12 points, followed by Indonesia who beat Brunei 8-0 in the other match played on Tuesday.
Việt Nam will next face Thailand on Thursday. VNS