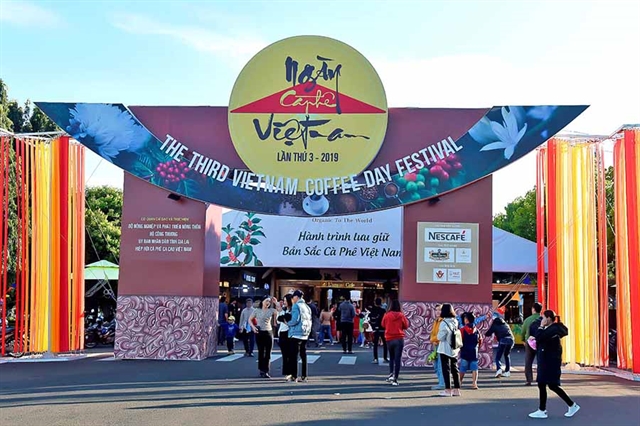 HÀ NÔI — Local and foreign firms in the coffee industry gathered for a trading conference in the central highlands province of Gia Lai on Monday.
The conference was among activities held to mark "Việt Nam Coffee Day". The event was held between Sunday and Tuesday under the co-organisation of the Gia Lai People's Committee and the Việt Nam Cocoa Coffee Association and the Việt Nam Trade Promotion Agency.
According to the organiser, Việt Nam Coffee Day 2019 connects domestic and foreign coffee producers, processors and traders. It was considered an important event not just for Gia Lai Province, but for the whole country, bringing opportunities to expand investment in coffee import and exports and enhance the value of Vietnamese coffee globally.
The event also featured an exhibition on various coffee products from six top coffee producing provinces of Gia Lai, Đắk Lắk, Đắk Nông, Lâm Đồng, Kon Tum and Sơn La.
Hundreds of stalls displayed premium products from popular coffee brands like Vinacafe, L'amant, Nestlé, and Kingcoffee.
Gerando Patacconi of the International Coffee Organisation (IOC) said: "Việt Nam has become the leading member of ICO (International Coffee Organisation) and is now the second largest coffee producer and exporter in the world."
He added: "Việt Nam is one of the most successful countries in the field of coffee."
Deputy chairman of provincial People's Committee Kpă Thuyên told the conference: "Gia Lai has been calling for investors into the processing industry."
He added that the province was also seeking best solutions to sustainable development of coffee cultivation.
Currently, Gia Lai is one of the largest coffee producers in the country with nearly 100,000ha of coffee plants.
It was also home to about 300ha of organic coffee, certified by the USDA. Local farmers have also partnered with food and beverage producer Nestlé to bring safe coffee straight from farm to table.
Coffee is one of Việt Nam's key export products. In the first 11 months, the export reached US$3 billion. VNS