The application of international LNG standards would ensure safety in the design, construction and implementation of infrastructure projects in Vietnam, a US official said.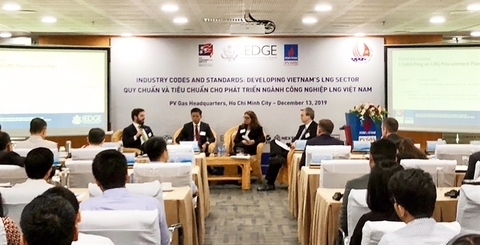 Speakers at a workshop on the adoption and application of globally recognised standards in Viet Nam's LNG power and infrastructure sector on Friday in HCM City. — Photo courtesy of the US Consulate in HCM City
Timothy Liston, acting US consul general in HCM City, said that the US wants to help Viet Nam's public and private sector implement the LNG (Liquefied Natural Gas) standards.
"Today's programme focuses on the importance of sharing information and best practices in LNG industry codes and standards, with the goal of aiding Viet Nam's public and private sector to implement internationally recognised standards in the energy sector. These standards positively impact public health, industry safety, and the environment," he said.
In 2017, the US became a net exporter of natural gas for the first time since 1957 and will become one of the top global LNG exporters in coming years. US energy firms are poised to work with Viet Nam to develop its LNG import and gas-fired power generation capacity.
One year ago, US Ambassador to Viet Nam Daniel Kritenbrink launched the US Mission's Asia EDGE (Enhancing Development and Growth through Energy) initiative at a major LNG conference in HCM City.
Asia EDGE is a US government effort to grow sustainable and secure energy markets throughout the Indo-Pacific (also known as Asia Pacific). It seeks to strengthen energy security, increase energy diversification and trade, and expand energy access across the Indo-Pacific.
The US Mission to Viet Nam will host a US Department of Commerce-led Business Development Mission to Southeast Asia from March 15-24 with stops in HCM City and Ha Noi. The trade mission, with additional stops in Indonesia and Thailand, will be the first organised under the Asia EDGE initiative.
It will help commemorate the 25th anniversary of the normalisation of relations between the US and Viet Nam by celebrating current and future bilateral partnerships in the energy sector.
The workshop was organised by the US Mission to Viet Nam in partnership with Petro Viet Nam Gas Joint Stock Corporation (PV Gas).
More than 80 public and private sector representatives attended the event from both countries, including executives from the US energy sector, including leaders of Cheniere Energy, Energy Capital Viet Nam, Gen-X Energy, LNG Limited, S&P Global Platts, and Tellurian. — VNS
US partners with PV Gas on raising Viet Nam's LNG standards have 604 words, post on vietnamnet.vn at December 16, 2019. This is cached page on Talk Vietnam. If you want remove this page, please contact us.