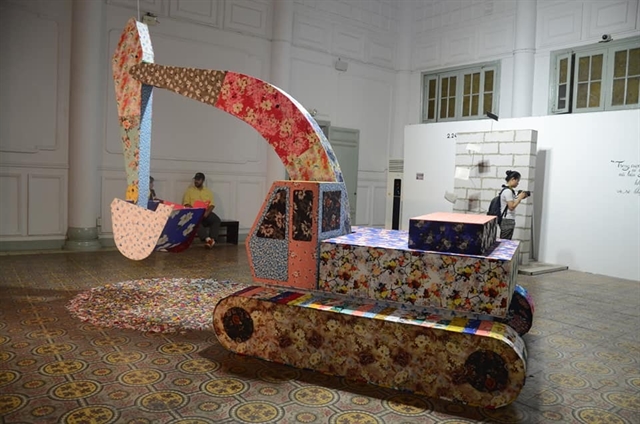 HCM CITY — The contemporary arts exhibition "Unexpected Jump" featuring French, Belgian and Vietnamese artists has opened at the HCM City Fine Arts Museum.
The exhibition showcases oil paintings, sculptures, installations and videos created by French artists Emmanuelle Vincent and Pierre Lauraza, Vietnamese-Belgian painter Nguyễn Trương Minh Thy, and students of the HCM City University of Fine Arts.
The artists used paintings, videos and houseware to make art works exploring the changes of HCM City and its lifestyle, as well as challenges which residents face every day.
Dancers are also giving performances that demonstrate their works.
Frédérique Horn, director of the French Institute in HCM City, said at the opening ceremony on Thursday night that the exhibition was a combination of various art forms, materials and multimedia. It reflects cultural harmony among French, Belgian and Vietnamese artists.
The exhibition is "a borderless jump" in the arts where experienced artists and students together create a breakthrough in multimedia art, she added.
The exhibition is part of a bilateral cultural cooperation project called "The Centrifuge" between Belgium and Việt Nam introduced in 2016 in partnership with the HCM City University of Fine Arts.
Under the project, an exhibition called "The Smile of Mutation" was organised in HCM City in December 2017, which attracted the attention of local artists, students and the public.
The "Unexpected Jump" exhibition will be open to the public from Tuesday to Sunday until December 29. The museum is at 97 Phó Đức Chính Street in HCM City's District 1.  VNS