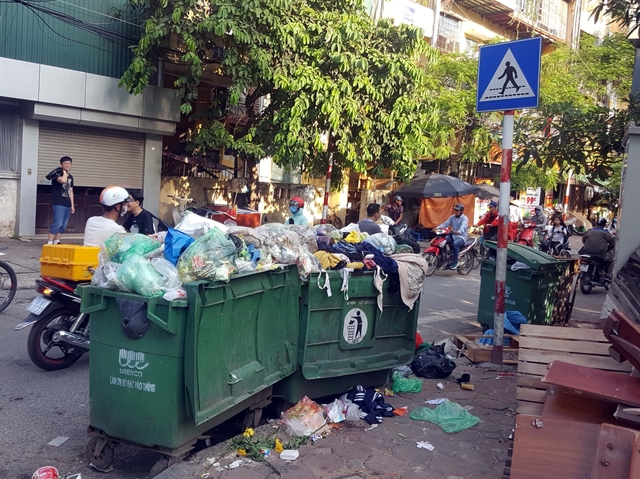 HÀ NỘI — Dozens of residents living in Nam Sơn Commune, Sóc Sơn District in Hà Nội, blocked lorries transporting rubbish into the Nam Sơn rubbish dump on Monday.
Triệu Tuấn Đức, director of the Nam Sơn Branch under the Urban Environment Company (URENCO), told Tiền phong (Vanguard) newspaper that the residents are demanding compensation as they live within 500m of the rubbish dump and are affected by pollution.
Nguyễn Văn Chính, a resident, told Lao động (Labour) newspaper that on July 5 this year, the municipal people's committee asked district authorities to complete a compensation plan and support resettlement for residents in the affected area. All of the work must be finished before the end of this year.
However, residents have not yet received any compensation, said Chính.
Trần Thị Thu Hà, deputy chairwoman of the Sóc Sơn District Women's Association, told the Vietnam News Agency that the district authorities had completed a report on the problem and sent it to the Hà Nội People's Committee.
The report proposed several adjustments related to compensation policies for residents.
To remove residents living within 500m of the rubbish dump following a decision by the municipal people's committee, the Sóc Sơn District People's Committee started to pay compensation in July 2 this year. As many as 1,100 households in Nam Sơn, Hồng Kỳ and Bắc Sơn communes were to receive compensation worth a total of VNĐ3.4 trillion (US$146.2 million). However, the compensation payment was not completed.   
So far, after nearly 20 years living with environmental pollution and noxious odours released by the rubbish dump, local residents have blocked lorries from taking rubbish to the dump six times.
The first time was on June 26, 2016, because they did not agree with the compensation plan.
The latest incident was the third time this year the residents blocked the lorries.
At present, about 80 per cent of rubbish from Hà Nội is taken to the rubbish dump, equal to about 5,000 tonnes per day. — VNS
Residents block lorries transporting rubbish to Nam Sơn rubbish dump have 419 words, post on vietnamnews.vn at December 24, 2019. This is cached page on Talk Vietnam. If you want remove this page, please contact us.