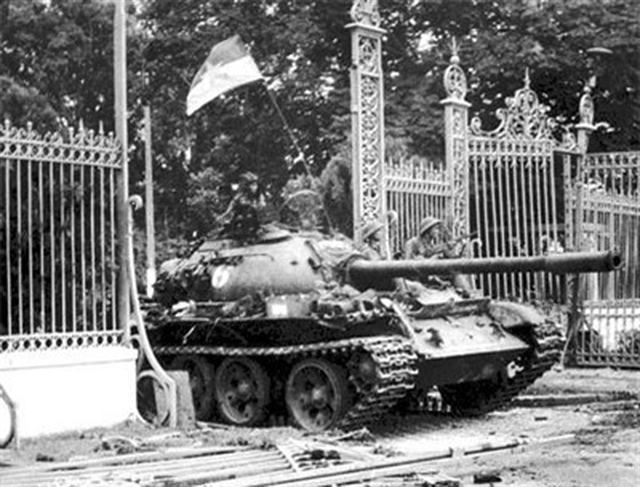 The Việt Nam People's Army will celebrate its 75th anniversary on December 22. Under the leadership of the Communist Party and with the support of the Vietnamese people, the army, from a small team founded in a forest in the northern province of Cao Bằng to the large and powerful force it is today, has overcome all challenges to preserve its prestigious spirit of an "army of the people and for the people". Việt Nam News offers readers a look at just how much some veterans have given to their country.
What happened in 1971 will always stick with Prof Phạm Thành Hưng, a lecturer of literature at the University of Social Science and Humanities.
Hưng, who was then a student at the University of Hà Nội's Faculty of Literature, left his family and studies to join 400 other students from the university to sign up as soldiers after a national appeal to join the resistance war against the Americans.
"It was really the most fierce period of war and we would never have known what was really happening at the front unless we joined," Hưng said.
Hưng told his mother about his decision and braced for her tears.
"But no, she just looked at me and said: 'That's what a young person should do at this time of war,'" Hưng remembered about his last days at home before joining the army.
His mother's acceptance of his decision surprised him but later he saw that, like many in the country, his mother was brave and understood that risk of death at any moment was part and parcel of life in wartime.
Prof Hưng said he now understood what his mother meant. According to her, sacrificing oneself for the freedom of the country was a worthy outcome for anyone who left their homeland to fight.
To this day, the professor still recalls the story when he talks to students about his time as a soldier and jokes that: "So my mother was ready to 'sell' me to the country!"
Hưng joined the army in September 1971 at the age of 17.
"At that time, Quảng Trị battlefield was so extremely fierce that many soldiers lost their lives in the first days of fighting when they didn't even know the names and addresses of each other," he said.
His memory of losing about a third of his comrades in the artillery company at the front still haunts him.
"A teammate was lying on my arms with all his body badly injured. There was no way to stop the bleeding. I was crying as I heard his last words calling out for his mum," the teacher tearfully recalled.
Hưng said he could not do anything and just helplessly watched his comrade become cold and pass away. Whenever he thinks or talks about him, he invariably sheds tears.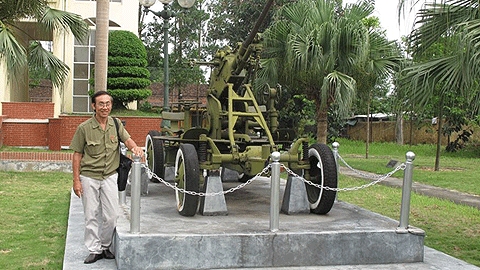 The veteran teacher said about 10 years ago, he returned to the old battlefield and found the tomb of his comrade.
After years living under the shadow of death, Hưng survived the war, but came out of it severely injured.
"Whenever I was in the most serious conditions, I always thought: I cannot die. Young students should not die. We will return. We will return to dispel the sadness on the faces of our principal and our loved ones when they came to say farewell on the departure day," Hưng said.
However, reality is cruel.
Only about 50 students among the 400 who joined the army that day returned home alive.
Each year, on national occasions like the Day of War Invalids and Martyrs (July 27) and South Việt Nam Liberation Day (April 30), the teacher visits Quảng Trị National Cemetery to burn incense and pray for his fallen comrades.
The central province of Quảng Trị witnessed fierce fighting for 81 days and nights in 1972 as the Việt Nam People's Army battled the Americans and Sài Gòn troops to protect Quảng Trị Citadel, who desperately wanted to retake the position.
Leaving his youth on the battlefield, Hưng returned to Hà Nội to continue his university studies.
He "studied crazily" and then worked at the university. In 1985, he became a PhD student in Czechoslovakia.
In 1991, he returned home and was assigned to a series of important posts at Hà Nội National University, such as secretary of the editorial board of the Hà Nội University Newsletter, and editor-in-chief and deputy director of the Hà Nội National University's publishing house.
Along with his work as a lecturer, he now writes books about journalism and literature.
More than 40 years have passed since the day he joined the army, and despite his mental and physical scars, the teacher is still optimistic and devoted to education.
Hưng wants students to take advantage of the peaceful and prosperous era they live in to study foreign languages so they can expand their knowledge of the world, have new experiences and contribute to developing Việt Nam. VNS
Veterans help protect social security
Lã Văn Nho, chairman of Hà Nội's Hoàn Kiếm District Veterans Association, recently finished a meeting with other members to prepare plans of maintaining social order and security in local areas ahead of the upcoming Tết (Lunar New Year) and other festive occasions.
"Before the deployment for each plan, we thoroughly encourage members to go to each local household to tell them to follow all the ordinances and policies of the Government and Party to ensure social order and national security," Nho told Quân Đội Nhân Dân (People's Army) newspaper.
According to the veteran, the association places importance on the security of Hoàn Kiếm District.
"As the district is home to many important agencies of the Party and State, it is also the place where hostile forces often incite people to cause social disorder," Nho said.
"Facing the above situation, the association has consulted district authorities to link the veteran forces with other public organisations to conduct training and exercises to prevent all hostile activities and keep public order," he said.
Most of the veteran association's members fought on the battlefield and gave their youth and blood for national liberation and reunification, so they have earned the respect of local people.
"This is one of the strengths for us in working with all classes of society and that is why we have an advantage when convincing them to follow Government and State policies," said Nho.
Nho is among more than 2.6 million veterans across the country, many of whom still contribute to the cause of national construction and protection.
As a great example in the national movement "All People's National Defence", the veteran association has worked to coordinate with authorities in the fight against crime, drug addiction and other social evils.
Prime Minister Nguyễn Xuân Phúc lauded the Veterans Association of Việt Nam (VAVN) for its great and active contributions to national construction and defence during a ceremony in Hà Nội to mark its 30th anniversary on December 6.
In his speech, he congratulated the VAVN on its achievements over the past three decades, as well as 585 outstanding individuals involved in the national work emulation movement for 2014-2019.
The VAVN's achievements have been proved through decades of development to be a firm support of the Party, the Government, the State and people of Việt Nam. VNS