Khoa Thư
THÁI NGUYÊN — Đàm Huy Hoàng's heart skipped a beat as the second pink line started appearing on his client's HIV test strip.
Grabbing a jacket, he took the young man to Thái Nguyên's Centre for Disease Control and Prevention for a confirmatory test.
The accuracy of screening tests using finger prick blood samples is up to 97 per cent, and it had Hoàng worried.
In his early 30s, Hoàng leads a double life – a cashier for a local water treatment plant by day, and an HIV tester in his free time whenever there is a need.
Four years ago, Hoàng and his friends established Family – a self-help group working to promote the rights of the LGBT community.
Their initiative quickly caught the eye of the provincial centre for HIV/AIDS prevention. A partnership was created in 2016 that made Family responsible for administering community-based HIV testing for high-risk groups, including men having sex with men (MSM), finding cases of infection and persuading them to have antiretroviral (ARV) treatment with the support of Thái Nguyên CDC and the World Health Organisation (WHO).
Since then, the group of 20 members has provided free HIV screening tests for 700 people and accompanied 200 HIV-infected people on their ARV treatment journeys.
Most of them are students and workers, aged from 18 to 25.
"It is not simple to convince MSM to take HIV tests as they have to face enormous social stigma and always tend to hide their own identity," Hoàng said.
"Over the past four years, we have approached a thousand MSM. In conversations, we avoid mentioning sexual orientations and HIV, instead, we introduce our services of providing free condoms and lubricants. The process has to be repeated over and over again to build trust until they are comfortable enough to expose themselves and are ready to take tests," he added.
So far, this year, the group has uncovered 37 cases of new HIV infections. All of them were sent to Thái Nguyên CDC for treatment.
"We face huge challenges dealing with clients' emotions while waiting for their test results," said Hoàng. "Administering a test is easy, you only need to follow certain steps but no one has ever told us how to psychologically support people while they are waiting for the results."
One of Family's earliest clients committed suicide. The tragic incident has haunted Hoàng for years.
"It used to take a week for test results to come back. It was hell for our clients. Sucidal thoughts came up at night when they were all alone. We had to follow them, and talk to them about self-harming," he said.
"Now, test results are ready within a day, and we tell them being HIV-positive is not a death sentence as long as they follow ARV treatment. That is really a relief."
There is a bookshelf filled with dozens of Japanese manga comics in Hoàng's tiny bedsit, which also serves as a meeting place and test centre.
"Clients can read a couple pages of the comics while waiting for their test results. It stops them from thinking too much, even for 20 minutes," he said.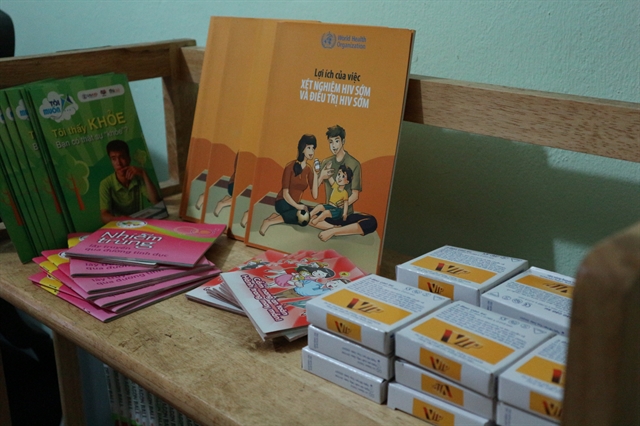 Paying back
Lê Thanh Hậu used to be a drug user before witnessing his family break into pieces.
Returning from a local drug rehab centre in 2016, he started revamping his life by becoming a volunteer at Thái Nguyên Province Outpatient Clinic, supporting ARV patients and searching for new cases of HIV infections.
"It was strange how health workers at Thái Nguyên CDC treated me dearly like a family member," Hậu said. "Their kindness motivated me to do something good in order to pay back for the sinful past I left behind."
Along with four friends, Hậu wanders into countless alleys in Thái Nguyên City and nearby localities in search of drug users to convince them to take HIV tests.
"There used to be some infamous spots where hundreds of needles used to hang out of banana trees," Hậu said.
"The situation has changed a lot now. Drug users are getting younger. They prefer amphetamine-type stimulants like ecstasy which make them lose control and become more vulnerable to HIV due to unsafe sex," he added.
Some of Hậu's friends, who were unable to quit the habit, show him where addicts gather.
"People say I will fall back into my old ways if I keep on visiting drug dens. But no way, I have paid enough," said Hậu.
This year, Hậu's group has found 18 cases of HIV infections and helped 120 patients to undergo ARV treatment.
"I receive a monthly allowance of only VNĐ300,000 (US$13) but I never want to quit this job."
More than anyone, Hậu understands the discrimination HIV-infected people have to tolerate.
"Compared with removing a scar from my arm, fighting against stigma is so difficult. People with HIV need social acceptance and tolerance to step out of their dark zones and undergo treatment. The mission would be impossible without the community's participation," he said.
Communities make the difference
"They are our trusted partners," said CDC Thái Nguyên Deputy Director Lê Ái Kim Anh about Hoàng and Hậu.
Thái Nguyên Province is ranked fourth nationwide in terms of the number of people suffering from HIV, following Hà Nội, HCM City and Hải Phòng, and sexually transmitted diseases are on the rise.
With nine colleges and two industrial zones, the province has a high population, making it hard to estimate the number of HIV-positive cases.
Thanks to restless efforts of community groups, more than 79 per cent of people living with HIV know their status, nearly 73 per cent of people diagnosed with HIV receive sustained ARV therapy, and over 95 per cent of them have viral suppression treatment.
"Communities make the difference in the fight against HIV/AIDS," said Nguyễn Hoàng Long, director of the Việt Nam Administration of HIV/AIDS Control.
"However, the withdrawal of foreign resources has posed several challenges to these groups as they do not have legal status or financing. We are working with them to overcome these difficulties," he added.
To Hoàng, funding cuts do not bother him much.
"We estimate there are 5,000 HIV-infected people who have no idea about their status. Our journey has not come to an end yet," he said.
And to Hậu, "being an event planner helps to sustain my social service. Why stop when I still feel content doing this job?" — VNS