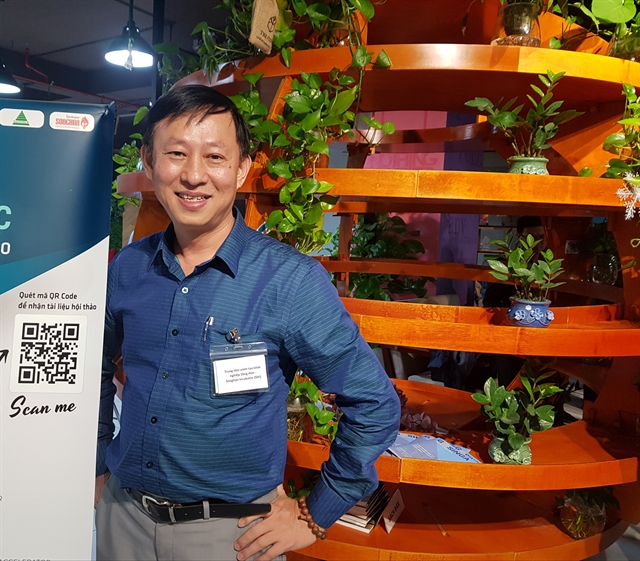 Lý Đình Quân, director of the Songhan Incubator, one of the first private start-up incubators in Việt Nam, talks with reporter Chi Lan about the role of the private sector to support a new generation of start-ups in Viet Nam.
The Government offered little incentives and support for the private sector when Songhan Incubator was established in January 2017. Why did you decide to open the incubator back then?
First and foremost, it was my vision that innovative technologies would surely be a foundation for the country's future economic growth. They will draw attention from various institutions and a new generation of start-ups and businessmen will blow a fresh wind into the economy.
The establishment of the incubator is an essential tool in the initial phase (of a start-up) when young entrepreneurs have the opportunity to grow their capabilities and receive support in terms of market knowledge, business models and chances to reach out to the investors.
In retrospect, I feel I've done the right thing to help the young mature and succeed in their first stage from where they can keep developing their businesses on their own. That way it's better and more sustainable for them.
What do you think are the advantages of the private sector over the Government in supporting start-ups?
The initial phase of planting a start-up generally requires both the private sector and the Government to join hands. It's impossible to have just the Government or the private sector do the work of building an entire start-up ecosystem from scratch.
The Government has the resources and can implement start-up policies yet it doesn't have great insight into the market. The private sector, on the other hand, is in constant touch with the market and customers, and can give reliable feedback to the Government on which policies to adjust to catch up with market movements.
Songhan Incubator has been recognised for its role in promoting start-ups in universities across the country. Could you tell more about this?
The Songhan Incubator has co-operated with more than 20 universities over the last three years. In my view, universities are like material sources of business talent and we're there to help universities develop their own strategies to make those talents shine.
For example, we came to Thái Nguyên University three years ago and helped them completely change their way of thinking and thus their methods to facilitate new start-ups. The university can now hold professional business competitions to look for hidden talents while running a start-up support centre at the same time.
We also worked with the Foreign Trade University to grow its own start-up ecosystem and reach out out-of-school resources to inject the latest innovation and creativity trends into the university. By doing so, its students can easily approach such knowledge and set up start-ups not limited by any boundaries.
Our incubator as well as others and even the authorities can work to support young students by providing them the best start-up education so they can have a higher rate of success after graduation. Another thing is we should provide a better environment in university for scientists to work on research projects that can be market feasible and eventually commercialised.
You have worked with several provincial authorities to offer know-how about setting up a local start-up ecosystem. What do you think are the most common and biggest challenges for municipal Governments when trying to create start-up ecosystems?
The initial phase is the most important stage in building a fundamental and basic ecosystem. When the basic ecosystem is shaped, people will soon realise the benefits it brings and will proactively engage with it.
But the real hard work mostly lies in the first stage with all kinds of difficulties and few interested in investing in it.
If we don't have insight about the methods or the techniques to build an ecosystem, it will take a lot of time. For example, connectivity among stakeholders is not the real issue but the techniques to forge such connectivity are crucial.
Authorities have to invest in primary infrastructure and offer initial financial support as well as other incentives like office seating arrangements, aid for intellectual property rights and business establishment.
Authorities can also attempt to raise the quality of the ecosystem by considering the quality of lecturers, experts, investors and the investor connectivity network. Those elements are generally weak in Việt Nam.
In underdeveloped provinces where entrepreneurial spirit is not as high as in big cities, that leaves most of the work to local authorities.
Most of the provinces started making ecosystems without knowing exactly what they should do to implement Project 844 (a Government project to promote and facilitate start-ups nationwide), or figure out what kind of policies to make as they can't approach and utilise the resources from universities, companies or businessmen.
I think the biggest challenge for local authorities is human resources, especially those who work in institutions to support start-ups. They must truly understand innovation and be passionate about what they do and what they wish for the future of the local start-ups.
They also have to develop policies which are market feasible and can draw in universities to join hands with businessmen and experts, both inside and beyond the locality, to facilitate start-ups. — VNS
Gov't and private sector must join hands to lift start-up community have 974 words, post on vietnamnews.vn at December 31, 2019. This is cached page on Talk Vietnam. If you want remove this page, please contact us.