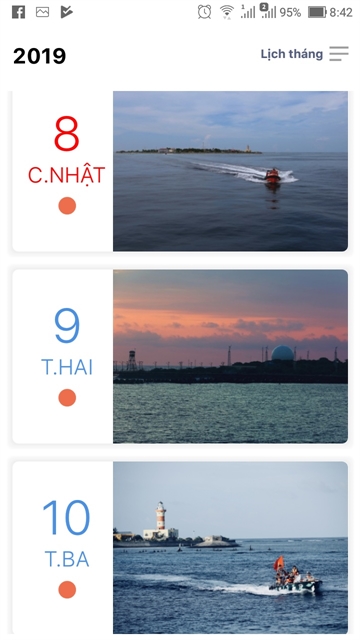 HÀ NỘI — Images of the Trường Sa (Spratly) Archipelago can appear not so far away thanks to a new calendar app.
The app was launched on Thursday in Hà Nội as a result of the collaboration between Trường Sa – DK1 Rig Fund, Hoàng Trường Media, the Committee for Connecting Spratly Soldiers and overseas Vietnamese community.
The project of building Spratly calendar application started last year, according to Lê Hồng Quân, vice director of the project.
The app also provides information about the islands and anniversaries. Users can take notes, consult information of weather and save the key dates.
"The app will help spread the love for the Spratly Islands and sea territory of the country, raise people's awareness of the national sovereignty and bring images of the archipelago to many more people," said Quân.
"Now, all Vietnamese people at home and abroad and foreigners can use this calendar on the base of Android and iOS. The usage is free."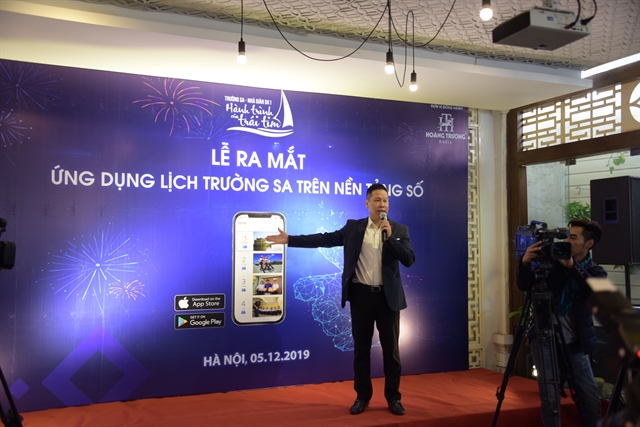 Quân said last year, the Trường Sa – DK1 Rig Fund published 10,000 table and wall calendars with photos of the Spratly Islands. They have been sent to many people throughout the world. However, due to the long distance, the transport also takes much time and the calendars often become damaged. 
"That's the reason why we began thinking of a calendar that you can take with you anywhere," he said.
The proceeds from selling printed calendars are used to fund students who are children of soldiers in the Spratly and buy gifts for the soldiers on the occasion of Tết (Lunar New Year).
"The project helps protect the national sovereignty, enhances the solidarity between people on the mainland and soldiers on the islands and evokes the patriotism among people, especially who live overseas," said Quân.
Attending the ceremony, Trương Mỹ Hoa, former President of Việt Nam, President of For the Beloved Hoàng Sa – Trường Sa Club, highly appreciated the initiative of establishing the application and said she's moved as the images of the Spratly now are promoted globally.
"I have a strong attachment to the Spratly, the holy place of the nation. When I retired, I spend most of time to work on projects relating to the archipelago," she said.
"I hail the idea of the authors of the application and expect that in the near future, they will have more devotions to support soldiers and people in the Spratly." — VNS