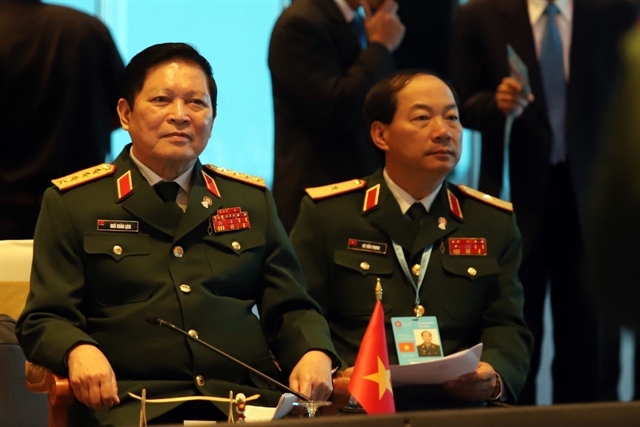 BANGKOK — Vietnamese Defence Minister Ngô Xuân Lịch called on ASEAN members to consolidate the bloc's unity, foster ASEAN centrality principle in the face of "strategic competition" in the region between world's major powers.
He made the statement during the ASEAN Defence Ministers' Meeting (ADMM) Retreat and the sixth ASEAN Defence Ministers' Meeting Plus held in Bangkok, Thailand, from November 16-19.
The Vietnamese military chief also stressed the importance of compliance to international law, which he deemed "an effective instrument" in regulating relations between countries for the aim of maintaining peace and security in the region and in the world at large.
"Any country's defiance of international law or cherry-picking interpretation of stipulations that would serve only their interests will result in lack of trust, which might eventually escalate into tensions and confrontations," minister Ngô Xuân Lịch said at the meeting.
"The observance of international law must take the highest priority for when international law is not respected, only smaller countries – not the world's powers – would suffer the heaviest consequences," he stressed.
Citing recent complicated developments on the East Sea (known internationally as the South China Sea) – including the stand-off between Việt Nam and China when China deployed its survey ship escorted by coast guard vessels deep into Vietnamese waters and continental shelf, Minister Lịch said that to turn East Sea into a sea of peace and sustainable development, international law and practices – especially the 1982 United Nations Convention on the Law of the Sea – must be followed.
"This required utmost commitment and responsibility form all countries within and outside the region," Lịch said, urging ASEAN countries to foster consensus and collective power within the bloc to flexibly and capably deal with external challenges and impacts.
Lịch said that as the ASEAN Chair 2020, Việt Nam affirms its wish to promote internal connectivity, improve the efficiency of ASEAN-led defence cooperation mechanisms, and enhance cooperative ties with dialogue partners.
Earlier, Vietnamese defence minister Lịch on Saturday met Deputy Prime Minister of Thailand Prawit Wongsuwan and Defence Minister of Indonesia Prabowo Subianto in Bangkok.
He also had talks with his counterparts from Australia, Brunei, New Zealand and South Korea on Sunday.
In his opening address to the meeting, Thai Deputy Prime Minister Prawit Wongsuwan thanked the defence ministers and the ASEAN Secretariat office for supporting the country to complete its role as the ASEAN Chair in 2019, and particularly successfully organise the ASEAN defence ministers' meetings.
He spoke highly of the ASEAN member states' positive roles in promoting security-defence cooperation within the bloc, contributing to the maintenance of ASEAN's central role to effectively cope with regional challenges.
The official expressed his hope that the meeting will serve as a venue for competent sides to exchange experience and opinions on defence and security issues, helping further boost collaboration in the field in the time ahead.
Expanded mechanisms
During an unofficial meeting between ASEAN defence ministers and their Japanese counterpart Taro Kano, the latter expressed support for ASEAN centrality in regional cooperation and expects to help ASEAN enhance technology capacity on the basis of Vientiane Vision 2.0.
Chinese defence minister Wei Fenghe reiterated China's respect for cooperation with ASEAN, with military ties getting stronger in recent times.
ASEAN defence ministers noted that activities like ASEAN-China maritime drill in 2018 and China-ASEAN Middle-Aged and Young Military Officers Friendly Exchange in 2019 have helped build up trust between the two sides.
They also appreciated the progress made on the negotiation towards a working Code of Conduct on the South China Sea (COC).
During an unofficial meeting with US Defence Secretary Mark Esper, the latter stressed the US' commitment to a free and open Indo-Pacific on the basis of respecting countries' sovereignty and upholding the rule of law.
ASEAN ministers, for their part, welcomed the US' active engagement in ASEAN-led mechanisms, including ADMM+ and activities like joint drills.
Discussions during the defence ministers' meetings will be held on cooperation in seven areas of humanitarian assistance and disaster relief, maritime security, military medicine, counter-terrorism, peacekeeping operations, humanitarian activities and cybersecurity – with the East Sea issue high on the agenda. — VNS
Vietnamese defence minister calls for unity in ASEAN meeting have 919 words, post on vietnamnews.vn at November 18, 2019. This is cached page on Talk Vietnam. If you want remove this page, please contact us.