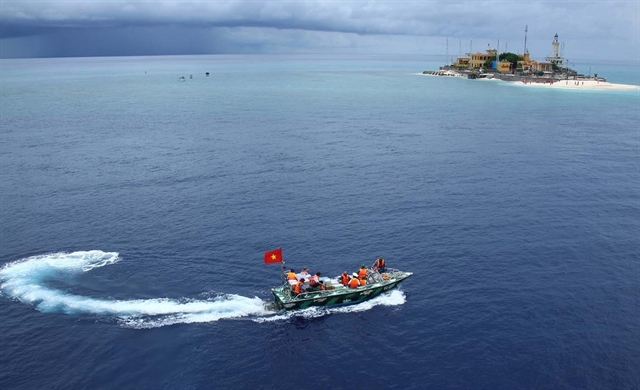 Approaching An Bang (Amboyna Cay) Island in Việt Nam's Trường Sa (Spratly) archipelago. — VNA/VNS Photo Quý Trung
HÀ NỘI — Việt Nam rejects all contents of the statement made by the Chinese spokesperson on sovereignty over Trường Sa (Spratly) archipelago on November 8.
Vietnamese Foreign Ministry spokesperson Lê Thị Thu Hằng made the statement in response to reporters' question on Wednesday.
The Chinese foreign ministry spokesperson Geng Shuang last week during a regular press briefing said that Việt Nam and other countries in the region engaged in so-called "occupation of China' Nansha Islands" – China's name for Trường Sa (Spratly) archipelago over which Việt Nam has full sovereignty.
The statement came as Vietnamese Deputy Minister of Foreign Affairs Lê Hoài Trung mentioned last week during an international conference that litigation is one of the options in Việt Nam's arsenal to deal with disputes in the South China Sea (known in Việt Nam as the East Sea).
In response, Vietnamese foreign ministry spokesperson said that "Việt Nam has repeatedly stated it has sufficient historical and legal evidence to prove its sovereignty over Hoàng Sa (Paracel) and Trường Sa archipelagoes in line with international law. Historical reality has proven this."
The spokesperson reiterated Việt Nam's consistent stance that all international disputes, including those relating to sovereignty over Hoàng Sa and Trường Sa, must be settled by peaceful measures in accordance with international law, including United Nations Charter and the United Nations Convention on the Law of the Sea 1982.
"Việt Nam wishes that China will join efforts in developing the bilateral relationship and maintaining peace, security and stability in the region," Hằng said.
The Chinese spokesperson has also asked that Việt Nam should refrain from actions that could "complicate matters or undermine peace and stability" in the East Sea, just a few weeks after a simmering stand-off between the two countries when China deployed the survey ship Haiyang Dizhi 08 and a group of escort vessels right into Vietnamese Exclusive Economic Zone and continental shelf, provided for by UNCLOS 1982.
China has also been criticised for engaging in aggressive building of manmade features in the East Sea and militarising them.
In 2016 July, the Hague-based Permanent Court of Arbitration – established pursuant to the UNCLOS 1982 – has ruled legally invalid China's sweeping nine-dash claims over the East Sea in the landmark Philippines vs China case.
However, China refused to take part in the tribunal process and categorically rejected the verdict.
Important framework
Director of the Department of Law and International Treaty under Việt Nam's Ministry of Foreign Affairs Lê Thị Tuyết Mai, Canadian Ambassador to Việt Nam Deborah Paul, and EU Ambassador to Việt Nam Giorgio Aliberti have affirmed the crucial role of the UNCLOS in managing activities of nations at sea over the past 25 years and said the convention is an important framework for countries to address disputes and enhance maritime cooperation, during the second ASEAN Regional Forum (ARF) workshop on implementing UNCLOS held on Wednesday in Hà Nội.
Based on the convention, a number of initiatives have been proposed to promote cooperation between ASEAN member nations, and between the bloc and its dialogue partners to cope with marine security challenges.
During the two-day workshop, participants focus discussions on measures to increase the efficiency of implementing the UNCLOS and related international legal documents in addressing maritime challenges such as sovereignty disputes, delimitation of maritime boundary, law enforcement at sea, maritime pollution, and climate change as well as terrorism and piracy.
They will also exchange views on new developments in the interpretation of the UNCLOS, share experience and new realities in law enforcement at sea and put forth recommendations to further reinforce cooperation between nations and strengthen the role of mechanisms and frameworks in sea and ocean governance. — VNS
Việt Nam rejects China's statement on sovereignty over Trường Sa islands have 881 words, post on vietnamnews.vn at November 13, 2019. This is cached page on Talk Vietnam. If you want remove this page, please contact us.