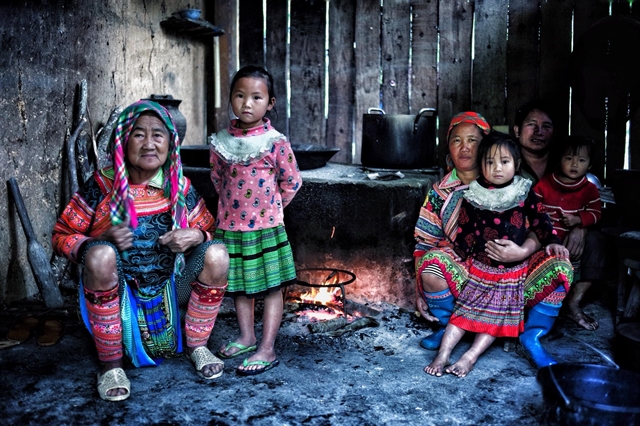 HÀ NỘI — A lack of job opportunities, limited healthcare services and gender inequality are among the factors holding back the development of ethnic minorities and mountainous areas.
National Assembly (NA) deputies on Friday agreed that it was necessary to mobilise resources to fully tap the potential and advantages of these areas to reduce poverty and narrow the development gap with other regions.
This is also the main target of a national project on socio-economic development for ethnic minorities and mountainous areas from 2021-30.
NA deputy Hoàng Thị Thu Trang from Nghệ An Province said to achieve the project's goals, the State needed to invest in basic infrastructure, especially transport and communications facilities, develop human resources and ensure stable incomes for those living in disadvantaged areas.
One of the policies proposed to boost economic development was to attract businesses and factories to the region to take advantage of local labourers and assist locals with start-ups, she said.
Deputy Lê Quân from Hà Nội said ethnic minority labourers faced inequality in accessing job opportunities. Việt Nam was lacking a manual labour force, and a lot of companies were struggling to recruit labourers and were tuning to ethnic minority groups and mountainous areas. This had led to migration from mountainous areas to urban areas.
"If labour migration is not controlled, we will be unable to ensure labourers' rights," he said.
Quân said he was concerned about the low level of skilful ethnic labourers. Among the 8 million ethnic labourers nationwide, only 6 per cent had been trained. Short-term training and risk-prone jobs left them with unstable careers.
Labour migration leads to unequal distribution. Some areas are lacking workers while others have a surplus.
"To reduce poverty, we must create jobs in these localities and move people out of poor areas so that young people can find jobs and earn incomes. When one person in a family has a good income, the family can escape poverty," Quân said.
He proposed apprenticeships for young ethnic minority people should be an important part of the project.
NA deputies agreed that developing the socio-economy of ethnic minorities and mountainous areas should not only ensure stable livelihoods and land but also focus on improving human resource quality.
Deputy Nguyễn Thị Mai Hoa from Đồng Tháp Province said the project's target of increasing the number of skilled labourers to 50 per cent in ethnic minority and mountainous areas would be difficult to achieve and needed adjusting because the current percentage was only 6.2 per cent. In some ethnic groups that figure is even 0 per cent.
Đỗ Văn Chiến, Minister, Chairman of Ethnic Minority Affairs, argued that only 10 to 15 per cent of labourers were required to have certificates of qualification, according to the project's target. Others would be instructed on the job and would receive no formal qualification, so the target of 50 per cent was feasible.
"This is a new approach to introduce apprentice training for ethnic minority people," he said.
According to Thảo from Nghệ An Province, women from ethnic minority groups lacked access to healthcare services, especially reproductive healthcare.
Despite 81 per cent of ethnic minority people owning health insurance cards, only 50 per cent used them, she said. Limited quality of healthcare services, and a shortage of medical workers and infrastructure were the main problems, she added.
The project sets the target of 95 per cent of ethnic people having health insurance cards. Thảo proposed focusing the target on the percentage of health insurance users rather than the number of card holders.
"The policy should prioritise recruiting doctors and nurses, especially attracting doctors from ethnic minority groups who know dialects to work in mountainous areas," she said.
Constituents' feedback
The NA project has drawn attention from constituents in ethnic minority groups and mountainous areas.
Lò Văn Khúi from Thanh Xương Commune in the northern mountainous province of Điện Biên said a lot of ethnic minorities and mountainous areas in Điện Biên Province lacked access to electricity, clean water and land for production. The unemployment rate and number of poor households remained high.
He said he hoped the NA would approve the project and focus investment on infrastructure and employment.
Điểu Mưu, deputy head of the Department of Locality II, Committee for Ethnic Minority Affairs, said the project should prioritise its budget in the most disadvantaged provinces first and then other areas to avoid lax disbursement.
Along with socio-economic targets, the project should focus on preserving the cultural identities of ethnic minority groups, he said, proposing the allocation of funding to revive traditional products, create jobs for the local community and develop the economy.
Constituent Vũ Minh Công, chief of staff in Nậm Pồ District, Điện Biên Province, said a lot of unemployed people had left the province over the past few years to work illegally abroad. If authorities offered jobs or vocational training, the number of cases would fall.
He proposed offering preferential conditions to attract investment from enterprises in the sectors where poor provinces held advantages like agriculture and forestries in order to create more jobs for local labourers.
According to a Government report, Việt Nam has more than 14 million people from 53 ethnic minority groups living in 51 cities and provinces nationwide, mostly in the northwest, Central Highlands, southwest and central coastal areas.
Despite having favourable natural conditions and rich mineral resources, as well as holding an important location to protecting the nation's defence and security, these areas were still the most disadvantaged.
They have the lowest quality human resources and worst access to basic social services in the country, hence they have the slowest socio-economic growth and highest percentage of poor households.
The project sets a target of doubling local people's incomes in 2025 compared to 2020 and decreasing the percentage of poor households by 3-5 per cent every year.
The NA will vote on the project's resolution on November 18. — VNS
Unemployment, inequality plague ethnic minorities have 1223 words, post on vietnamnews.vn at November 2, 2019. This is cached page on Talk Vietnam. If you want remove this page, please contact us.