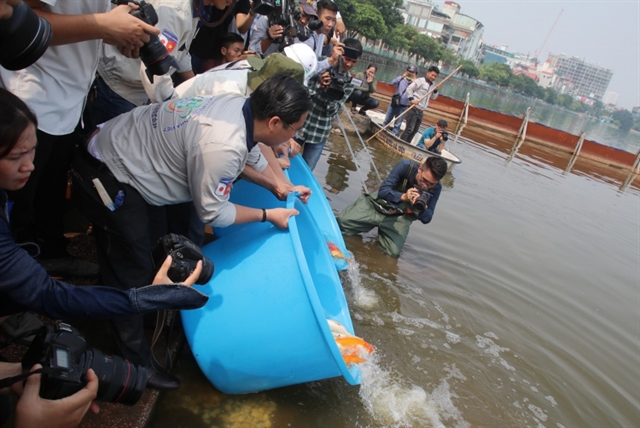 HÀ NỘI — The People's Committee of Hà Nội has assigned the city's Construction Department to treat a pool of standing water with nano-bioreactor technology.
The Japan Environment and Trade Promotion Organisation (JETRO) will undertake the treatment of odour, water and mud in the pool.
The committee asked the organisation to send a dossier of technical standards related to the technology, a certificate of processing technology, accredited by the Government of Japan and several documents to the construction department.
The move came after the Japanese nano-bioreactor technology, applied to a section of Hà Nội's polluted Tô Lịch River and West Lake since May, initially showed positive results.
Results released on October 30 said the noxious odour and level of mud in the Tô Lịch River and West Lake have decreased dramatically since nano-bioreactor technology was applied.
The mud on the riverbed has fallen from 91.3cm to 15cm. In West Lake, the level reached zero. The quality of water where Koi fish have been released has met all 36 Vietnamese standards. The bad odour from the Tô Lịch River and West Lake also sharply reduced.
Based on the results, the committee highly appreciated the proposal of piloting treatment to clean a section of Tô Lịch River and a corner of West Lake using the nano-bioreactor technology.
However, chairman of the People's Committee Nguyễn Đức Chung said during the treatment of water in Tô Lịch River and West Lake, the organisation did not follow requirements of the city. For example, it invited press agencies to report on the treatment process when the final results had yet to be revealed.
Therefore, this time, the committee asked the organisation to strictly follow the city's regulations. Especially, the organisation was required to not disclose information related to the treatment process before authorised agencies evaluated the results of the treatment.
It was told to take samples of air, water and mud before, during and after treatment to test against Vietnamese technical standards.
The organisation had to invite independent units that had enough capability to verify the result of the treatment process, the committee said.
After the treatment process finished, a workshop, with the Japan Embassy in Việt Nam, international and domestic experts to assess the results would be organised, the committee said.
Previously, on October 30, Minister of Natural Resources and Environment Trần Hồng Hà led the ministry's experts to visit West Lake to inspect the results of the Japanese water treatment technology.
He said the technology was good because it could treat mud in the lake without having to dredge it. Hà added the ministry was considering adapting the technology for Vietnamese wastewater treatment. — VNS