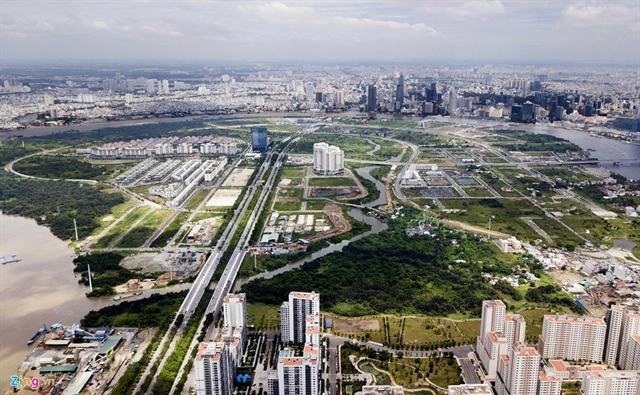 HCM CITY — HCM City authorities have approved several major housing and urban projects spread over hundreds of hectares in both inner and suburban districts.
The People's Committee has ratified a number of changes to the existing 930ha central area of the city comprising Districts 1 and 3. They include changing the designation of a plot of land on 43, 45 Tú Xương Street from building land to healthcare facilities.
It approved the 1/2,000 design for a residential area in the northwestern section of the National Highway No 1A. The new residential area in Bình Hưng Hoà Ward, Bình Tân District, includes an existing residential area and areas for public services and greenery and parks.
It has also ratified the 1/500 design for the Sài Gòn Sport City in District 2 comprising a sports training centre and a high-rise building to be used for accommodation and public services.
The committee has ordered the Department of Planning and Architecture and the Northwestern Urban Area to make changes to the planning for the international university urban area.
It said the adjustments to be made to the plans for the Northwestern Urban Area to be developed by the Berjaya Vietnam International University Township would have a major impact on the project's land use.
Major urban areas …on paper
Of the major urban area developments announced by the committee recently, construction of the Saigon Sports City by Singapore's Keppel Land is scheduled to start in early November.
The other projects are still in the process of acquiring and clearing lands.
Former deputy director of the Department of Construction, Nguyễn Văn Hiệp, said over a decade ago the city had planned large urban areas in satellite cities, but only Phú Mỹ Hưng was successfully developed.
Challenges related to land compensation and acquisition, licensing and planning had affected them, developers of the proposed urban projects said.
Construction of the VNĐ1.94 trillion (nearly US$ 84 million), 331ha Sing – Viet City project in Bình Chánh District, which began over two decades ago, has stalled.
So have the new residential areas of Bình Qưới – Thanh Đa in Bình Thạnh District and Thủ Thiêm in District 2.
Nguyễn Hương, CEO of Dai Phuc Land real estate company, said to promote the urban residential projects, the city should set up a special mechanism for site clearance and licensing.
This would enable the revival of projects which remain on paper, he added. —VNS.