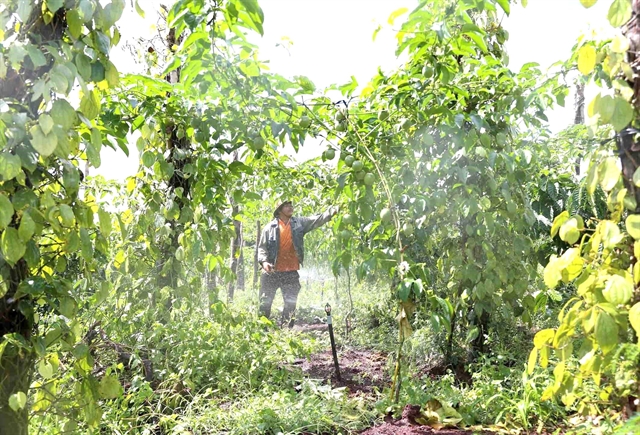 HCM CITY — Intercropping and advanced farming techniques used in the Tây Nguyên (Central Highlands) provinces are helping farmers adapt to the effects of climate change, including unusually heavy rains, whirlwinds and prolonged droughts.
Serious damage to key crops like pepper and coffee has occurred in the region, which includes Kon Tum, Gia Lai, Đắk Lắk, Lâm Đồng and Đắk Nông provinces, according to Vũ Đức Côn, deputy director of the Đắk Lắk Department of Agriculture and Rural Development.
In August, unusually heavy rains, for example, inundated more than 16,160ha of crops in Đắk Lắk's Buôn Đôn, Ea Súp and Krông Ana districts, while prolonged drought damaged more than 1,000ha of crops in M' Đrắk and Ea Kar districts.
To improve income, farmers have intercropped various types of plants in coffee or pepper orchards.
Bùi Văn Ân in Đắk Lắk's Buôn Hồ Town, for instance, began to intercrop 2ha of coffee trees, many of which had died in the dry season because of water shortage, with 100 avocado trees and 240 durian trees in 2013, improving his coffee cultivation and yield. 
Besides income from coffee, he earns hundreds of millions of đồng a year from selling avocado and durian, he said.
Phan Việt Hà, deputy head of the Western Highlands Agriculture and Forestry Science Institute, said: "Intercropping in coffee and pepper growing areas increases soil humidity and provides wind shields."
Farmers in the region have switched to other crops and developed specialised growing areas.
In Đắk Nông's Đắk Mil District, for instance, farmers have turned nearly 800ha of industrial plants like coffee and pepper in Đắk Gằn Commune to mango as the soil and weather are better for the fruit.
More than 100 members of the Tân Lợi Hamlet Mango Co-operative Group in Đắk Gằn grow a total of nearly 200ha of mango. Nine of the members have been granted Vietnamese good agricultural practices (VietGAP) certificates, and the rest are applying for the certificates.
The VietGAP mangos have been guaranteed outlets.
Nguyễn Xuân Kỷ, one of the nine farmers, said he turned his 2ha of coffee to mango five years ago and now harvests 30 to 35 tonnes of mango a year. He earns a profit of VNĐ300 million (US$12,940) a year.
The Central Highlands provinces have also encouraged farmers to grow new varieties of key crops like TR14 and TR15 coffee varieties and Vĩnh Linh, Phú Quốc and Lộc Ninh pepper varieties as they are resistant to disease and have high yield and quality.
Advanced techniques
In the region, Integrated crop management (ICM), good agricultural practices (GAP) and advanced farming techniques are being increasingly used to increase economic efficiency and improve produce quality.
Lâm Đồng is one of the leading provinces in applying advanced techniques such as efficient irrigation facilities and greenhouses.
Lâm Đồng has more than 54,400ha of farmland that uses advanced farming techniques, including 4,500ha of greenhouses, 1,200ha of net houses, 28,075ha with automatic and semi-automatic irrigation and 50ha that uses hydroponics, according to the Lâm Đồng Department of Agriculture and Rural Development.
Nguyễn Văn Sơn, director of the department, said that advanced techniques would be used on 60,000ha of farm land next year.
Đắk Lắk targets using efficient irrigation techniques for 10,000ha of key crops next year, according to the province's Department of Agriculture and Rural Development. Efficient irrigation is being used on 7,000ha of crops.
The Việt Nam-Sustainable Agriculture Transformation Project in Đắk Lắk provides 50 per cent of the cost of installing efficient irrigation facilities for farmers. The cost is about VNĐ65 million ($2,800) per hectare.
The facilities, which use dripping or spraying irrigation methods, can irrigate and fertilise at the same time. They save labour costs and prevent surface soil erosion caused by traditional irrigation methods.
The Central Highlands region, which is the country's largest producer of many industrial plants, has more than 622,200ha of coffee, 91,400ha of pepper, 81,000ha of cashew and 246,811ha of rubber, according to the Ministry of Agriculture and Rural Development.
The region's 2,354 irrigation works can only provide irrigation water for 214,645ha of crops.
Nguyễn Văn Tỉnh, head of the ministry's Irrigation Department, said the region should target having 500,000ha of crops next year under advanced irrigation methods. "The provinces should have support policies for farmers to install these facilities," he said.  VNS