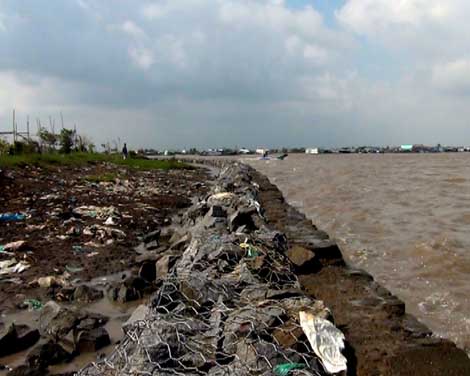 CÀ MAU — Cà Mau Province authorities has asked the Government for more than VNĐ622 billion (US$27 million) to finance 12 projects for relocating people from areas eroded by the sea and rivers.
At a meeting with Deputy Prime Minister Trương Hoà Bình on Tuesday, they also sought VNĐ648 billion in emergency assistance to strengthen and upgrade the 23.5km sea dyke section between the Đốc River and Cái Đôi Vàm Town.
According to province data, it has lost nearly 8,870 hectares of lands including forests to erosion, and there is also a high risk of the sea destroying the dyke in the west.
Erosion has destroyed many infrastructure works near rivers and the sea, affecting the lives of local people and production.
The province roadmap envisages resettling nearly 4,800 households in new residential areas by 2025.
It has been fighting erosion with its own funds, which have proven inadequate.
So it has asked the Government to provide funds from official development assistance for projects to prevent natural calamities and adapt to climate change.  
Bình said the province is surrounded by the sea on three sides, which confers many advantages but also challenges, especially destruction due to climate change.
The province should adopt multiple solutions against climate change and research into new methods, he added.
People's Committee Vice Chairman Lâm Văn Bi also reported about other economic and social issues to the Deputy Prime Minister.
The province's income per capita has reached VNĐ47 million. Its poverty rate fell by 1.74 per cent against a target of 1.3 per cent. — VNS