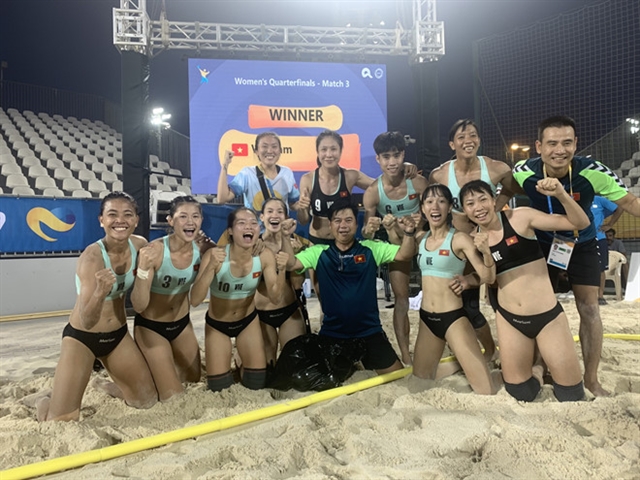 HÀ NỘI — Việt Nam's female beach handball team have booked a ticket to compete in the semi-finals of the ANOC World Beach Games in Doha, Qatar.
The team beat Argentina 2-1 in the quarter-finals on Monday.
In the first set, Hà Thị Hạnh and Đàm Thị Thanh played outstandingly to help Việt Nam win 29-22.
However, Argentina fought back strongly to win 20-16.
In the penalty shoot-out to decide the winner, Việt Nam beat Argentina 9-8.
It is the first time, Việt Nam has taken part in the World Beach Games and it's the best result for the female handball team in a world event.
In the semi-finals, Việt Nam face Hungary, while Brazil will take on Denmark.
"Before entering this game, we researched our rival carefully. Besides, the whole team are very confident as they trained hard for the event," said Việt Nam's head coach Huỳnh Minh Ngôn.
"I am very proud of Việt Nam's win. I thank Vietnamese leaders and fans very much for supporting us," Ngôn added.
Earlier, Việt Nam ranked third in Group B. They lost to Spain and Greece but defeated Poland, China and Australia.
Việt Nam entered the finals of the Asian championship in China in June to qualify for the World Beach Games. — VNS