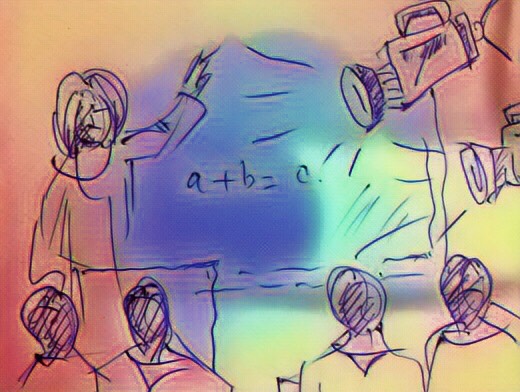 Chu Lan Hương
Recently, a video that spread along the social media landscape showed a teacher beating and scolding a student in a primary school in HCM City, raising debate among both educators and parents.
The clip was made by a hidden camera installed without the school's notice by concerned parents.
There is no doubt the teacher was wrong to beat the student. But hiding a camera in a classroom is also questionable.
After the incident, many parents have expressed interest in installing cameras in classrooms so they can keep tabs on their kids and teachers.
The issue has divided parents and teachers.
"In recent years, there have been many cases that teachers verbally insulted and performed violent actions on students so I want to know what is happening to my child at school," said Phan Thu Hiền, a 35-year-old mother in Hà Nội's Cầu Giấy District.
"The images in cameras could be evidence if violence occurs," said Nguyễn Thanh Bình, a father of two in Hà Nội.
Teachers said that they were opposed to being monitored in the workplace.
"I saw it was not necessary and would create pressure for teachers because of being monitored," said Nguyễn Ngọc Điệp, a primary teacher.
"For me, the class is my office and a creative space for me and my students," Huyền said.
"I did not want our space to be looked at by outsiders", she said.
According to vietnamnet.vn, a primary teacher from Thái Bình Province said that: "If there are cameras, no one would dare to teach."
She said the primary level was an important stage as children were changing from a playing environment to a studying environment.
"Teaching primary students is a very hard job," she said.
"Honestly, I sometimes give strict punishment to stubborn students such as forcing them to stand in the corner or a light beating on the hands."
She said they were necessary measures, even if the parents disagreed. 
"I think no teachers want to punish students. But if a child is acting wrongly and a teacher doesn't dare to punish to correct the wrong behaviours, how can we educate?" the teacher asked.
Many educators said installing surveillance cameras in class was unnecessary and counter-education.
In other countries, surveillance cameras were placed in public areas such as corridors and playgrounds and not accessed by parents but school security staff.
"If parents asked about installing cameras in class. It would be a serious problem, because teachers would feel they were not trusted and respected," said a Vietnamese-American mother who lives in the US.
"If teachers wanted, they could do it. But if students know there are cameras in class they could not focus on studying," she said.
We should trust the school and teachers, she added.
Lack of trust
The debate has highlighted the distrust between parents and schools.
"There seems to be no trust between parents and teachers at present", Nguyễn Quốc Vương, a well-known translator, told Thanh Niên (Young People) Newspaper.
He said education would fail without a proper learning environment and education quality depended a lot on parent-teacher relations.
Placing cameras in the classrooms could not help to make the education quality better, he said.
Instead of watching via cameras, parents and teachers should regularly discuss students, said teacher Nguyễn Văn Hoà, chairman of the management board of Nguyễn Bỉnh Khiêm School.
The important thing was to improve the educational environment to make a creative environment for both teachers and students as well as help teachers fulfil their tasks, the teacher said. VNS