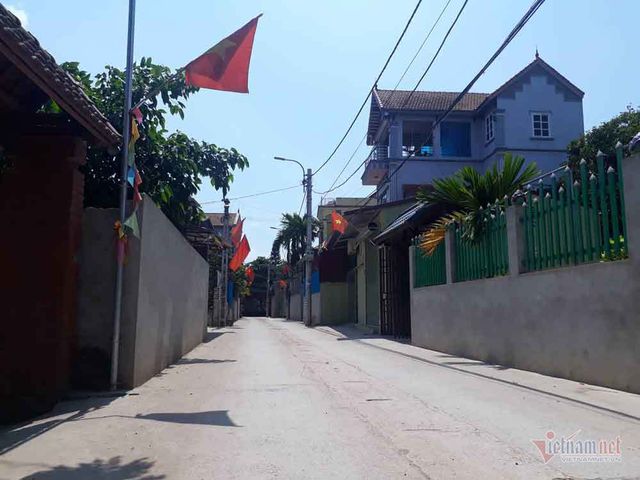 HÀ NỘI — Residents in Hà Nội's outskirts district of Hoài Đức have donated their land to widen an alley, making it a better place to live for all.
Thirty households among 60 households in Mộc Hoàn Đình Hamlet, Vân Côn Commune, dismantled parts of their houses so land was used to widen the alley from 2.7m to 4m.
The work started last October, said Phùng Văn Hải, a local man. After two months of construction, the road was put into operation early 2019.
Hải, 54, was the first person who called local residents to donate land to the widen alleys. He said the old alley of Mộc Hoàn Đình Hamlet was built in 1990.  
"The alley was so narrow that if a car entered in the alley, vehicles had to move back to give way. The most extreme was on the rainy days and when the road was flooded, travel for local residents was very difficult," he said.
"The smell of sewage stagnated in the grooves on both sides of the alley, forcing people to cover their nose when walking across."
Hải donated about 8.5sq.m in front of the house he bought in 2010 where one square metre of land can cost VNĐ25 million (US$110). He also paid for the dismantlement of parts of his house and eventual repairs. It cost him several million đồng. 
"Local residents hope this expansion would make travel more convenient for everyone," Nguyễn Thị Hằng, a local woman said.
After a month of persuading, all households who owned land on the road agreed to donate property to expand the alley.
In the process of site clearance, several households volunteered to give more land when they saw it would make the road better. 
An elected supervisor team with four members including Hải and three local residents has monitored site clearance, construction material purchasing and the construction process.
Hải said some families initially did not agree to donate land, but later were willing to do so after seeing the  improvement in traffic flow.
Hải himself came to each family to talk about the benefits of a wider alley. He had to go with communal People's Committee officials to persuade some families many times because these households had spent tens of millions of đồng on building gates. For other families, they were doing business at home and didn't want their income impacted.
"The wider alley creates favourable conditions for travelling, daily activities and environmental sanitation," Hải said.
Money for buying construction materials and paying workers came from local residents. Each family offered VNĐ2 million.
Work including site clearance and construction was conducted at the same time. During the two months of constructing the road, Hải had to spend all his time supervising the work.   
Hải was honoured to receive a Certificate of Merit from the Hà Nội City People's Committee this year for his efforts to widen the alley. — VNS
Residents in outskirts of Hà Nội donate land to widen alley have 703 words, post on vietnamnews.vn at October 25, 2019. This is cached page on Talk Vietnam. If you want remove this page, please contact us.