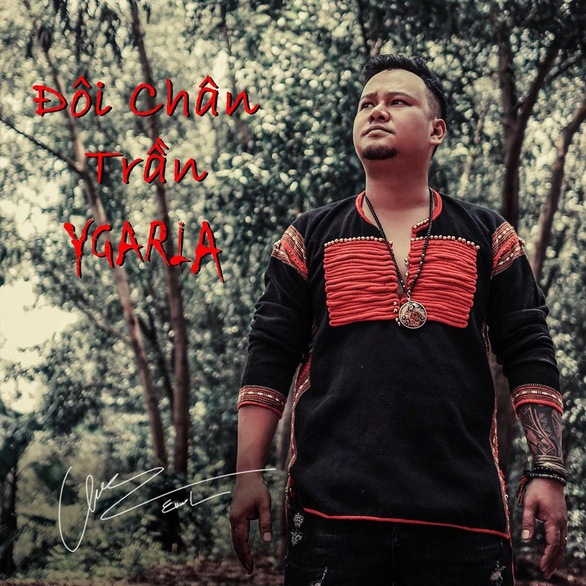 HCM CITY — An album about Tây Nguyên culture has been released to honour the late People's Artist Y Moan, a rock star from Tây Nguyên (Central Highlands) who popularised his region's music among young people. 
The work, Đôi Chân Trần (Barefeet), features singer Y Garia, son of Y Moan, a young talent from the Ê Đê ethnic minority group.
It includes 10 songs in pop and rock in praise of Tây Nguyên and its culture and lifestyle, such as Ly Cà Phê Ban Mê (A Glass of Ban Mê Coffee), Đến Với Tây Nguyên (Visiting Tây Nguyên), Tiếng Đàn Goong Lu (Sounds of Goong Lu Instrument), Cao Nguyên Vào Mùa (Harvets in Tây Nguyên) and Lời Ru Của Nữ Thần Mặt Trời (Lullabies of the Goddess of Sun). 
The songs helped shoot Y Moan to fame.
In the album, Y Garia sings with the support of a group of Ê Đê artisans playing cồng chiêng (gongs), the traditional instruments of Tây Nguyên people.  
"Through my first album, Đôi Chân Trần, I hope to show my love and respect for my father, Y Moan, and his career," said Y Garia, before launching his album in HCM City last week.
According to Nguyễn Cường, who has spent more than 20 years writing songs about Tây Nguyên, Y Moan is the pioneer who brought Tây Nguyên music to the people. "He died in 2010, and no one will be able to perform like Y Moan for the next 100 years," he said.
Y Moan was born to a poor family in Đắk Lắk Province's Buôn Ma Thuột City. He liked to sing Ai Ray songs, a kind of folk song of Ê Đê ethnic minority people during his childhood.   
He began his career at age 19 at the Đắk Lắk Art Group led by musicians Amanô and KaPáPúi. In 1979, he studied music at the Hà Nội Music Conservatory and started singing professionally.
During the 1970s and 1980s, Y Moan went to villages around Tây Nguyên to use his singing to call many villagers away from the Fulro rebel group and return to the Government's side.  
He spent his life introducing Tây Nguyên music. He died from an illness in 2010.
In 2015, a concert called Y Moan-Huyền Thoại Cao Nguyên (Y Moan-Legend of Central Highlands) attracted more than 2,000 people at the HCM City's Hòa Bình Theatre. — VNS