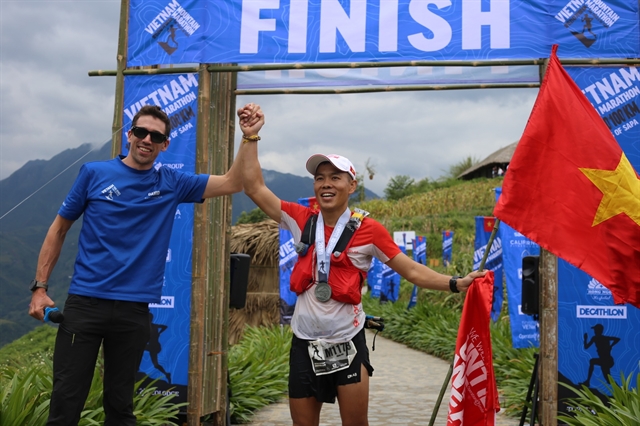 SEA Games
By Thanh Nga
Runner Nguyễn Tiến Hùng is very proud to be part of Việt Nam national duathlon (run-bike-run) team for the upcoming Southeast Asian (SEA) Games in the Philippines, where the event returns for the first time since Thailand 2007.
"Previously, I only ran. In June, I started to train for the triathlon (swim-bike-run). As I didn't swim well, I only focused on run-bike-run. Following a month of training, I registered to compete in the IPP Group Challenge Việt Nam in Nha Trang in July and gained a good result. After that, I knew the Việt Nam Athletics Federation was recruiting athletes to compete in duathlon and triathlon for the SEA Games so I tested and luckily qualified," said Hùng.
"I am very honoured to wear the national team jersey, although it may be the only time in my life. It is very sacred  and something I never thought I would achieve. I still can't believe I am in the national team," Hùng added.
Hùng, 35, is considered the best amateur runner in the country. The native of northern province of Phú Thọ won Việt Nam's biggest mountain race, the Việt Nam Mountain Marathon (VMM), in Sa Pa in the northern mountainous province of Lào Cai this year in a time of 14:33.45. He broke his own record from the previous year (14:45:44) and became the first runner to win two consecutive VMM 100km races.
Besides the joy of being called to the national team, Hùng is very happy he is one of two Vietnamese runners qualified for the Boston Marathon 2020 in the US, the world's oldest annual marathon and one of the world's best-known road racing events, in the men's age group of 35- 39.
Hùng will represent Việt Nam at the November 30-December 11 SEA Games alongside athletes Cao Ngọc Hà and Nguyễn Thị Phương Trinh in duathlon.
The athletes will take part in a 10km run, then 40km bike ride and finish with a 5km run. Hùng has borrowed his friend's bike to train.
"Every week, I came to Tuần Châu in Hạ Long City, Quảng Ninh Province three times to train. I have a friend here. He lent me his bike. In Tuần Châu, it's easier to train than in Hà Nội as it isn't too crowded," said Hùng.
To prepare for the Games, Hùng and his teammates tested their skills in the Clark Duathlon Championships in the Philippines on October 13 in which Hùng finished ninth out of more than 400 athletes.
Besides the Clark event, Hùng said he used domestic events to prepare for the Games and his goal of earning a historic medal for Việt Nam.
"I will take the VPBank Hà Nội Marathon 2019 on October 20 as my last test for the regional event. I was the first runner-up in the 42km in the last year's VPBank Hà Nội Marathon. However, because of the target of SEA Games this year, I will only compete in the shorter distance. My goal in the Philippines is to take a medal. Any medal is noble," said Hùng.
"Athletes of the hosts and Singapore are professional. They train abroad regularly. They are not only strong in the region but also in Asia. However, if I train well, I believe I can get a medal," said Hùng.
According to Hùng, an amateur runner like him being called to the national team is encouragement for other amateurs.
"Everybody often sees possible and impossible things. For me, I thought I didn't have a chance to be part of the national team. I think that my story can inspire many people," said Hùng.
Hùng works for a company in Phú Thọ Province, producing fireworks. He handles a lot of chemical substances, so the work can be dangerous.
"I am lucky enough to play sport regularly so it helps me get rid of the toxins from my body. I work from 6am to 1pm so I have time for my hobby," said Hùng.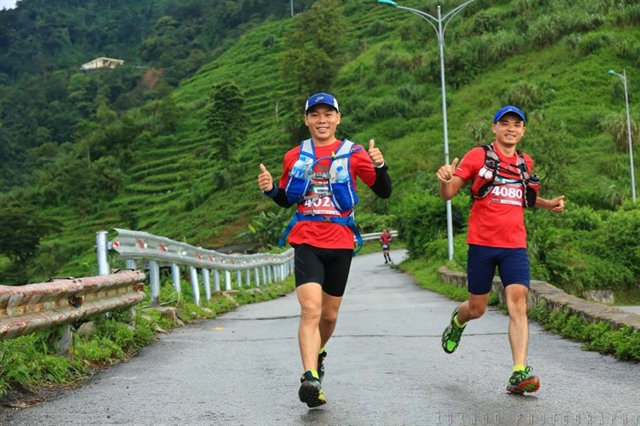 Dương Đức Thuỷ, head of athletics section of the National Sports Administration, said Hùng is a energetic athlete.
"Hùng has good skills and physical strength. His skills have been showed by his results in the most severe marathons in the country. I hope with his hard training, he will get a high achievement at the upcoming Games," said Thuỷ.
Việt Nam will compete in duathlon and triathlon in the SEA Games for the first time, with most of the entrants amateur athletes.
According to Trần Đức Phấn, deputy head of the National Sports Administration, in recent years, the triathlon scene in Việt Nam has developed fast. For example, the number of Vietnamese entrants to the Ironman 70.3 Đà Nẵng has increased 20 times in the last five recent years.
"With the above active development, the National Sports Administration asked the Việt Nam Athletics Federation to inspect and evaluate to establish the duathlon and triathlon team to take part in the SEA Games. The best athletes were selected through domestic and international events. The whole expenses for these teams will be sponsored by individuals and non-State companies," said Phấn.
"This is a basis for Việt Nam as hosts of the SEA Games 31 in 2021 to put these two sports into the competition programme," Phấn added.
The triathlon team has five players including Lâm Quang Nhật, Lê Hoàng Vũ, Phạm Thuý Vi.
"Vietnamese triathlon and duathlon athletes are highly qualified persons who are working in Việt Nam and abroad. Some of them are managers of big enterprises. Being members of the national team is a proud for themselves and for their companies. This is a wonderful chance for triathlon and duathlon movement to develop strongly in Việt Nam," said Phấn.
Ngọc Hà, 37, is a director of a company in Hà Nội. He is a leading marathon runner in Việt Nam and was the runner-up in the Việt Nam Mountain Marathon 2017 in 100km.
While Vũ also has an important position for a foreign fund management company in HCM City. He has competed in more than 10 domestic and international events and qualified for the IRONMAN 70.3 World Championship 2019 in Nice, France last month. VNS
Hùng eyeing SEA Games medal with launch of duathlon event have 1337 words, post on vietnamnews.vn at October 19, 2019. This is cached page on Talk Vietnam. If you want remove this page, please contact us.