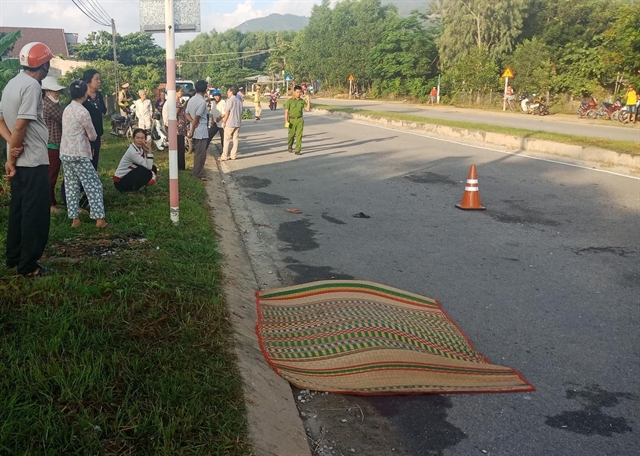 QUẢNG TRỊ — Four people died and two others were seriously injured in an accident early on Sunday morning in the central province of Quảng Trị.
Hồ Văn Tuất, 14, from Đakrông District, was driving a motorbike through Rụt Commune when he crashed into another motorcycle driven by Hồ Văn Tiên, 15, travelling in the opposite direction.
Tuất was carrying Hồ Văn Nghiệp, 15, Hồ Thị Thanh Như, 14 and Hồ Thị Hôm, 14, whereas Tiên was carrying Hồ Văn Lâm, 15.
Tuất, Nghiệp, Lân and Tiên were killed in the crash. Như and Hôm sustained severe injuries.
A report by the Đakrông District People's Committee said that all victims were not wearing helmets and the two drivers did not have driving licences.
Another accident happened before dawn on Sunday in the central province of Quảng Ngãi, killing one person and injuring another.
A truck driver lost control of his vehicle while travelling through Phổ Phong Commune in Đức Phổ District and crashed into a group of five people who were walking on the side of the road.
Nguyễn Thị Hiền, 61, died on the spot. Trần Thị Thế was seriously injured and is receiving treatment at Đà Nẵng General Hospital.
Police are searching for the driver who fled the scene. — VNS