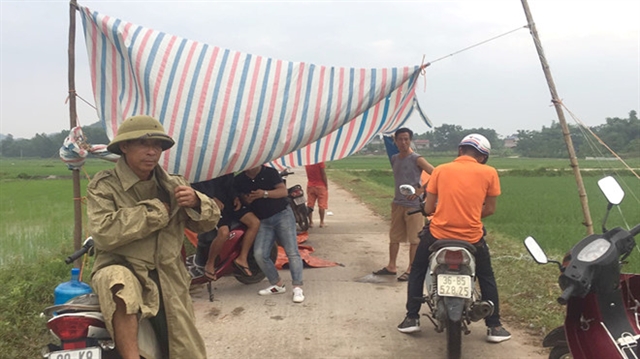 HÀ NỘI ­— A deal has been reached to move residents living near Nam Sơn Waste Treatment Complex and Nam Sơn rubbish dump.
Hà Nội's People Committee has also agreed to offer financial assistance to help locals, online newspaper baotintuc.vn has reported.
The people in three seriously affected communes of Bắc Sơn, Hồng Kỳ and Nam Sơn of Hà Nôi's outskirt district of Sóc Sơn will receive VNĐ1.4 million (US$60.2) per sq.m of land in the new resettlement area.
Under the decision of the municipal's People's Committee, the district would be in charge of setting up investment plan for reallocating and planting trees as a buffer zone between homes and the dumping ground.
The new resettlement area will be located on 394.5ha of land with construction work starting next year with a view to the residents moving in 2021.
Sóc Sơn District was assigned to ensure the project's progress and quality as per the regulations on construction investment and management.
The district was also permitted to select consultancy units to map out the investment plan.
Nam Sơn is the largest dumping ground of the city and has caused serious pollution in the district.
The residents have on a number of occasions blocked the garbage trucks entering the dump because of sluggish process of land clearance and lack of compensation for a relocation project.
Residents wanted the city's authorities to address pollution and pay compensation for the affected households before they move out.
In 2017, due to pollution caused by the Nam Sơn dump, the municipal authority approved a project to relocate three seriously affected communes – Bắc Sơn, Hồng Kỳ and Nam Sơn.
In July this year, the local people again stopped the garbage trucks entering the dumping ground protesting the unreasonable compensation offered by the authority. — VNS
Deal reached to move residents away from dumping grounds have 365 words, post on vietnamnews.vn at October 16, 2019. This is cached page on Talk Vietnam. If you want remove this page, please contact us.