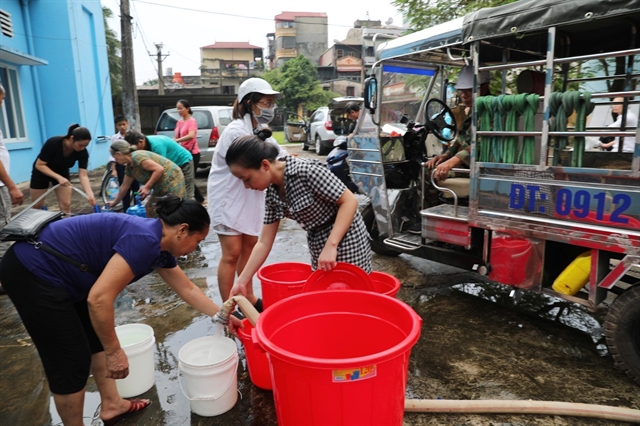 HÀ NỘI — Water supplied to hundreds of thousands of households in Hà Nội that was contaminated by oil waste is now safe for drinking and cooking, according to Hà Nội authorities.
Chief of staff of the Hà Nội People's Committee Vũ Đăng Định said water from the Đà River was safe at a meeting yesterday in the capital.
The announcement came after a two-week-long water crisis for nearly 250,000 households due to high levels of styrene in the tap water sourced from the river, after nine tonnes of oil waste allegedly from a ceramic producer was dumped illegally into Đầm Bài reservoir in Hoà Bình Province, which feeds water into the Sông Đà water plant.
Results of testing showed all water samples met safety criteria issued by the Ministry of Health, Định said.
"For six days, the city's Centre for Disease Control took water samples for testing in residential areas in districts of Thanh Xuân, Hoàng Mai, Nam Từ Liêm, Cầu Giấy, Hoà Đức, Đan Phượng, Thạch Thất and Quốc Oai which were using water supplied by Sông Đà Water Company," he said.
"The styrene concentration met the Ministry of Health's standard," he added.
The test results were published.
The Centre for Disease Control will continue to take water samples in the upstream portion of the river and at the plant for more tests until the end of this month.
At the meeting, the Sông Đà Water Plant was asked to supply free-of-charge water to affected citizens until the end of this month.
The company was also told to check the water quality monitoring and controlling devices in its entire supply system.
The company was also asked to install automatic monitoring systems to check the water input and output every day to prevent similar incidents, as well as train its workers to handle such incidents.
While testing the water quality in residential areas, Hà Nội Water Company was asked to co-ordinate with Viwaco Joint Stock Company to regulate the clean water source from the Đuống River Surface Water Plant and underground water plants to supply sufficient clean water.
The water companies were requested to provide water by water tanks and 20-litre cans to affected schools.
Organisations and individuals were asked to thoroughly clean water pipes and tanks and Viwaco is asked to support the activities. So far, the clean-up was basically done except in a few cases where apartment building owners asked to delay the clean-up until the water supply becomes safe and stable again.
The Department of Construction has worked with relevant agencies to supervise water treatment procedures at Sông Đà Water Plant to make sure that it meets current standards.
In particular, the Hà Nội People's Committee requested Hoà Bình Province authorities to delineate a protection zone for the water sources that feed Sông Đà Water Plant to ensure safety of the supply.
Wastewater discharging to the Đà River should be closely monitored by relevant offices. — VNS
Đà River water safe for consumption: official have 757 words, post on vietnamnews.vn at October 23, 2019. This is cached page on Talk Vietnam. If you want remove this page, please contact us.