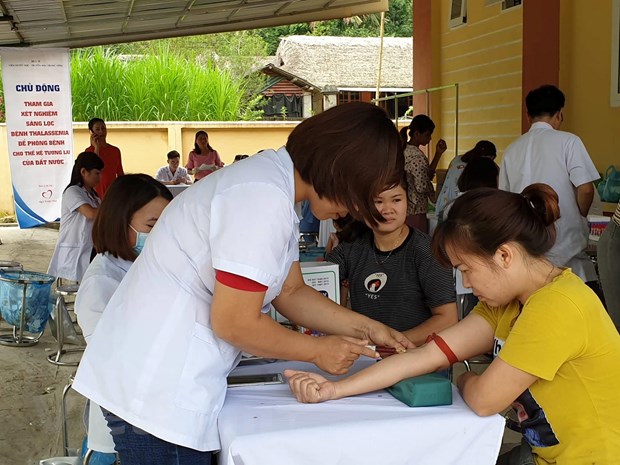 TUYÊN QUANG — Up to 30 per cent of people living in northern Tuyên Quang Province's Minh Quang Commune carry genes causing inherited blood disorder thalassemia, the National Institute of Haematology and Blood Transfusion (NIHBT) has announced.
The body of person suffering thalassemia produces abnormal form of hemoglobin – the protein molecule in red blood cells responsible for transferring oxygen.
The disorder causes the excessive destruction of red blood cells and leads to anemia – the condition when a body lacks sufficient amount of healthy red blood cells.
According to NIHBT Director Bạch Quốc Khánh, tests conducted on 1,134 locals in Minh Quang Commune showed 351 people having genes coding the disorder.
The percentage of people carrying two bad genes is 34 per cent.
"Therefore, among every three residents in Minh Quang Commune, there is one with thalassemia-causing genes," said Khánh.
"It is estimated that there are two children born with the disorder each year. This is an alarming ratio which needs the proper intervention to raise awareness of people about thalassemia and preventative mechanisms."
Nguyễn Thị Thu Hà, director of NIHBT's Thalassemia Centre, said a thalassemia patient has to receive blood transfusions throughout his life.
They also face the threat of multi-organ failures and even death.
Việt Nam has more than 20,000 thalassemia patients, Minh Quang Commune has 28 patients.
Most of Vietnamese married couples do not have any tests or consultancy over inherited disorders. People who carry these genes show no abnormal signs so do not undergo examinations or screening tests before giving birth.
"It is essential to prevent the disorder by having screening tests. People who carry genes causing the disorder will be consulted to have healthy babies in the future. Many countries have deployed the solution to put thalassemia under control," said Hà. — VNS
Alarming percentage of thalassemia patients in Tuyên Quang Province have 357 words, post on vietnamnews.vn at October 16, 2019. This is cached page on Talk Vietnam. If you want remove this page, please contact us.