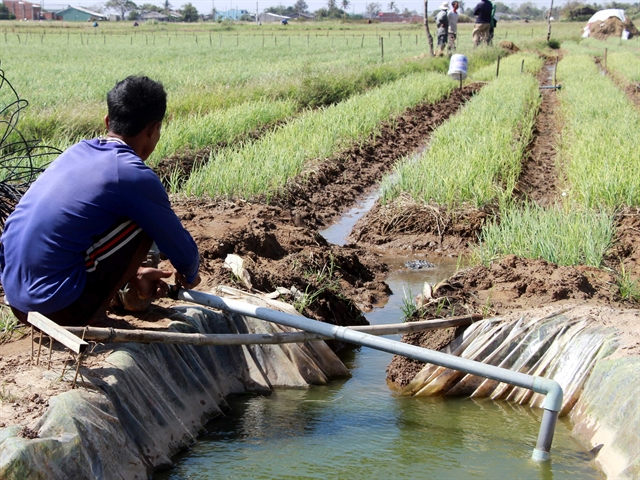 SÓC TRĂNG – Farmers in Sóc Trăng Province's Vĩnh Châu Town, the Cửu Long (Mekong) Delta's largest red onion producer, have adopted new efficient farming models for growing the bulbs in the rainy season.
One of them involves growing them around shrimp ponds in the rainy season so that rainwater drains quickly into the ponds and does not affect the plants' growth.
Red onions are normally grown in the dry season because their roots rot and are infected by fungi if there is too much water.
Tiêu Văn Hái of the town's Vĩnh Hải Commune grows red onion on small ridges around his 2ha of shrimp ponds.
The onion grows well and fetches a high income, he said.
This allows him to grow and harvest them earlier than normal and thus get better prices, he said.
Last year he grew onions on nearly 1,000sq.m, harvesting 1.3 tonnes and earning VNĐ30 million (US$1,280).
Most lands in Vĩnh Hải are coastal sand dunes which are suitable for the crop, and the commune has 1,800ha under it.
According to Trần Văn Thanh, chairman of the commune People's Committee, red onion is the key local crop and helps dozens of poor households escape poverty every year.
Ethnic Khmer make up more than 50 per cent of the commune's population.
Vĩnh Châu Town has 6,500ha under red onions and grows 110,000 tonnes annually.
But farmers depend on the weather. In years when it is poor the onions often contract diseases while heavy rains affect yield and quality.
This year more than 2,000ha were inundated in heavy rains.
Farmers in the town normally grow red onion in their rice fields during the dry season between October and April.
They often grow two crops, one for consumption and the other for red onion sets for cultivating the next crop. Sets are small bulblets which are harvested before they grow into bulbs.
Red onion can be grown from seeds or sets or transplanted. It is grown on ridges to avoid inundation and the ridge surface is covered with rice straw to keep the plants warm.
Some farmers in the town grew the onions to Vietnamese good agricultural practices (VietGAP) standards last year on an area of 30ha.
This year the area will increase to 100ha.
The province Plant Cultivation and Protection Sub-department this year launched a model of growing the onions in net houses.
This does not require covering the bed with rice straw and prevents infection caused by butterflies and other pests.  
Nguyễn Thành Phước, head of the sub-department, said the province had implemented several red onion farming models to combat the problems of poor weather and diseases.
"Growing around shrimp ponds and in net houses are both efficient models," he said. – VNS