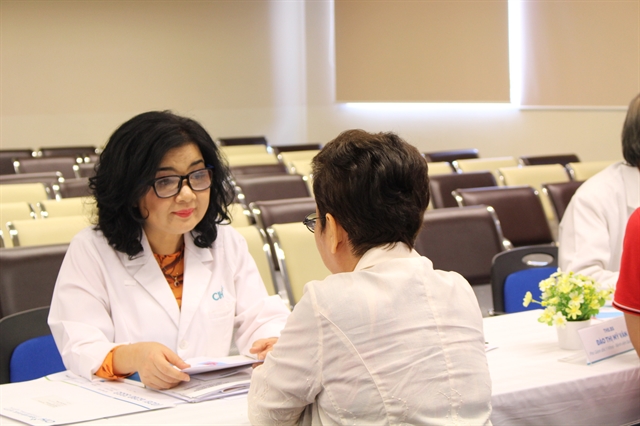 HCM CITY — Medical errors occur everywhere in the world, including in developed countries, John Lucas, CEO of the City International Hospital in HCM City's Bình Tân District, has said.
World-wide, 20 per cent of patents get wrong diagnoses when they consult specialists, leading to 50 per cent getting wrong treatment, he told the launch ceremony of his hospital's City Plus service, which provides patients with independent medical advice from doctors at his hospital and elsewhere.
That is the reason why doctors often consult colleagues for diagnosis and treatment, he explained.
But the co-operation in Việt Nam is only reserved for inpatients with serious diseases or life-threatening conditions, he said.
It is also needed in the case of outpatients, he added.
Patients are sometimes "fearful" about questioning doctors after hearing their diagnoses even when they have doubts, he said.
Assoc Prof Dr Nguyễn Tấn Cường, medical director of the City International Hospital, said many patients who do not trust the diagnoses made by local doctors go abroad for further checks.
Lucas said City Plus would connect with doctors in hospitals in other countries including the U.S to provide diagnosis.
Dr Nguyễn Cao Cương, a counsellor at Bình Dân Hospital in HCM City, said patients could to get a second or third opinion from doctors before undergoing treatment.
Dr Đào Thị Mỹ Vân, deputy medical director at the City International Hospital, said patients have the right to question doctors' diagnosis and ask other doctors.
Her hospital is connecting with doctors at other hospitals to provide independent advice, and the service is completely free, she said.
Wrong diagnosis affects the efficacy of treatment effectiveness and increase patients' stay at hospitals, she said.
"Patients could suffer from permanent morbidity and even die due to wrong diagnosis."
The results of a study by HCM City's Trưng Vương Hospital released at the end of last year showed that the failure of doctors to consult with their colleagues when diagnosing was to blame for many medical errors. — VNS