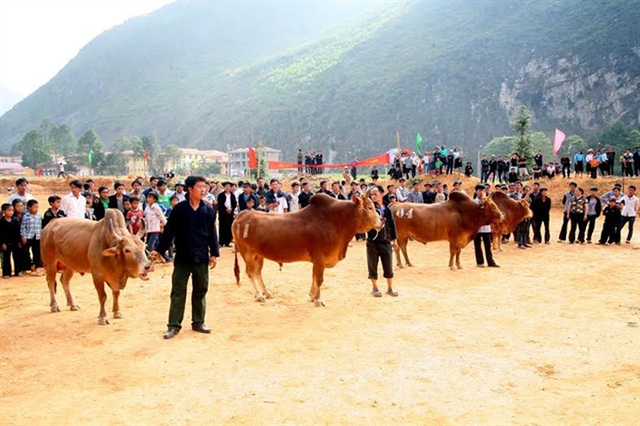 HÀ GIANG — The northern mountainous province of Hà Giang held a ceremony on Saturday to announce the geographical indication (GI) for its beef products.
The GI for Hà Giang beef covers beef produced in six districts – Đồng Văn, Mèo Vạc, Yên Minh, Quản Bạ, Hoàng Su Phì and Xín Mần.
The certificate from the National Office of Intellectual Property of Việt Nam opens up huge opportunities for local farmers, protect their legitimate rights while creating the added value for the province's beef products in the domestic and international markets, according to the provincial Department of Agriculture and Rural Development.
Speaking at the event, vice chairman of the provincial People's Committee Nguyễn Minh Tiến emphasised the importance of managing and advertising the geographical indication of the province's beef.
The province's Department of Agriculture and Rural Development needed to facilitate technical appliance in farming to increase the cow quantity and in processing to improve the quality of beef, he said adding that technical procedures in selecting breeds and cow caring should be also issued..
Late last year, Hà Giang's Shan Tuyết tea also received a similar certificate. The GI covers tea produced in 44 communes of five districts and one city in the province, which is the third largest tea-growing area in Việt Nam.
Registering for and protecting GI for specialities are necessary to protect, add value to unique products and promote their exports, experts have said.
GI could add value, increase access to new or existing markets, gain a competitive advantage, and reap more profits.
By the end of last year, Việt Nam had a total of 69 GIs. Most are for agriculture products such as fruit and seafood, processed products such as fish sauce, rice and handicrafts. — VNS