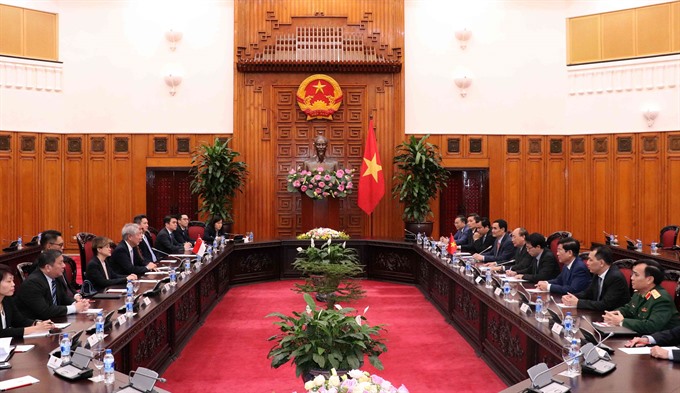 Prime Minister Nguyễn Xuân Phúc met with Singaporean Deputy Prime Minister and Coordinating Minister for Public Security Teo Chee Hean in Hà Nội on March 22. — VNA/VNS Photo Văn Điệp
Viet Nam News
HÀ NỘI — Prime Minister Nguyễn Xuân Phúc has asked for measures to promote Việt Nam-Singapore ties, especially in the areas of national defence-security, economy, trade, investment, education-training and people-to-people exchange, as well as joint work in ASEAN and other multilateral forums.
During a reception in Hà Nội on March 22 for Singaporean Deputy Prime Minister and Coordinating Minister for Public Security Teo Chee Hean, PM Phúc said Việt Nam supports Singaporean firms looking to do business in the country. He highlighted Việt Nam-Singapore Industrial Park (VSIP) as a successful model of business co-operation in a Vietnamese locality.
He thanked Singapore for partnering with Việt Nam during the process of development and integration, especially in training a high-quality workforce, developing science and creating new economic areas to take advantage of the Fourth Industrial Revolution.
The host hailed the two countries for focusing on innovation and creativity, especially for the young generations.
The leader said he hoped Singaporean enterprises would join public-private partnerships in infrastructure, renewable energy, liquefied natural gas, energy, smart grids, technology, agriculture and produce processing, aquaculture, apparel, wood processing, urban infrastructure, high-quality education-training, pharmaceuticals, health care and seaport logistics.
He urged the prompt launch of the VSIP project in the central province of Quảng Trị, a software park in the central city of Đà Nẵng and assistance in Việt Nam's push to build a national innovation centre.
He lauded Singapore for its success in its role as ASEAN Chair for 2018 and Coordinator of ASEAN-China relations for 2015-18.
Việt Nam wants Singapore to share its experiences from its time ASEAN Chair and work closely with Việt Nam to promote initiatives within the framework of ASEAN Vision on self-reliance and creativity, he said. The PM also said Việt Nam will uphold its role in ensuring food security in the region and the world.
Both sides agreed it was important to ensure peace, stability, maritime and aviation security and freedom in the East Sea. They were committed to building a rules-based order using the 1982 United Nations Convention on Law of the Sea, the leader said, suggesting that they continue joint work within the framework of ASEAN and relevant forums.
PM Phúc said "ASEAN needs to build a rules-based order in the East Sea, step up measures to build trust, ease tension and prevent incidents".
He spoke highly of Singapore's role in ASEAN-China negotiations on the draft Code of Conduct in the East Sea (COC) and proposed mutual support in the process.
"The development of Việt Nam-Singapore ties is beneficial to the ASEAN Community," he said.
Singaporean Deputy PM Teo, reported to the host on his talks with Deputy Prime Minister Trương Hoà Bình.
He congratulated Việt Nam on successfully holding the second DPRK-USA Summit and preparing to assume its role as ASEAN Chair by 2020, vowing that Singapore would actively support Việt Nam in the process.
Teo suggested improving the technological innovation space for businesses, especially start-ups.
He said Singapore wants to import more high-quality Vietnamese farm produce.
The two nations should expand the aviation industry, air routes, defence co-operation and links in services and finance, he said, suggesting stepping up customs clearance, financial e-transactions and legal frameworks for trade and investment.
Singapore would support Việt Nam's assumption of ASEAN Chair 2020 and appreciates Việt Nam's role in the Comprehensive and Progressive Agreement for Trans-Pacific Partnership (CPTPP), he said.
He expressed his hope that both sides would soon conclude the Regional Comprehensive Economic Partnership (RCEP) deal. On the East Sea issue, he said Singapore held that every dispute must be settled by peaceful means to ensure maritime and aviation security.
Deputy Prime Minister Trương Hoà Bình said during talks with his Singaporean counterpart Teo Chee Hean in Hà Nội on Friday Việt Nam and Singapore had room for extensive engagement, particularly in the sea, high-quality workforce, and start-up fields.
He affirmed that Việt Nam values developing the strategic partnership with Singapore, which is among its leading partners in ASEAN and in the region, suggesting the sides hold regular high-level exchanges and meetings.
Bình praised the guest's contributions to boosting the Việt Nam-Singapore strategic partnership in all facets of politics, diplomacy, security-defence, trade, economy, and people-to-people exchange.
He said the partnership had grown towards practical outcomes in recent years, with politics-diplomacy ties deepened based on trust and the maintenance visits across all levels and all channels.
Co-operation in defence-security has been deepened while that in culture, science-technology, and education has recorded positive progresses.
Bilateral trade hit US$7.66 billion last year, making Singapore the 4th biggest trade partner of Việt Nam in ASEAN. The country was also the 3rd largest foreign investor in Việt Nam with total capital of $48 billion. The Việt Nam-Singapore industrial parks in Việt Nam have showed effective operations, creating jobs for locals and bringing mutual benefits to both countries.
In term of multilateral relations, the two countries shared similarities in their views on strategic security issues. Both valued the promotion of solidarity, self-reliance, and ASEAN's central role in the evolving regional architecture. They prioritised boosting connectivity, narrowing development gaps, and strengthening collaboration regarding the East Sea issue. They have worked closely together at ASEAN and UN forums.
The Singaporean Deputy PM said his visit aims to further bolster bilateral ties.
He took the occasion to congratulate Việt Nam on its successful hosting of the second summit between the Democratic People's Republic of Korea and the US.
He said both countries had faith in developing a strong ASEAN Community and expanding partnership beyond the bloc. He expressed his hope that Việt Nam would have a successful period as ASEAN Chair next year.
At the talks, the sides reviewed past co-operation and discussed in depth bilateral collaboration in trade, investment, environmental protection, justice, cyber security, anti-corruption, fire prevention, and anti-drug crimes. — VNS
— VNS
PM asks for improved Việt Nam-Singapore ties have 1223 words, post on vietnamnews.vn at March 23, 2019. This is cached page on Talk Vietnam. If you want remove this page, please contact us.