A study reveals that 259 people have died trying to take an extreme selfie since 2011.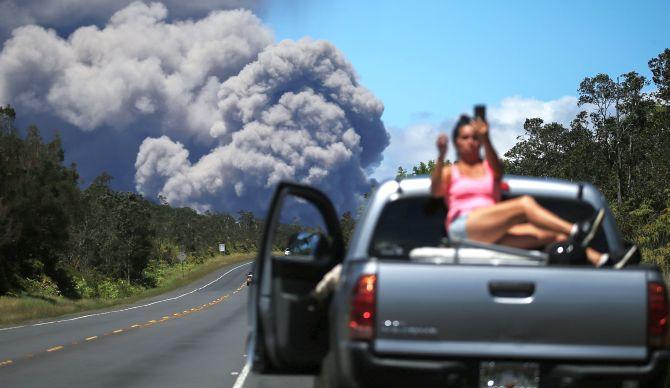 IMAGE: A woman takes the time out to pose on her car before taking a selfie with Hawaii's Kilauea volcano ash spewing out in the background.
If you think standing at the edge of a scenic cliff or on top of a waterfall or leaning out of a train to take a selfie is fun, think again.
The quest for extreme selfies has killed 259 people between 2011 and 2017, a 2018 global study has revealed. And India leads the list with 159 deaths in the period covered by the study.
IMAGE: Wu Yongning, a Chinese rooftop climber, plunged from the 62-storey Huayuan Hua Centre in Changsha, China, during one of his high-rise stunts in November 2017. The 26-year-old had amassed a fan base that ran close to a million on social media with his extreme 'rooftopping' selfies.
That's almost exactly 10 times the number of deaths seen in the country in second place, Russia, which has seen 16 deaths in the same period, followed by the United States, which saw 14 deaths.
The findings, which analysed news reports of the 259 selfie-related deaths from October 2011 to November 2017, were published in the July-August edition of the Journal of Family Medicine and Primary Care.
And researchers say the most fatal of 'extreme selfies' were drowning, followed by incidents involving transportation — for example, taking a selfie in front of an oncoming train — and falling from heights. Other causes of selfie-related deaths include animals, firearms and electrocution.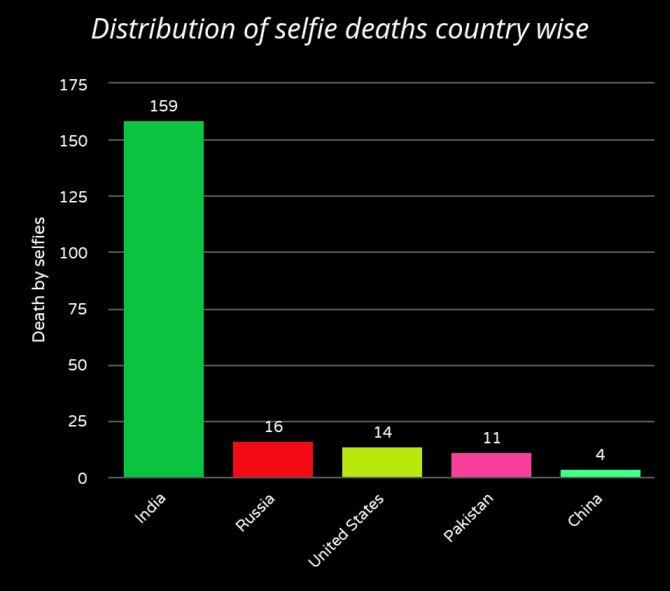 Researchers also attribute the high number to the country's enormous population of people under 30, which is the world's largest. The study also found that the median age was 22.94 years — 50 per cent of the victims were 20-29 years old, and 36 per cent of them were 10-19 years old.
The study's authors suggest that "no selfie zones" be established in tourist areas, especially on mountain peaks, near bodies of water and on top of tall buildings. India has more than a dozen of these zones, including several in Mumbai.
India accounts for most selfie deaths in the world have 511 words, post on www.rediff.com at October 9, 2018. This is cached page on Talk Vietnam. If you want remove this page, please contact us.