Right-wing internet trolls sought to influence Germany's federal election in September by setting up dozens of fake YouTube, Twitter and Facebook accounts to help them manipulate the online political debate, two studies released on Tuesday revealed.
One study, published by several German public broadcasters and the Süddeutsche Zeitung newspaper, revealed how some 5,000 users on the "Reconquista Germanica" (Germany's recapture) platform planned their social media campaigns.
According to the research, the group launched a daily election countdown just three weeks before the vote, which included daily attacks on Chancellor Angela Merkel's conservative Christian Democrats/Christian Social Union alliance (CDU/CSU), the center-left Social Democrats (SPD), the Greens and the Left Party.
Damaging – fake news on the internet
The trolls were given guidance to post, comment, retweet about political issues — with strict instructions to bad-mouth the main political parties and candidates, talk up the far-right Alternative for Germany (AfD) , and to spread negative remarks about Germany and its refugee policy.
Read more: Germany's populist AfD seeks to turn online 'censorship' to its advantage
Hatred trending
In one instance, the group took over the discussion about the TV debate between Merkel and challenger Martin Schulz, and then created hashtags such as #notmychancellor, which they then helped become trending topics.
The research, which was carried out by the London-based Institute for Strategic Dialogue (ISD) and the group "Alt Right Leaks," described the campaigns as being organized with a military-style hierarchy.
German public broadcaster ARD said the main administrators, who were given military ranks, issued orders on which targets were to be attacked.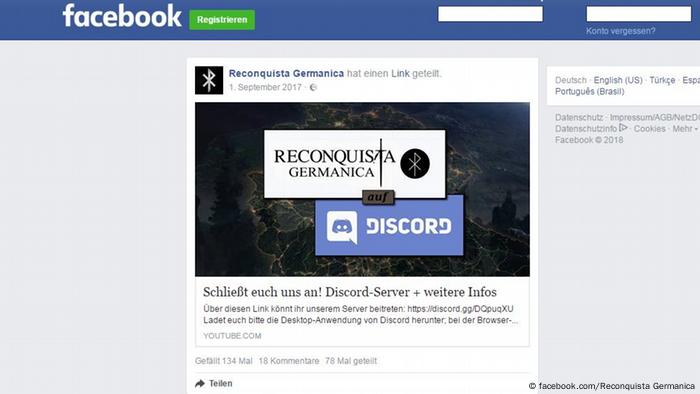 Some 5,000 users joined the far-right Reconquista Germanica page on Facebook
Researchers noted that right-wing or extremist YouTube videos were given positive ratings, while negative rants were often targeted at those that they disagreed with politically.
Read more: Twitter kicks out far-right radicals: What you need to know
News outlets targeted too
Besides social media platforms, Germany's traditional media outlets, such as ARD and ZDF, and their programs, including "Tagesschau" and the "Heute Show," were also subjected to the trolls' attacks.
A second study, also undertaken by the ISD, found that just a small minority of internet users were responsible for much of the hate speech online.
About half of the likes on hate speech comments on Facebook were generated by about 5 percent of accounts, according to the study, while 25 percent of the likes came from just 1 percent of the profiles, researchers found.
ISD found that the users were noticeably absent from any other discussion, except where hate speech was involved.
Some 3,000 posts and 18,000 comments were examined, with contributions from several major German news publications.
Over the past three years, Facebook and Twitter have found themselves accused of aiding political groups and foreign powers who sought to influence elections worldwide.
The underhanded methods used by trolls and social bots led Germany in January to introduce a crackdown on online hate speech, with huge fines for social media companies who refuse to remove offensive content.
Read more: Who are the Russian trolls indicted by the US?
Germany's election saw support for the governing parties drop markedly, while the far-right AfD won enough seats to enter parliament for the first time.
DW's editors send out a selection of the day's hard news and quality feature journalism. You can sign up to receive it directly here.
Far-right trolls active on social media before German election: research have 755 words, post on www.dw.com at January 21, 2018. This is cached page on Talk Vietnam. If you want remove this page, please contact us.