VietNamNet Bridge – The matches against Australia and hosts Mongolia in the group stage of the Asian Football Confederation U16 Championship qualification are important for Viet Nam, Coach Vu Hong Viet said.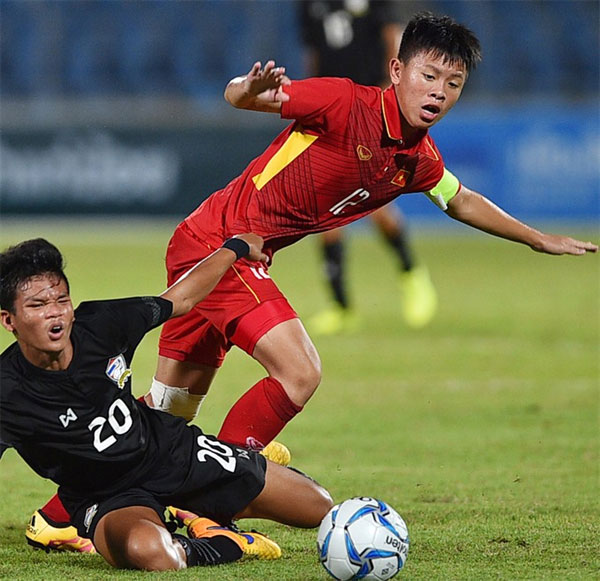 Captain Vu Tien Long of U16 Viet Nam (right) believes in a positive result of his team at the Asian U16 Championship qualifier. — Photo zing.vn
However, his team must beat Cambodia with high score in their Group I opener today.
The Vietnamese players come to the Asian qualifier after triumphing in the Southeast Asian championship in Thailand in July.
According to the coaching board, it would be a strong drive for the young footballers at the higher-level tournament.
However, Viet said, "I told them to leave the trophy behind. Our key task now is a slot in the U16 finals. They have been asked to focus 100 per cent on this event."
Viet said that the hectic competition schedule would be difficult for his team.
Viet Nam, for whom fitness was never an advantage, will have to play a match every two days. It will strongly affect the players' physique, the coach added.
The cold weather in Mongolia will be another challenge, he said.
While it is hot and rainy in Viet Nam, it is about 10 degrees Celsius in Ulaanbaatar. However, the team had just two days of practice to make themselves familiar with the conditions and the stadium, after training hard for a month in Ha Noi.
Viet is pleased with his players' preparations, saying that he believed the squad could win a berth in the finals.
Speaking with the media yesterday, the head of Viet Nam delegation, Nguyen Lan Trung, confirmed that all the members were in good physical condition and ready for their first game.
"They are really confident after winning the regional title. However, they have all been reminded not to be subjective and underestimate their rival. The team must play with their best efforts," said Trung.
Captain Vu Tien Long also concurred with Trung.
"The coaching board and we are in high spirits, ahead of the opening match. We believe we will have a good result (against Cambodia). We hope that the supporters at home will strongly encourage us tomorrow and in the whole tournament," Long said.
On the other side, coach Lee Tae-hoon of Cambodia was not optimistic about the match.
The South Korean trainer said he did not have a playmaker, who could change the situation of the game. He noted that the players made available to him were also not good enough to play Viet Nam, who were a strong team and top candidate to be the group leader.
However, Lee promised to do as well as they could to have the best result.
In a later match of Group I, Australia will play Mongolia at the MFF Football Centre.
In the early fixture of the tournament, Indonesia won two matches, while Thailand and East Timor took one win each in Group G. Brunei, Hong Kong, North Korea and Chinese Taipei secured one game each in Group F.
Jordan led Group A after two victories, while Uzbekistan and Bahrain followed with one.
Afghanistan topped Group C with six points. Iran and Lebanon are second and third with three points.
Forty-four teams will bid for 15 spots — 10 group winners and five best second-placed teams — in the championship's finals, along with hosts Malaysia at the event, which is set to take place from September 20 to October 7 next year.
Source: VNS