The market, which is some 500m2 in alley 456 on Hoang HoaTham street, opens once a week, every Sunday, from 8am to 2pm.

There are nearly 20 stores in the market selling artificial and natural gemstones, necklaces, rings, bracelets and decorative stones. Most of the gemstones are from Luc Yen District in the northern province of Yen Bai, Thanh Hoa and the central province of Nghe An.

Sellers at the market need only a table and chair to set up a stall. The gemstones are displayed on plastic trays or on a piece of cardboard so that buyers can select and inspect the products thoroughly. Buyers are free to carefully examine the gemstones. Prices vary depending on the material, quality and size of a gem.
The unique gemstone market is held by the Hanoi Gemstone Association to promote gemstone products.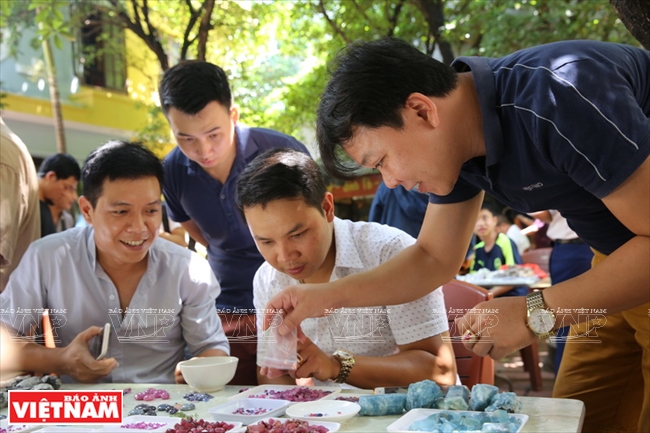 Visiting the market, customers can buy rare and precious gemstones from the provinces of Yen Bai,

Thanh Hoa and Nghe An.


Checking the quality of a sapphire using water and light.


A ring with a sapphire. 






Rubies are sold at the market..




Gemstones are sold for anywhere from hundreds of thousands of dong to hundreds of millions of dong.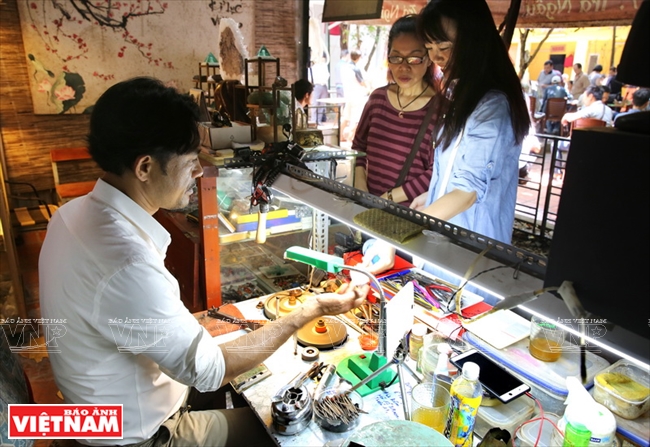 After selecting a suitable gemstone, customers can ask artisan Nguyen Bao Thach to make their jewelry.


Artisan Nguyen Bao Thach checks the quality of gemstones for customers.




A rough gem is polished carefully.


A blue-purple sapphire is rare. It is processed into the shape like a diamond.


Artisan Nguyen Bao Thach has created many jewelry products with different gemstones for customers.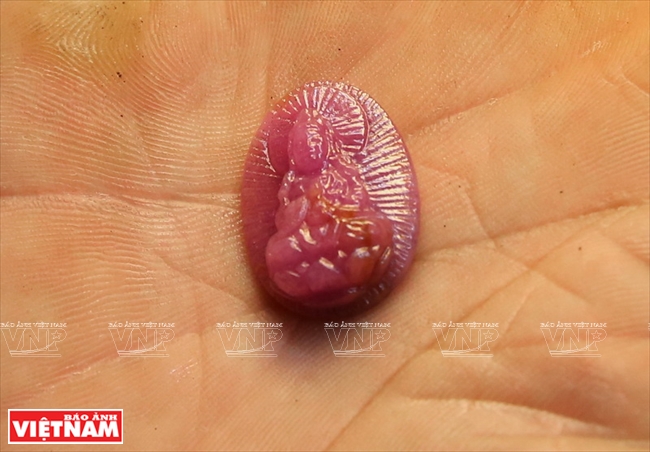 A pendant with the image of Guanyin made by artisan Nguyen Bao Thach.

Vu Thi Nhung, a trader from Luc Yen, said that she has been at the market since its inception. She has to drive from Tuyen Quang to Hanoi on Saturday night to arrive on time for the Sunday morning market.



According to Le Tuan Anh, Deputy Chairman of the Hanoi Gemstone Association, customers can feel assured about the quality of gemstones because there is a quality control stall managed by the association in the market which is equipped with modern equipment to correctly check the quality. Those who sell low-quality products will not be allowed in the market.



Visiting the market, visitors will also see artisan Nguyen Bao Thach performing skillful techniques of making jewelry.

These days, the little market has become a favourite destination of residents and those who love gemstones.

By Tat Son