A string of new government policies come into force in June, including the exemption of land use fees for housing projects, specific financial mechanisms for HCM City, increased fees for medical examination and treatment for the insured and reduction of social insurance premiums.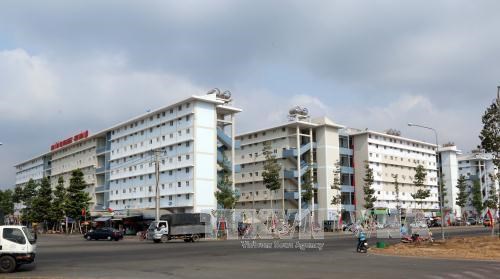 A new policy of the Ministry of Health came into effect on June 2, stipulating the maximum levels in the price list for medical examination and treatment services not covered by the medical insurance fund.
Hospitals will increase treatment fees at different time. The price of medical examination and treatment services will increase depending on the hospital grade, from commune-level to special hospital.
Some medical tests will also be adjusted to a 20-30 percent increase from the current price.
A new policy on compulsory social insurance premium rates issued by the Government also took effective on June 2.
Enterprises shall only pay occupational accident and occupational disease insurance premiums at the rate of 0.5 percent of salary funds, which is used as the basis for paying social insurance premiums for employees instead of 1 percent.
For labour contracts with a term of between full of one month and less than three months, the contribution to the occupational accident and occupational disease insurance shall be compulsory from January 1, 2018.
Also from June 1, the Ministry of Transport encourages drivers to change their driver's licence made of cardboard to safe plastic card before December 31, 2020, instead of the compulsory change regulated before.
This decree also stipulates that if a driver has a license beyond the expiry date from 3 months to less than 1 year, the driver has to retake driver manual test in order to renew the license.
A number of specific financial mechanisms and policies concerning HCM City will take effect from June 10.
The National Assembly will review and use State budget to support HCM City to carry out key projects in environment, transport and irrigation that exceed the local budgets.
In order to effectively use city land, the People's Committee of HCM City will be given an advance from the city's budget or loan to hold auctions for land use rights. After the auction, the committee will refund the State budget or the loan.
HCM City is allowed to borrow domestic investment capital through issuing local government bond and foreign loan for investment in infrastructure development.
A Government Decree regulating the collection of land use fees, land rent, water surface rent in economic zones and high technology zones, will come into effect on June 20.
Accordingly, projects approved by the Government to use land in economic zone in building social houses for labourers will be exempted from land use fees.
The exemption period shall not exceed three years from the project's approval by a competent authority.
After this period, the exemption will be extended to 11-19 years on each project. 
VNA
New policies take effect in Vietnam in June have 575 words, post on at June 6, 2017. This is cached page on Talk Vietnam. If you want remove this page, please contact us.