Hydropower dams on the Upper Mekong River have seriously affected the Mekong Delta region.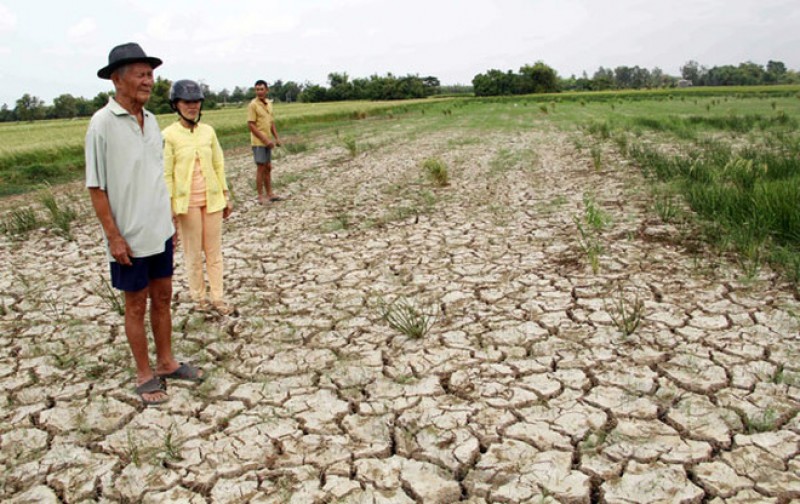 Drought in the Mekong Delta 
The problem was discussed at a forum on the Mekong Delta region's water source security held in Can Tho City on May 29, attracting the participation of experts of China, Cambodia, China, Thailand and Laos. 
At the forum, Professor Ha Thanh Toan, Headmaster of Can Tho University, said that in recent years, the Mekong Delta has been affected by climate change and the effects of hydropower dams.
Dr. Le Anh Tuan from Research Institute for Climate Change of Can Tho University said that after China had built six hydropower plants, the amount of the Mekong Delta region's alluvium decreased to 85 million tonnes from 160 million tonnes per year. The alluvium shortage has resulted in the serious coastal erosion.
The Mekong Delta region loses around 500 hectares of land annually through erosion, Tuan added.
The dams also prevented a large amount of flood water from entering Vietnam's Lower Mekong Delta, which is a dangerous issue as the floodwater from upstream helps balance water levels in the delta and brings sediment that enriches the soil and provides food for fish while pushing back saltwater intrusion.
Flood water usually arrives in the region from August to November every year, but according to Vietnam's Southern Hydro-Meteorological Station, water levels in upper parts of the country's Mekong River are very low in recent years, estimated at roughly 50cm down from last year.
Vietnam's Ministry of Planning and Investment estimated that around 45% of the country's Mekong Delta will be negatively affected by saltwater intrusion by 2030 if hydropower dams and reservoirs along the Mekong River prevent water from flowing downstream.
Dr. Tuan noted that the impact of hydropower dams was among the biggest challenges facing the Mekong Delta.
Drought and salinity caused losses of USD50 million for the Mekong Delta region in the 2015-2016 period.
The dams have critically threatened the life of many kinds of fish as well as the Mekong Delta region's bio-diversity.
To date, up to 11 hydropower dams have been built on the Mekong River, including six in China.
Dtinews
Hydropower dams threaten Mekong Delta have 515 words, post on at May 31, 2017. This is cached page on Talk Vietnam. If you want remove this page, please contact us.