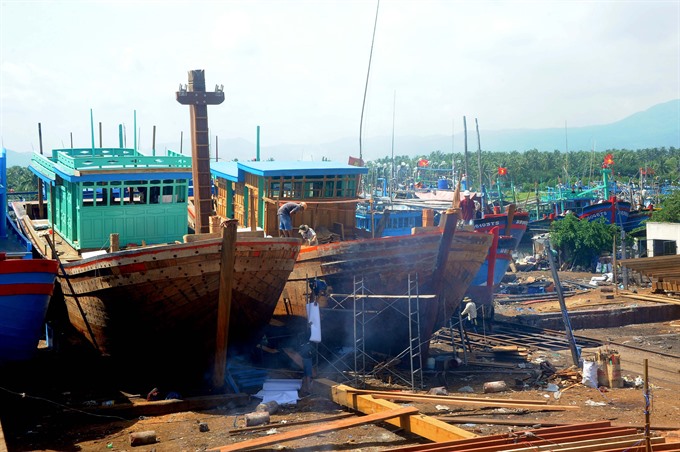 Viet Nam News
HÀ NỘI – Several fishermen in the central coastal province of Bình Định who received loans from commercial banks to buy steel ships under a 2014 Government Decree continue to face boat malfunctions and repair maladies.
It's peak fishing season in the central province of Bình Định, but Lê Văn Thãi, owner of the fishing ship Lê Gia 01, is busy working with a team to repair his steel-hulled fishing boat instead of sailing out to sea.
The ship, which was built by the Nam Triệu Shipbuilding Corporation, first went out to sea last July. But on the first trip, the freezer storage malfunctioned, and the ship had to turn back to shore before it could catch any fish.
On April 2, when the ship was ready to sail for the third time, the main engine broke down. Some other parts didn't work properly, either. The repair team from the Nam Triệu company came and fixed the ship, but it could not repair all the parts. Thãi hasn't been able to send his ship out yet.
Thãi was among those eligible for a loan from commercial banks to build steel ships under Decree 67 by the Government dated July 7, 2014.
Under the decree, ship owners building steel or new-material ships with total main engine capacity of between 400CV and under 800CV each may borrow from commercial banks a sum not exceeding 90 per cent of the total investment in the shipbuilding at the interest rate of 7 per cent per year, of which ship owners are required to pay 2 per cent per year. The State budget subsidises 5 per cent.
Nguyễn Văn Mạnh from Bình Định Province, owner of a fishing ship built under the same conditions at the cost of VNĐ15 billion (US$660,000), also complained about the quality of the ship, which was built by the Đại Nguyên Dương Shipbuilding Company. On the three times that the ship sailed out, it went from having a broken screw to a broken wheel and flooded storage.
In fact, the problem is nothing new for many ship owners who took out loans under the decree. Back in 2014, Lê Văn Sang from Đà Nẵng City, owner of a Sang Fish 01 boat built by Nha Trang Shipbuilding Company, said the boat had not worked properly for the past six months, ever since it broke down. He said the boat had problems on about six out of every 10 fishing trips.
Company threats
Sang said he decided to return it to the manufacturer because he didn't have enough money to pay for repairs.
Mạnh from Bình Định said the shipbuilding company said the materials to build the ship would be made in Korea, but actually they were made in China. "When my son tried to take photos of the materials, he was even threatened by the company's staff," Mạnh said.
According to the recent examination by the Bình Định Province's agriculture department, several ships built by Đại Nguyên Dương Company–and some others built by Nam Triệu Company–have been found to suffer from frequent breakdowns and degradation. In particular, nine main engines in nine ships built by Nam Triệu were broken, the power supply machines in three other ships are working on and off.
Bùi Hữu Hùng, deputy general director of Nam Triệu Company, blames the fishermen for the ships' degradation.
He says the ship owners do not follow maintenance procedures properly, which requires ships to undertake maintenance right after every sea trip, not every six months like wood-built ships.
Hà Ngọc Tân, vice chairman of Phù Mỹ District's People's Committee in Bình Định Province, said that among the nine ships built for fishermen in the district, four are broken down and eight are not doing well. "These companies gave us bad products, and fishermen are not earning enough to repay their loans. If the companies do not address these problems, we will have to file a lawsuit," Tân said.
Nguyễn Chí Công, vice chairman of Hoài Nhơn District's People's Committee in Bình Định Province, said six out of seven ships built by the Nam Triệu Company have problems, and the rest have sunk. "This needs to be addressed as early as possible–because once the guarantee time expires, the fishermen will lose a lot," he said.
The Ministry of Agriculture and Rural Development has asked relevant local authorities to thoroughly examine broken fishing ships built under the 2014 decree and support fishermen in repairing these ships. – VNS